Workplace savings and pensions that help employees retire happy
Mercer Marsh Benefits (MMB) are workplace savings and pension experts that combine global scale with local understanding. We support employers of any size — from the smallest to the biggest — helping them manage the responsibilities of running workplace savings schemes.
Everyone benefits from great workplace pensions
A workplace pension is about more than simply fulfilling legislation. Employees' ability to retire when and how they want impacts workforce planning, productivity, recruitment, retention and innovation.
It is in employers' and employees' best interests to create good financial wellbeing throughout people's lives, and to make sure they can save enough to enjoy retirement when they are ready to do so. To do this, employers need a robust workplace savings and retirement strategy.
Our workplace savings and pensions experts can help you stay on top of legislation, offer retirement savings options that are right for your workforce and keep your employees engaged to achieve better outcomes. We also save you time and money by removing the hassle from workplace savings and benefits management.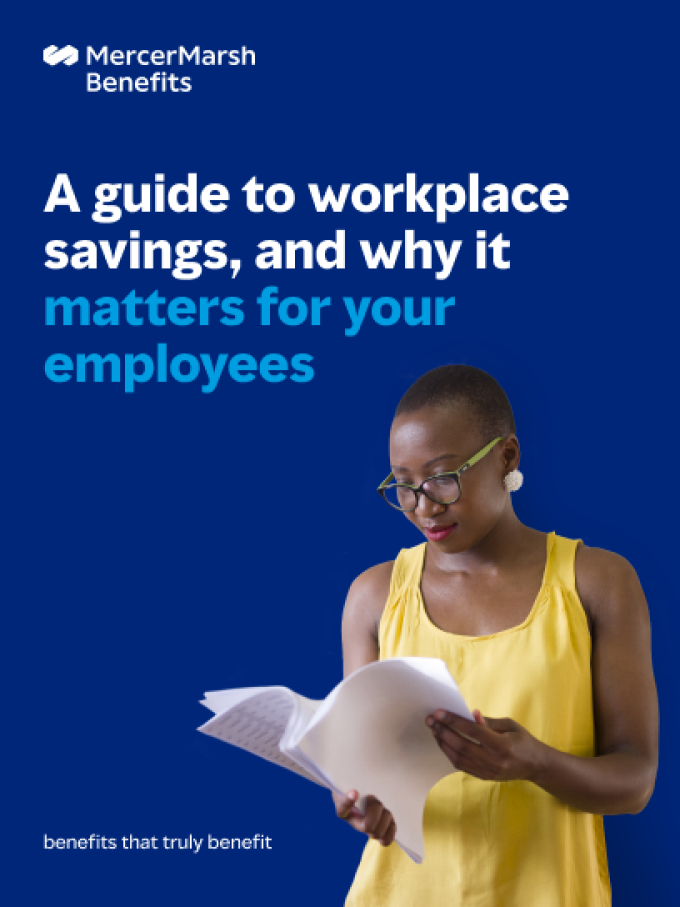 A guide to workplace savings, and why it matters for your employees.
Pensions and savings that are the perfect fit for your workforce
Every business is different, which is why MMB's consultants focus on finding the right savings and pensions solution for your business using our wealth of expertise, scale and experience.
We can help with:
Pension scheme design and provider selection — We review your pension provider and their capabilities to help you get the most appropriate solutions.
Ongoing communication — We can help you to plan effective member engagement strategies, ensuring employees are aware of the support on offer and value them.
Pension scheme governance — We can actively monitor, manage and review the performance of your pension scheme to ensure it achieves the right outcomes for your employees.
Automatic enrolment — We can support you in staying on top of auto-enrolment responsibilities, wherever you are on your journey, to ensure your people are saving enough for retirement.
Salary exchange — Are you and your employees taking advantage of the most efficient way to make pension contributions? Our team can provide practical help and financial education for your employees when you implement or re-launch salary exchange.
Benchmarking services — Ensure the best possible value for scheme members using our benchmarking services to help rate your offering compared to the rest of the market.
Take the next step towards better retirement
To see how we can help you navigate through this complex world of pensions, download our guide to get started.
We can help you find out:
Are you providing value for your members?
Are you getting the most out of your existing provider?
Are your scheme and business processes auto-enrolment compliant?
Are the right processes in place to support your HR and Payroll?
Have you considered the savings that can be achieved by introducing or relaunching salary exchange?
MMB can offer your business a complimentary workplace savings and pension review.
To arrange your review, please complete the contact form below and we will be in touch to discuss your requirements.