Based on our Inside Employees' Minds study, this report explores the most pressing concerns of UK employees and looks at how organisations can better support their workforce.
Employees top needs are seeing significant change
After two years of continual upheaval — the pandemic, a war in Europe, inflation, and political and social unrest — employees are more focused on securing their financial, physical, and emotional health and wellbeing than ever before.
During the height of the pandemic, organisations supported their employees in four critical ways:
They communicated.
They focused on health and safety needs.
They allowed greater flexibility.
They led with empathy.
This support increased employees' belief in career development and their trust in leadership and empowered them to challenge the status quo. But now, cumulative stressors and fears are causing employees to feel less satisfied, less motivated and less committed to their organisations than previously.
Our study revealed the following for UK employees:
are satisfied with their employee experience
are seriously considering leaving their current employment
are motivated to go 'above and beyond' for their current employer
The labour shortage and the "Great Resignation" are taking their toll, particularly on frontline employees. Although three in five employees say they can maintain balance between their personal and work lives, work-life balance remains one of the top two concerns, and more than half of employees say they feel exhausted on a typical day.
All these forces combine to bring the UK worker to an existential inflection point. Our results show that after financial concerns driven by the current economic climate, employees are most concerned with finding a greater balance between work and life. With all this change, it's clearer than ever that employees are not living to work — they're working to live.
Where does that leave employers? Organisations certainly can't return to pre-pandemic mindsets. Instead, employers need to embrace a new contract with employees: the lifestyle contract, where people can find sustainable healthy experiences at work.
Employee needs are changing
Employers who adapt will win the war on talent.
Loyalty contract (20th century)

Basic needs

Pay, benefits, security
Retention
Pay and benefits in exchange for commitment

Engagement contract (pre-pandemic)

Psychological needs

Achievement, camaraderie, equity
Contribution
Intrinsic rewards in exchange for effort

Lifestyle contract (the new chapter)

Wellbeing needs

Physical, mental, emotional, financial
Sustainability
Healthy experience in exchange for sustainable performance
The six key findings from this year's Inside Employees' Minds study reveal where employers should focus to keep up their end of the lifestyle contract:
Step up efforts on retention.

Align to workforce needs.

Focus on financial health.

Reimagine wellbeing.

Accelerate DEI.

Build a more flexible future.
This report delves into these key findings to provide actionable insight into the mindset of UK employees. Download the full report to discover what more you can do to attract, retain and engage employees today.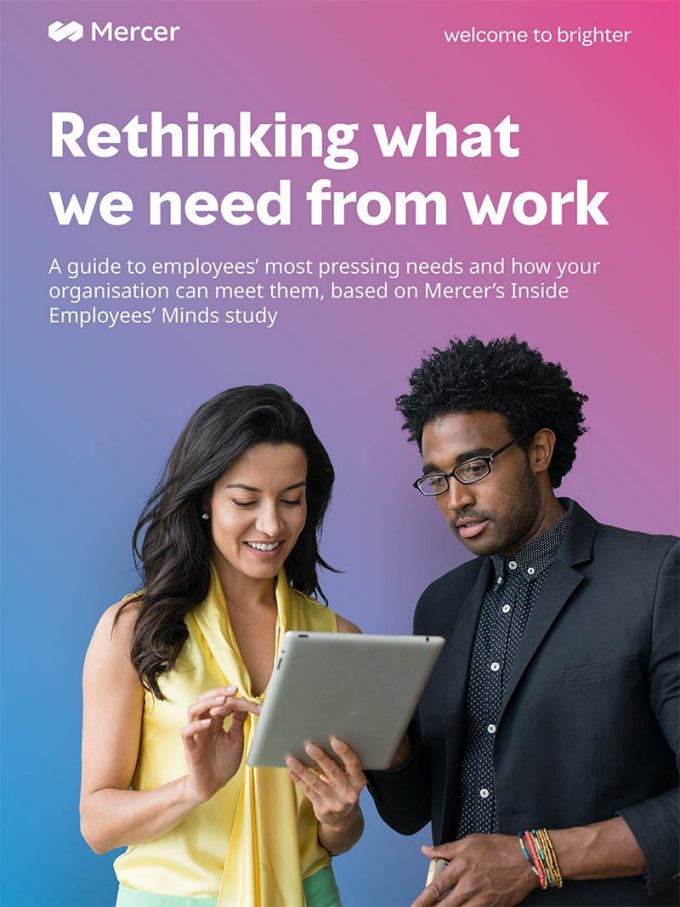 A guide to employees' most pressing needs and how your organisation can meet them based on the finding of Mercer's Inside Employees' Minds study.
This study includes 2,021 full-time employees in the United Kingdom working for organisations with more than 250 employees.
The study was fielded from 1–17 October 2022.
Industries with more than 200 employees:
Food service/retail/hospitality
Government/public sector/not for profit
Healthcare
Manufacturing/consumer goods
Contributor(s)
Kerry Ghize
Katerina Psychopaida
Related products for purchase