How we facilitate your journey through pay and benefit surveys
Partner with us to make the most of our market-leading employee remuneration database, with comprehensive support from start to finish. 
How to participate in compensation and benefit surveys - and why
Participating in salary surveys is an effort that pays off! Thanks to your contribution, we maintain industry-leading breadth and relevance of our remuneration database, which you can access with a 50% discount as a participant, alongside custom participant-only pay benchmarking solutions. 
And with our online Mercer Data Connector (MDC) platform, your data submission is streamlined, intuitive, and gets easier year after year thanks to machine-learning algorithms!
We make it simple for you
Join one of our kick-off events to get familiar with the process before starting your submission.
Participate in our regular training webinars any time during the year.
Access all our knowledge via the resource centre with quick guides and how-to videos.
Contact us and we'll happily answer any questions you may have.
When the time comes to submit your data, MDC simplifies the process for you, facilitates global collaboration and ensures data accuracy with AI-powered algorithms:
Seamless data import. Upload your input using just one file.
Built-in delegation. Assign access with secure, role-based user authentication.
Real-time tracking. Keep up-to-date with instant visibility across sections, countries and companies.
AI-powered validation. Stay on track with automated error detection and correction, guided alerts and immediate verification.
Increased job match accuracy. Benefit from our proprietary job match algorithm and online job catalogue.
  

"Excellent new tool. Wish all the other survey providers I use had a tool like this one!"

- Director of Compensation, Consumer Goods Industry

    

"I like the online functionality and the job matching tool! The validation straight after is very useful too. I like that you prepopulate the data from last year, so that it is a review and update if required – it saves a lot of time."

- Rewards Analyst, Food & Beverage Industry

  

"System is user-friendly, suggestions are helpful and useful. It definitely saved me time and I will be happy to use the Data Connector again in the future. Great and innovative IT tool."

- HR Operations Manager, High Tech Industry
How to access the results – and make the most of them
You need your salary benchmarking data to be easy to access and digest. Mercer Workforce Intelligence Network (Mercer WIN®) is an intuitive and powerful online platform that delivers your reports in a flexible digital format, allowing you to easily break down complex data into usable insights into employee compensation and other HR issues. 
Get the most value from your salary surveys using Mercer WIN:
Instantly compare data across industries, regions and countries.
Create unlimited peer groups for comparisons.
Produce multi-market refinements in one view.
Easily analyse and compare data by job, family, career level and position.
Generate custom charts, graphs and reports at a click of a button.
Extract reports and access regressed data.
Leverage data ageing feature.
And much more! 
Training webinar schedule
Dedicated online sessions are available throughout the year to help you with any ongoing doubts or queries regarding your data submission or results analysis. 
Data submission process: Mercer Data Connector webinars
| Americas | EMEA | APAC |
| --- | --- | --- |
| tbc | tbc | tbc |
| tbc | tbc | tbc |
| tbc | tbc | tbc |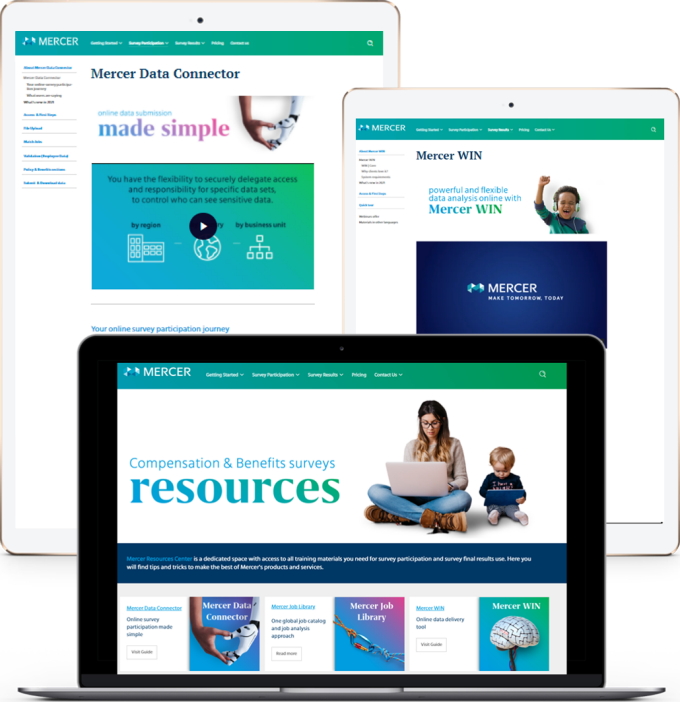 live better, work brighter
Introducing the Mercer Resources Centre, our online learning and information platform to help you with the full survey participation journey!
Related products for purchase