A people centric HR operating model
Build a future-ready people function. As organisations are working to align their business agenda and enhance the employee experience — placing people at the centre of everything you do.  Your HR function should embrace those same principles. Mercer's approach to HR operating model design introduces our unique and innovative Target Interaction Model (TIM) to build the HR function around organisational and employee needs first – before translating this into the final HR organisation and roles.
of HR teams believe they deliver and exemplary employee experience
of organisations offer a fully digital experience at work
employees say it takes more than an hour to complete straightforward HR tasks
Out of this mindset emerges a trinity of HR business partners, centres of excellence and shared services. This predominant approach streamlined and outsourced HR services, but it didn't achieve the intended cost benefit expectations and it also fractured the employee experience. It wasn't effective then, and it's now more antiquated than ever.
In today's work environment — and to be agile and ready to adapt to the future of work — organisations need to refocus their HR transformation on interactions — guided by a TIM before designing the HR operating model. This approach puts employees front and centre for the HR function.
Successful HR functions engage employees
It's time for HR to shape the future of work by providing relevant advice and services that directly align with and support your organisation's business and people strategies. The right HR transformation drives the organisational strategy and people priorities, and it contributes to true business value. Our TIM approach grants the HR function greater responsibility than ever before, elevating the function to become a strategic adviser to business leaders.
With a TIM, HR can transform itself around employee experiences and evolve to a true people-centred function. TIM places a premium on delivering relevant services and exceptional interactions that yield measurable employee satisfaction, engagement and commitment.
While Mercer's TIM is based on a fundamental philosophy and common design archetypes, it is customised for every organisation based on its needs, culture, and people dependency.
A key component for any TIM-driven HR transformation is digitalisation, a sometimes unappreciated but critical way to support the business and enhance the employee experience. People expect simple, user-friendly digital experiences at work, just as they do in their personal lives. Our TIM takes this into account and balances the digital and human experience to invest resources where they will count the most.
By emphasising the employee experience, building on end user's needs (including the C-suite's), HR's future-ready design can benefit the entire organisation, introduce a better way of working and boost talent attraction, retention, and engagement – ultimately generating greater trust in the organisation and higher productivity.
An exemplary Target Interaction Model
The first column refers to the customers of HR including candidates, the external workforce, employees, people leaders, and top management. The second column describe the opportunities to introduce digital tools effectively and in an engaging way (e.g. people operations platforms as a self-service). In the third column, personal support comes into the equation. These include people operations, advisory and administration, leadership partners, and people strategy advisers. In the final column, we typically see two main categories: HR customer-facing communities for talent acquisition and talent development, and enterprise-serving communities including project portfolio management, compensation and benefits, Diversity, equity and inclusion, and HR analytics.
Further, HR can organise itself with an agile HR pool to cover constant innovation by bringing in the right expertise.
This full TIM is supported by a solid digital foundation, typically an HRIS platform.
The TIM - Target interaction model looks at four different parts of the Human Resources Information System (HRIS) platform starting with HR customers (candidates, external workforce, employees, people leader, and top management). Then it looks at the people operations platform to sort through employee experience and HR and beyond. Then it provides personal support through people operations, advisory and administration, leadership, and partner and people adviser. This becomes the agile talent pool that leads to functional experience whether that is HR customer-facing communities (talent acquisition and talent development) or enterprise-serving communities (project portfolio management, compensation and benefits, diversity, equity and inclusion, or HR analytics).
The TIM reimagines the HR function. It evaluates HR roles, processes and technology against the workforce's needs and wants. It increases agility by reducing silos and pooling resources from across the function that can be tapped for a variety of projects. It establishes a clear, streamlined, effective roadmap to delivering services in a way that is proven to delight employees, achieve business results and ensure that HR interacts with people in ways that matter.
After reorganising around a TIM, HR can free up about 30% of its administrative load, giving professionals more time to serve the organisation in an elevated role. Today's HR leaders are taking a seat at the table with the C-suite, helping create a modern people strategy that supports both the workforce and the business — with HR in more digitally advanced organisations four times more likely to be seen as a significant contributor to strategic business planning. HR business partners evolve – unburdened by unnecessary administrative duties, they are free to take on more meaningful work, making a difference in impactful roles such as strategic adviser, data-driven problem solver, influential storyteller, trusted coach and independent voice.
Client success story: Human-centric HR transformation at PVH
A retail (fashion) organisation with $9.7 billion in revenue and 30,000 employees — highly diverse in its business, locations and workforce.
Challenge:

PVH was approaching Workday implementation, and it wanted to create an agile HR model for its highly diverse business, regions and workforce. It had ambitious growth plans, intending to increase head count by at least 40% over three years.

The business gave mixed reviews about their satisfaction with the services HR was providing, especially citing a lack of closeness to the business reality. On the other side, HR was reporting to "run hot" with the amount of work and more than 100 ongoing projects.

Solution:

Upon consultation with Mercer, PVH decided to re-imagine HR as a customer-centric people function that supports the business as a strategic partner and serves their business by:

Developing a new HR strategy and service portfolio, including new roles and an interaction model designed for HR customers
Redesigning core processes like talent acquisition and management, improving on moments that matter along the employee lifecycle, strategically leveraging HR business partners and digital systems

Check feasibility of Workday integration on an ongoing basis, ensuring its aligned with the global template

Approach:

Using a TIM approach for the HR Transformation, Mercer followed these steps:

Embark: Align on a future vision and strategic priorities, establish a collaborative project foundation
Discover: Assess the current state, pain points and maturity in a rapid manner, focusing on the aspects relevant for a re-imagining
Shape: Design the future state with a TIM, future role descriptions and HR services based on the actual customer needs and user journeys
Drive: Develop a multi-dimensional and prioritised roadmap and start the change implementation

Results:

PVH implemented a completely transformed HR organisation, including some newly established roles. Not only did they successfully and smoothly complete their Workday implementation, but they also achieved their ambitious growth plans with a strengthened Talent Acquisition function and state-of-the-art content and processes. They introduced agile ways of working, prioritising and managing projects with an agile project pool. Mercer is a sparring partner for them to this day, and we work together on various other engagements.
HR roles: Trending towards the employee experience
Using the Target Interaction Model to transform into a people-centric HR organisation is supported by trends in HR roles. 
HR strategic advisers provide insights to senior executives on how the workforce supports the business strategy.
Collaboration experts facilitate the flow of information, skills and capabilities between workforce populations, helping employees adapt to change.
Employee experience designers create intuitive touchpoints and user journeys, often for specific personas, such as new hires or business/function groups. 
Centre-of-excellence experts design the global talent philosophy in partnership with the C-suite.

Centre-of-excellence experts design the global talent philosophy in partnership with the C-suite.

Centre-of-competence experts execute HR processes, such as talent acquisition or mobility, in alignment with geographies or business lines.
HR business partners operate in a micro-environment to support the HR operational needs of a pivotal people leader.
HR shared service consultants handle exceptional cases and special requests that extend beyond digital and automated capabilities.
Benefit from Mercer's expertise in creating effective HR operating models
Mercer's expertise in working with HR to build people-centric operating models is both deep and wide. 
Target Interaction Model (exemplary)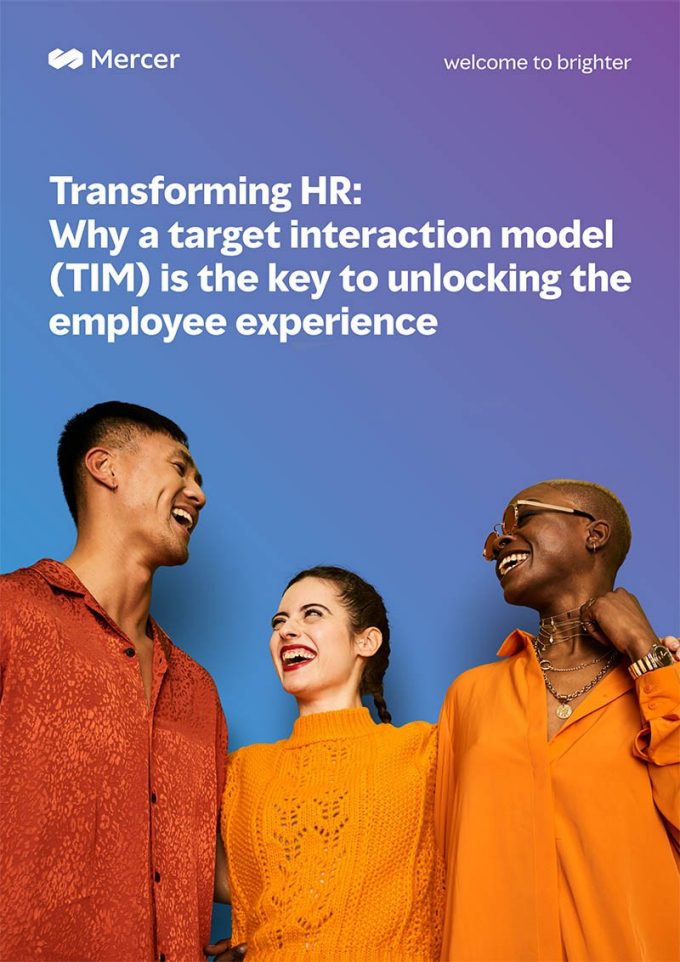 Why a Target Interaction Model (TIM) Is the Key to Unlocking the Employee Experience 
Four dimensions of successful HR transformation 
Your organisation can transform the very nature, efficacy and perception of HR by rethinking the function and getting the design of four key dimensions right: strategy and content, processes, organisation and systems.
Shaping HR strategies for the future
Learn about our agile approach for accelerating HR transformation.
In addition to using Mercer's innovative Target Interaction Model to speed up and increase the effectiveness of your HR transformation, the HR Accelerator delivers:

HR vision and strategy roadmap

Create a clear future vision to describe and execute your HR strategy that can transform your HR content, processes, organisation and technology.

HR process (re-)design, automation and radical simplification

Create an exceptional employee experience around moments that matter by carefully examining employees' expectations and interactions with HR and by streamlining and simplifying processes.
Ready to start your HR transformation journey?
Mercer's digitally enabled advisory solution, the HR Accelerator, can help you achieve your HR transformation goals faster and more effectively, improving efficiency up to 25% while reducing transactional volume — which frees up the function to reinvent HR for the future of work.
Mercer's HR transformation framework
Embark

Lead with a point of view and hypothesis.
Agree on a vision of the future state.

Discover

Provide a basis for transformation through insights and benchmarks.
Clearly articulate the change management journey.

Shape

Create bold solutions with measurable outcomes toward the future-state vision.

Drive

Deliver sustainable value.
Bake the HR transformation into the fabric of the organisation.
Related products for purchase