In an environment of rising yields from exceptionally low levels and low- to moderate-risk premia, we believe investors increasingly need to look beyond traditional liquid asset classes (equities and bonds) in order to generate meaningful returns.
In particular, investors should be open to the potentially attractive and diversifying return sources available in illiquid asset classes (private markets). However, private markets remain a complex and hard-to-access asset class — but it is one that is increasingly hard to ignore, given its growing importance in the economy as well as in institutional investors' portfolios.
Download our latest report to find out:
What are private markets

What is private equity

Why private markets investments are appropriate for endowments and foundations

Why endowments and foundations should consider investing in private markets now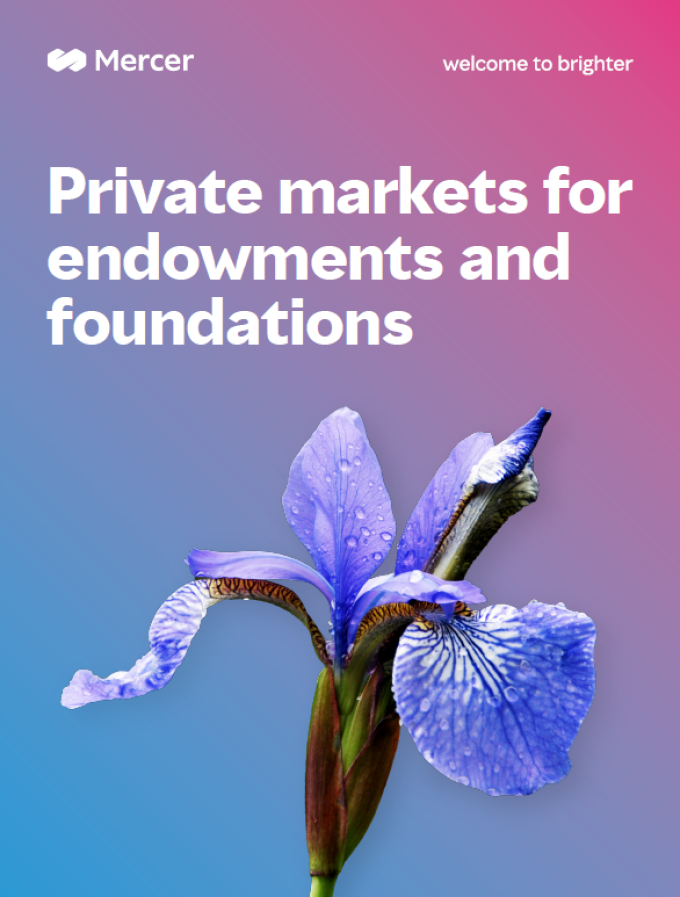 Download our report to find out why endowments and foundations should consider investing in private markets.
Contributor(s)
Paul Fleming
Nathalie Degans
Before you access this page, please read and accept the terms and legal notices below. You're about to enter a page intended for sophisticated, institutional investors only.
This content is provided for informational purposes only. The information provided does not constitute, and should not be construed as, an offer to sell, or a solicitation of an offer to buy, any securities, or an offer, invitation or solicitation of any specific products or the investment management services of Mercer, or an offer or invitation to enter into any portfolio management mandate with Mercer.
Past performance is not an indication of future performance. If you are not able to accept these terms and conditions, please decline and do not proceed further. We reserve the right to suspend or withdraw access to any page(s) included on this website without notice at any time and Mercer accepts no liability if, for any reason, these pages are unavailable at any time or for any period.