Virtual benefits fair
With an increase in hybrid and remote work brought on by the pandemic and a hot talent market triggered by shifting economic forces, the employee experience has never been more crucial to attracting, engaging and retaining talent. In these times of transformative change, how will you engage your workforce in their health and well-being benefits and enrich their employee experience?
Mercer's virtual benefits fair is a self-paced, interactive virtual health fair experience that connects employees directly with their benefits in a fun and motivating way.
Our virtual benefits fair is the ultimate digital employee experience
As you look for new ways to digitally communicate with your remote or hybrid workforce and engage your employees in their benefits, our fun, highly interactive and easy-to-use tool offers an innovative solution.
Mercer's virtual benefits fair centralizes your company's messaging and important resources—and is accessible on any device, at any time. Employees can visit virtual booths to learn about their benefits and communicate with real vendor representatives.
Why use a virtual benefits fair tool?
With so much competition for employees' attention, employers need creative and effective methods to engage employees in their benefits and communicate critical information. The introduction of new plans or new carriers makes it even more important that employees understand their options.
Use Mercer's virtual benefits fair to promote your benefits during annual enrollment and year-round, as a new hire training resource, or a recruiting tool.
Key features:
Consolidate your benefit plan messaging and information in one virtual location
Connect booth visitors directly with benefit experts
Embed multimedia like videos, podcasts, webinars and presentations
Motivate employees to visit more booths with an integrated incentive game
Implement quickly and easily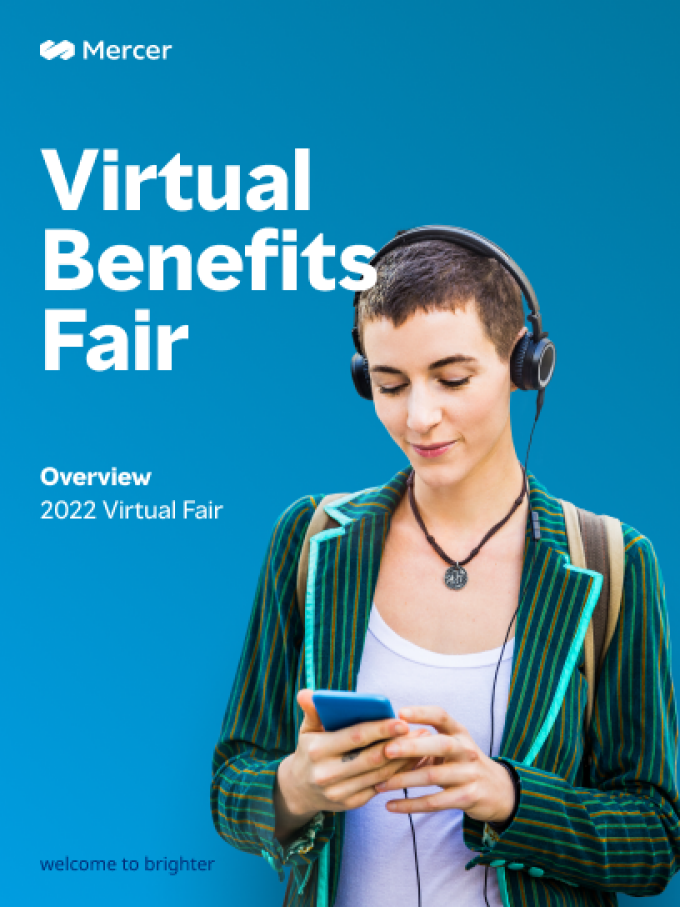 Mercer's Virtual Benefits Fair experience centralizes your company messaging and important resources on any device, at any time, from anywhere.
Why work with Mercer to host a virtual benefits fair?
With deep expertise across health, benefits, and communications, Mercer understands the needs of both employers and employees. We use the newest digital technologies to educate, engage, and inspire your employees. Helping companies form meaningful connections with employees about their benefits, careers, and well-being—wherever they are, on any device—is our goal.
We create effective employee communications that support HR programs and change management, and help organizations transform their digital employee experience. Learn more about our comprehensive human resources (HR) and communications consulting services and tools.
Employee communications

Effective employee communication helps support HR initiatives, change management, and enhance the employee experience.

EX design

Our solutions and services help organizations measure, understand, and enhance the employee experience – and drive positive business outcomes.

Mercer Belong® portal

Mercer Belong®, accessible through the desktop or mobile app, connects employees to their total rewards in meaningful ways—any time they need it.