Mercer Belong® portal
You've made a significant investment in your people strategy, but how do you create a meaningful connection between your employees and all of the programs, rewards and resources you offer? Bring it all together with Mercer Belong®—an interactive digital platform to provide the ultimate employee experience.
Transform your employee experience with an interactive digital platform
Today's digital communication offers consumers simple, personalized experiences that effortlessly and instantly meet specific needs. Yet at work, numerous apps and platforms often compete and overlap, leaving people unsure of where to go and frustrated by a disconnected employee experience. In an ultra-competitive labor market, it has never been more important to maximize the results of your investment in the employee experience.
Enter Mercer Belong®—the engagement platform that helps employees make sense of it all. Belong gives you a powerful and effective digital employee experience to connect with your workforce about their rewards, careers and well-being. With its Socrates.ai-powered virtual assistant, Belong transforms each interaction into the easy, personalized, consumer-grade experience your employees have come to expect.

Elevate your employee experience with Mercer Belong®
You can expect many benefits.
Key features of Mercer Belong®
Belong gives your employees a single destination for everything they need to feel connected, informed and ready to act—creating the ultimate digital employee experience, including: 
Modern design with interactive features and embedded video engages users and provides education quickly and effectively.
Timely, employee-centric content on a variety of relevant topics keeps readers coming back, while scheduled updates keep your site up to date. 
Socrates-powered virtual assistant provides conversational, on-demand answers to employee questions. 
Optional gamification module lets employees participate in activities, share their perspectives, unlock exclusive content and compete with peers.
Available single sign-on (SSO) to outside platforms and tools, as well as optional authenticated access to personalized information and data. 
Fully mobile-responsive design supports employees and family members wherever they are, on any device.
Watch video: Learn how Belong® captures your employees' attention
With deep expertise across health, benefits and communications, Mercer understands the needs of both employers and employees. We use the newest digital technologies to educate, engage and inspire your employees. Helping companies form meaningful connections with employees about their benefits, careers and well-being—wherever they are, on any device—is our goal.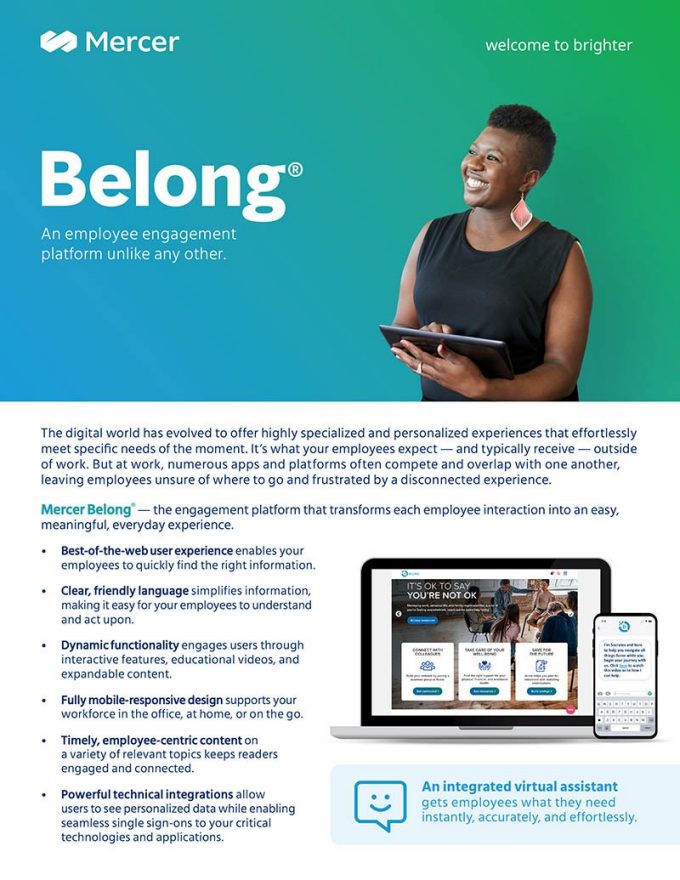 Belong scales to meet your current and future needs—from a deep dive into a single topic to a full HR portal.
Belong is built on Sitecore, a leader in digital experience platform. It services across all industries and here is a look by the numbers: