Optimizing your defined benefit plan
We may help you navigate the defined benefit landscape — pivot on market conditions and seize opportunities while managing risk and cost.
Your defined benefit destination strategy
We want to help you build and execute a defined benefit (DB) strategy ─ one that helps you aspire to delivering optimal outcomes to meet your objectives. Our DB solutions bring together actuarial, administration, pension risk management and transfer, and investment services for a seamless, end-to-end experience.
---
Defined benefit plans spectrum of services
While the pension plan health generally has improved, burdens on plan sponsors haven't eased. Even if you're not ready to take the next step in your plan's journey, we may help with advice and solutions driven by an integrated, interdisciplinary team of specialists in areas such as manager research, pension strategy, investment operations, de-risking and more.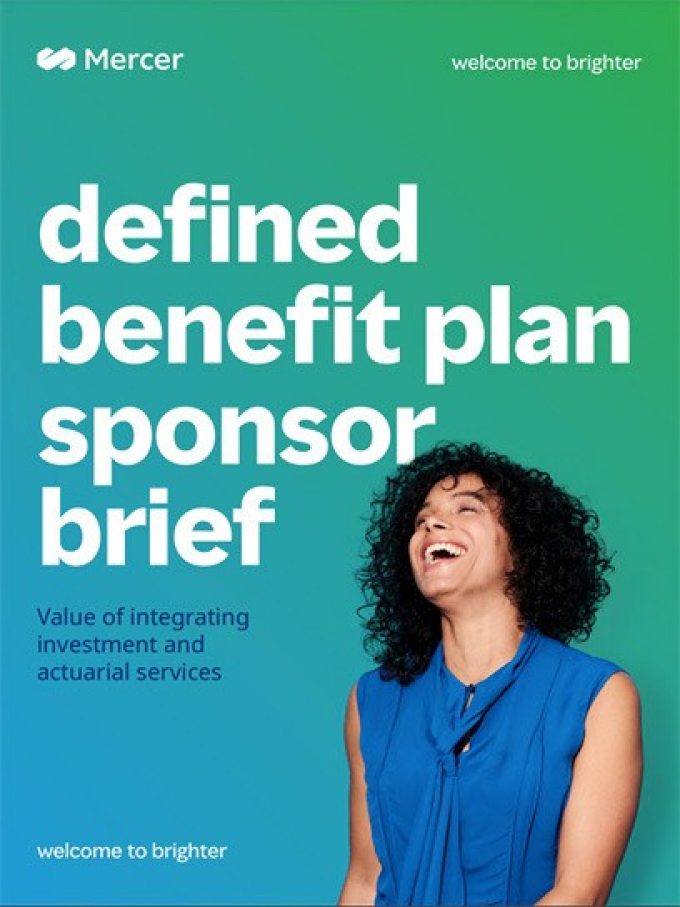 A strategy and delivery model that integrates assets and liabilities is critical to helping plan sponsors achieve their objectives. Read more about the potential advantages of an integrated model that may ultimately deliver better financial outcomes versus a separate-provider model.
---
Introducing some of our team
Insights, ideas, innovation
It's all here: MercerInsight® Community
Simplify your search. Get strategic research tailored to your interests from thought leaders across the investment industry, including Mercer and hundreds of third‑party publishers. Membership is complimentary, and it takes seconds to sign up.
Join the community
---
Connect with a defined benefit plan professional
Set up a free consultation or request more information.
---
Before you access this page, please read and accept the terms and legal notices below. You are about to enter a page intended for sophisticated, institutional investors based in the USA only.
This content is provided for informational purposes only. The information provided does not constitute, and should not be construed as, an offer to sell, or a solicitation of an offer to buy, any securities, or an offer, invitation or solicitation of any specific products or the investment management services of Mercer, or an offer or invitation to enter into any portfolio management mandate with Mercer.
Past performance is not an indication of future performance. If you are not able to accept these terms and conditions, please decline and do not proceed further. We reserve the right to suspend or withdraw access to any page(s) included on this website without notice at any time and Mercer accepts no liability if, for any reason, these pages are unavailable at any time or for any period.