Job-related stress and depression/anxiety are the top workforce behavioral health (BH) concerns for employers, according to a new Mercer survey of 523 employers. More than half the respondents cited each of these issues – and their impact on medical plan cost and productivity – as a concern for their organizations, and about a fourth cited alcohol and opioid use disorders. At the same time, almost two-thirds of survey respondents say that adequate access to outpatient behavioral health care is lacking in some or all of their locations. Taken together, that's troubling news. But the survey also found that many employers are not willing to wait for the situation to improve, but are taking action themselves to increase employee access to quality behavioral health services.
The largest employers were the most likely to report serious concerns over behavioral health conditions in the workforce – perhaps because they are the most likely to have assessed workforce mental health issues by reviewing trends in claims data and/or employee health assessments. Among respondents with 5,000 or more employees, 69% said that workforce depression/anxiety was a concern in their organization, compared to just 28% of employers with fewer than 500 employees. These smaller employers rated job-related stress and financial stress as the top two risk factors associated with BH conditions in their workforces. Interestingly, while about a fourth of all respondents (and about a third of those with 5,000 or more employees) cited opioid use disorders (OUDs) as a concern, slightly more cited alcohol problems.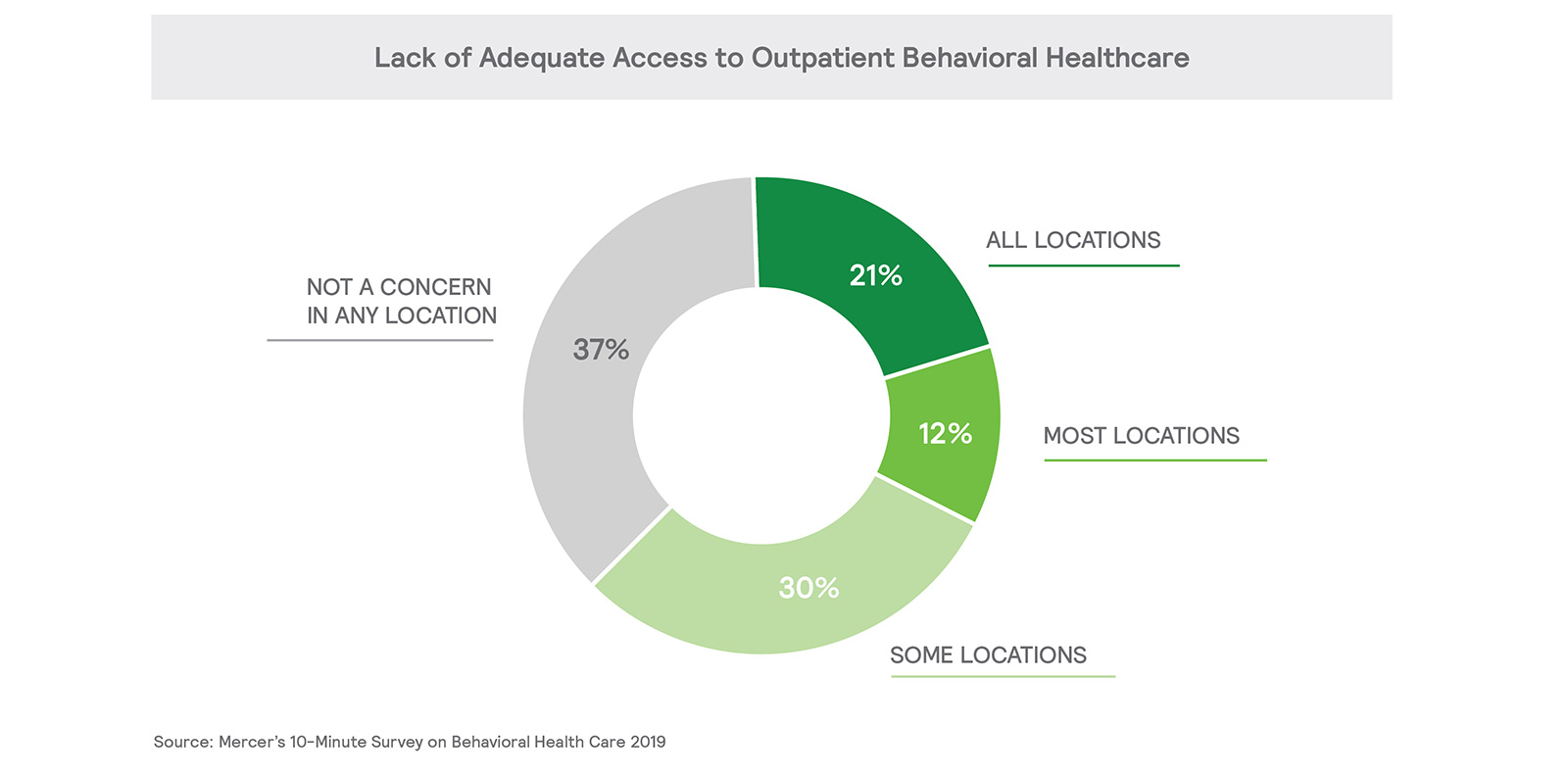 The shortage of behavioral health care providers, already well-documented, affects the majority of employer health plans. For about three-quarters of survey respondents with 5,000 or more employees, adequate access is a concern at some or all locations (20% say at all locations). Among small employers, with fewer locations to manage, 43% say access is a concern.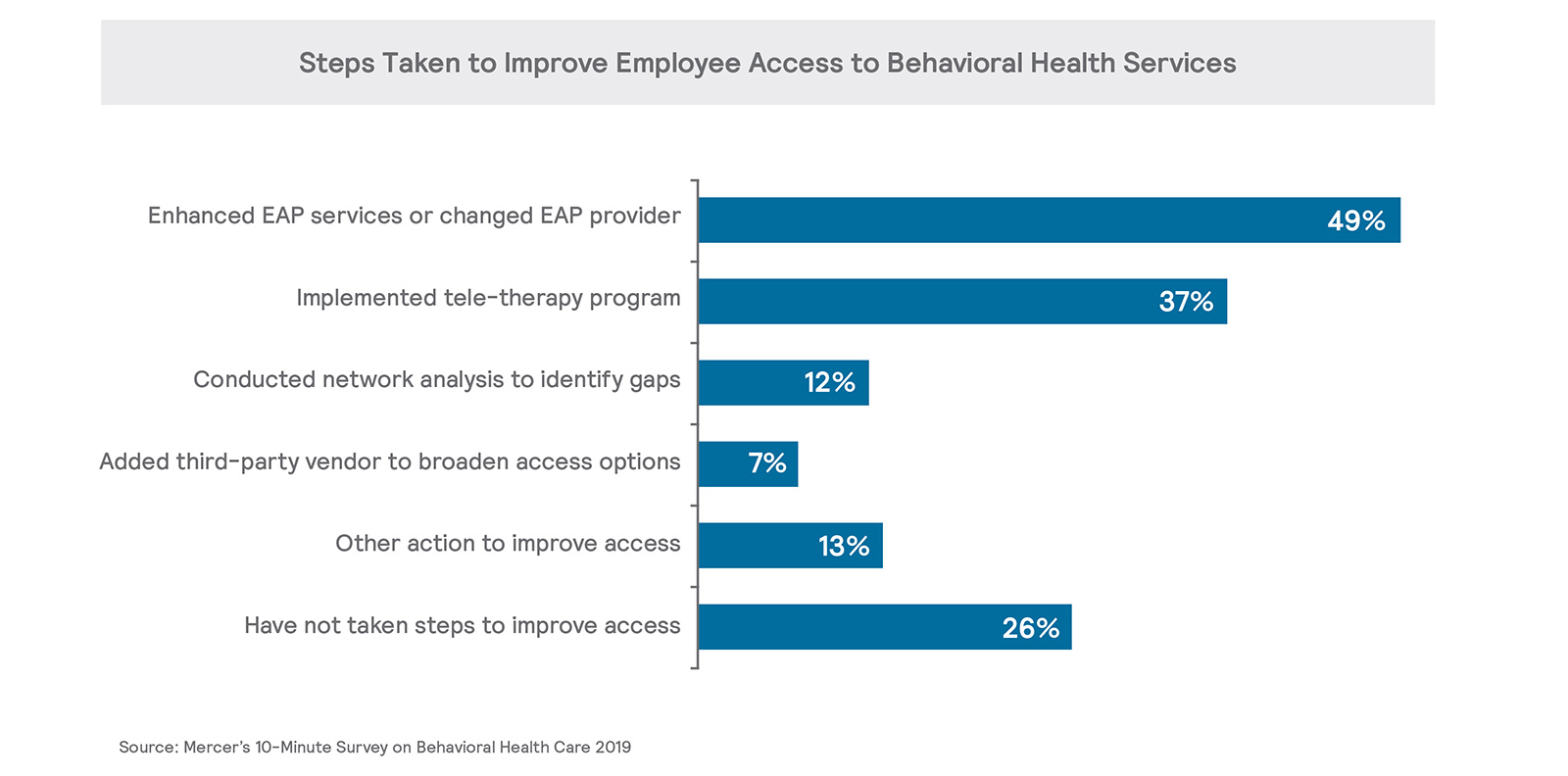 Spurred by a growing body of research demonstrating the impact of behavioral health on physical health and productivity, employers are taking action to help close the access gap themselves. Given that most employers already have an Employee Assistance Program (EAP) in place, many have chosen to start there. About half (48%) have enhanced the services offered by the EAP within the last two years, or changed EAP vendors to provide a more robust offering. Expanded EAP offerings include onsite counseling services, online programs using Cognitive Behavioral Theory to address anxiety, depression, sleep and pain.
Just over a third (37%) have recently implemented a tele-therapy program through the medical offering's telemedicine vendor. Tele-therapy offers convenience and less-stigmatized access for the member in terms of the time and place of their counseling session. It expands access options and can also provide another avenue for seeking psychiatric services.
Some employers, most often the larger ones (26% of those with 5,000 or more employees), have conducted network analyses focused on behavioral health care access, including for more complex treatments, such as residential or inpatient settings. This type of analysis can also shed light on member use of out-of-network facilities and provide employers with information to push vendors in closing access gaps. A small number of respondents -- 7% -- have contracted with a third-party vendor to supplement existing providers and broaden access options.
Clearly, these measures won't solve the problem of a shortage of behavioral health care. But it's encouraging that so many of the survey respondents have moved beyond acknowledging the issue to taking action. About half believe that their organization's efforts to support workforce behavioral health have been effective. For those still waiting to act, that could be the motivation you need.
Stay tuned for more results from Mercer's 10-Minute Survey on Behavioral Health – the second in our new series of short surveys on timely topics. Results for our 10-Minutes Survey on Health Reform can be viewed here.
Related products for purchase