The journey towards equity for women in the workforce has not been easy, steady or smooth. Gaps in opportunities and rewards have been stubbornly persistent, and the pandemic has piled on new challenges. In a recent Fast Company article, Mercer president and CEO Martine Ferland points out that while the pandemic has affected workers across the board, its impact on women's workforce participation has been notably negative. That's because the industries hardest hit by the pandemic tend to employ more women – and because more women than men have left the workforce to take on caregiving responsibilities as schools and other support services were closed or disrupted.
But the news isn't all bad. Recent survey results suggest some progress has been made towards narrowing gaps in health benefits between companies that employ mostly women and those that employ mostly men. Using data from Mercer's National Survey of Employer-Sponsored Health Plans, we grouped employers with a predominantly female workforce (65% or more) and those with a predominantly male workforce, and compared benefits and policies across the two groups.
The two groups reflect a different mix of industries – the majority of the mostly female companies are in the healthcare and services sectors, while the majority of the mostly male companies are in manufacturing, followed by services. Across the mostly male companies, a slightly higher percentage of employees are in collective bargaining agreements (11% of employees, on average, compared 8% in the mostly female companies). Here's how the two groups compare in a few key areas – and the changes we've seen since we conducted a similar analysis in 2018.

Pay gap remains, but is improving. In 2018, we found that the average salary was significantly lower in mostly female companies and that it was rising at about the same rate in both groups. In 2020, while there remains a large gap in the average salary – it's about $15,000 lower in the mostly female group – between 2018 and 2020 the average salary rose somewhat faster in the mostly female group than in the mostly male group, helping to narrow the gap on a percentage basis.

In mostly female companies, contributions are higher and coverage is less generous, but the gaps are narrowing. In the organizations with predominantly female workforces, the total average per-employee cost of health benefits is about $1,000 lower than in the mostly male companies. Typically, health plan cost is lower when employee cost-sharing is higher, and that seems to be the case here: virtually all cost-sharing requirements are higher in the mostly female group. For example, average in-network PPO deductibles in mostly female companies are $986 and $2,183, respectively, for individual and family coverage, compared to $818 and $1,839 at mostly male companies. But, as wide as these gaps are, they have closed somewhat over the past two years.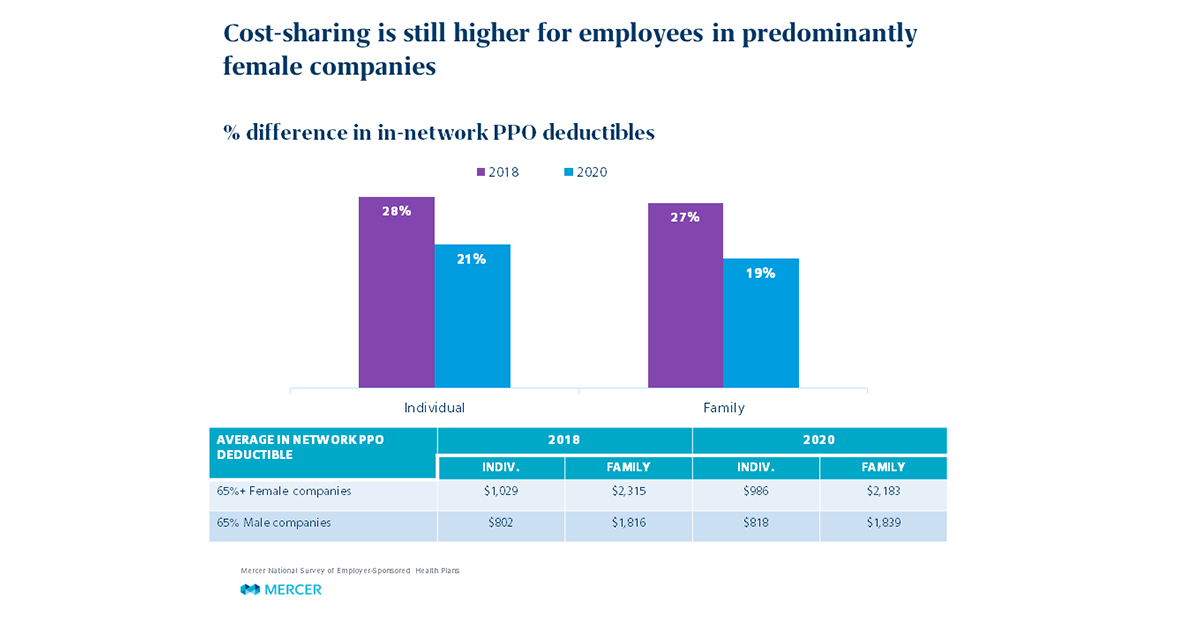 Despite the less-generous plan design, employees in mostly female companies still pay more for coverage, particularly for family coverage. For coverage in a PPO, the most common type of medical plan, the monthly paycheck deduction for family coverage is 14% higher ($632 for mostly female companies and $554 for mostly male companies). For employee-only coverage, the difference is negligible – just $4 -- but on average 46% of employees in the mostly female companies elect dependent coverage, a considerable portion of the covered population. In short, compared to workers in mostly male companies, workers in mostly female companies earn less and pay more for health coverage that provides less protection from out-of-pocket expense. Again, the silver lining here is that all of these gaps shrank, at least a little, between 2018 and 2020.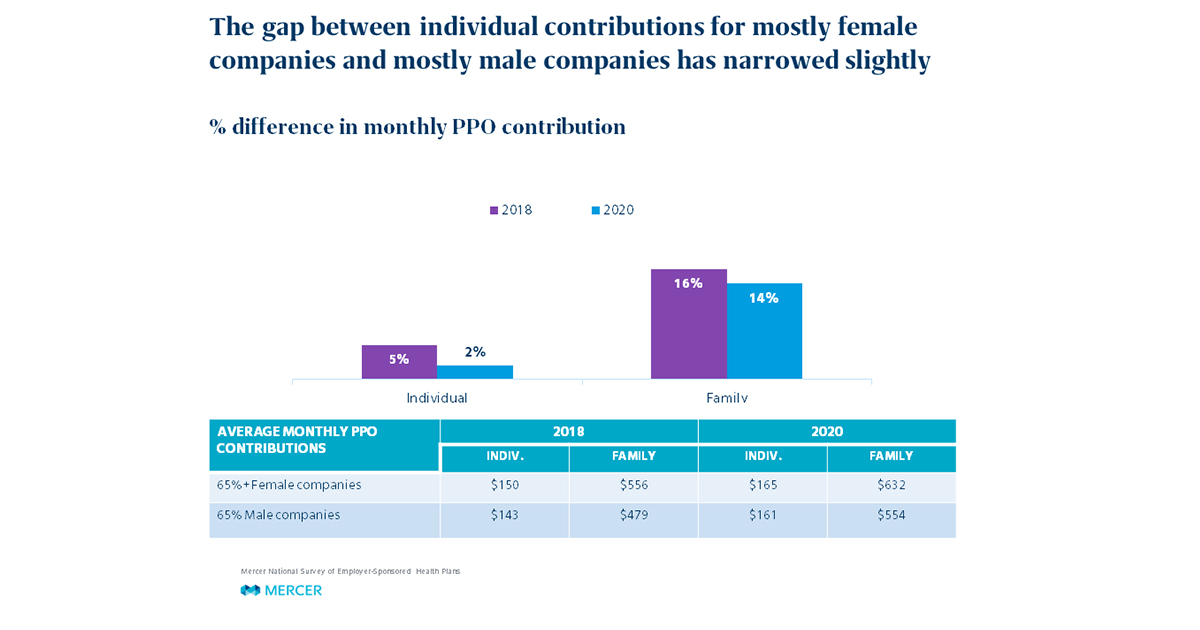 Sparse support for caregivers across the board. We also compared resources and policies designed to help working parents cope with disruptions in schools and daycare. Here we found that employers with a mostly female workforce are more likely to provide onsite daycare – 16% do so, compared to just 3% of employers with a mostly male workforce. They are also more likely to subsidize daycare, at-home and back-up childcare, and to offer virtual tutoring or other learning tools. Still, no more than 10% of the companies offered any one of these supports. More employers have been able to offer flexible working hours to allow parents to care for children during the day, but this policy is actually less common among mostly female companies (38%) than mostly male companies (43%).

At the time this survey was fielded (July-September), some employers had already implemented policies in reaction to COVID-19 while others were still evaluating their options, and it remains to be seen how programs and policies will evolve post-pandemic. Certainly, flexible working strategies are viewed by many employers as a critical way to engage and support workers in the future. Nearly 1 in 3 organizations say that half or more of their workforce will be remote post-pandemic, compared to just 1 in 30 with this level of remote working prior to the pandemic. Given that a lack of flexibility may have led to more women opting out of the workforce in the past year, employers should examine their policies through a gender equity lens – and, in the spirit of the International Women's Day theme #ChooseToChallenge, consider taking on the important challenge of closing the gender gap in healthcare affordability.

About the analysis
Using data from Mercer's National Survey of Employer-Sponsored Health Plans 2020, we grouped employers with a predominantly female workforce (65% or more) and those with a predominantly male workforce, and compared benefits and policies across the two groups. The analysis was limited to employers with 500 or more employees. There were 247 organizations in the predominantly female group and 450 organizations in the predominantly male group.
Related products for purchase