Rebates remain a hot topic in the drug pricing debate (see our post on this week's Senate hearings). Both the Department of Health and Human Services (HHS) and the Senate have recently proposed changes to the current rebate system. While the HHS proposal is limited to Medicare and Medicaid plans, legislation introduced by the Senate targets the private sector by outlawing rebates or price reductions negotiated between pharmaceutical manufacturers and pharmacy benefit managers (PBMs) unless the rebates were passed through to consumers at the point of sale.
How do employers feel about rebates? In a survey of nearly 600 employers of all sizes conducted by Mercer last month regarding their views on a number of health policy issues, employers were asked whether they favored or opposed action on rebates. While over a third of respondents said they needed more information before forming an opinion, most of those who responded were in favor of eliminating rebates in some form. About two-fifths of all respondents (42%) were in favor of eliminating rebates for both the public and private sector, and another 5% were in favor of eliminating them for government plans only. Just 17% were opposed to any action on rebates.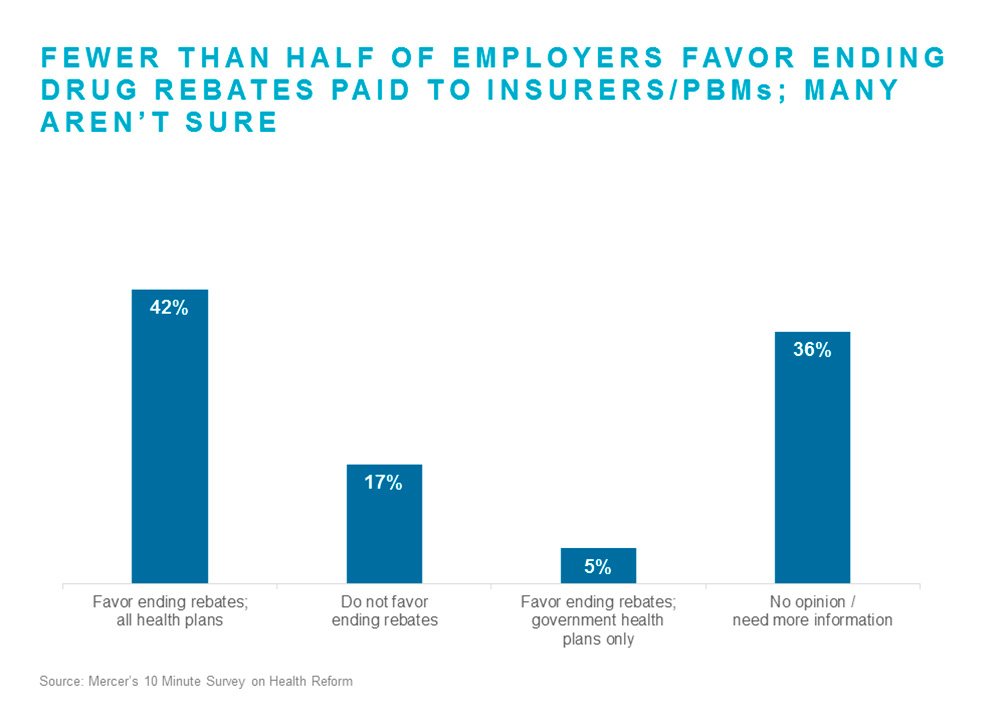 Rebates are intended to increase competition among pharmaceutical manufacturers, which should — in theory — lead to lower net costs. In practice, manufacturers vying to have their medications included in PBM formularies have negotiated higher rebates instead of lower list prices, which has caused the gap between the list price (the discounted drug price before application of rebates) and the price net of rebates to widen significantly. While most employers share rebates with their employees through lower per-paycheck contributions to the cost of health coverage, very few currently share rebates with employees at the point of sale. As plan designs requiring members to pay coinsurance (a percentage of charges rather than a flat copay) have become more common, and as enrollment in high-deductible health plans has grown, more consumers are feeling the sting of high list prices.
In the survey, larger employers were more likely to oppose eliminating rebates. Nearly a fourth of respondents with 5,000 or more employees were opposed, compared to just 6% of those with fewer than 500 employees. Employers with significant leverage — either due to their size or participation in collective contracts — typically receive 100% of rebates from their PBM, so while they may pay a higher list price up front, they receive the full benefit of the rebate over the course of the year. Smaller employers, however, tend to get less than 100% of rebates; for them, drug formularies with high-cost, high-rebate medications may mean higher costs for both the member and the plan.
Employers that oppose ending rebates may also simply be more aware of the potential pitfalls of the proposed changes. While new rebate rules could lead to cost relief for some members at the point of sale, the general consensus is that without very careful planning, the outcome might be increased costs for all — members, employers and Medicare/Medicaid.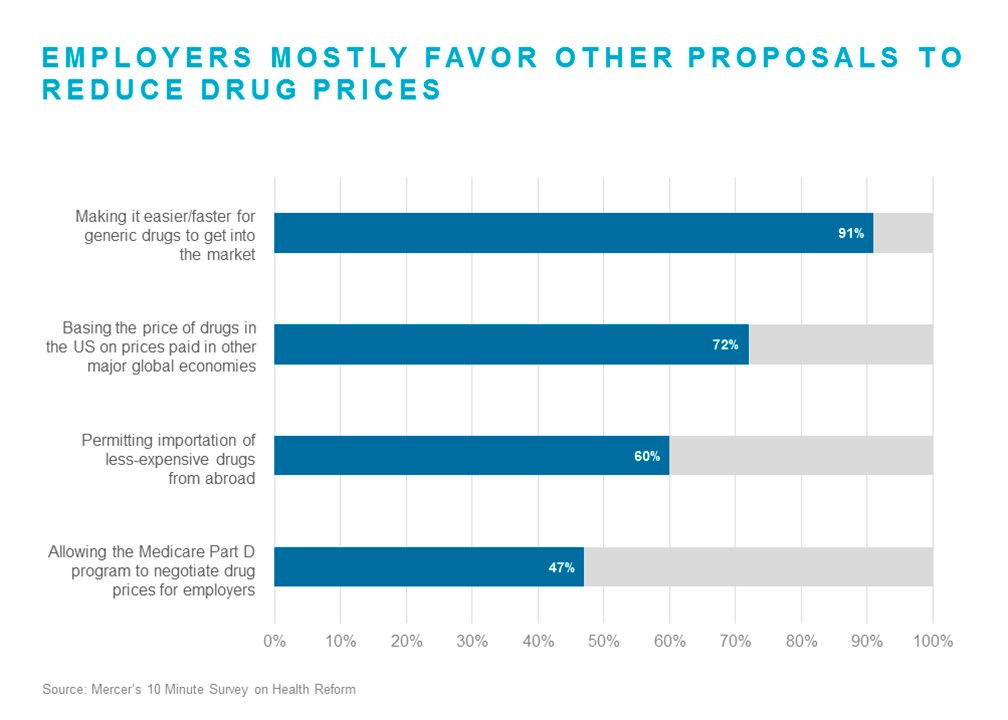 There was greater consensus among survey respondents about other proposals to reduce drug prices. Respondents were most in favor of "Making it easier and faster for generic drugs to get into the market" (91% strongly favor or favor), followed by "Basing the price of drugs in the US on prices paid in other major global economies" (71% strongly favor or favor). In fact, a majority of respondents favored all but one of the proposals, suggesting that employers are largely united in the belief that the government needs to take action to address spiraling drug costs.
Related products for purchase