More than two-thirds of the 425 US employers responding to a recent Mercer survey say they have seen indications that employee pandemic fatigue or burnout has worsened in recent months. While we may be through the worst of the pandemic, that doesn't mean everyone will bounce back on their own; it's not uncommon for people to experience an emotional let-down after the pressure of a crisis lifts. As an employer, you can make a difference right now by taking visible steps to create a balanced, supportive work culture. Get educated about individual needs – whether through manager interactions, employee surveys, or focus groups – and then take targeted action. Enhancing benefits – or even just redirecting employees to benefits they have already – can go a long way toward supporting their emotional well-being. In our survey, 60% of respondents have engaged leadership to encourage using paid time off to refresh and recharge; 41% have provided apps to support physical activity and well-being (e.g., exercise and healthy cooking); and 39% offer meditation or relaxation apps or classes.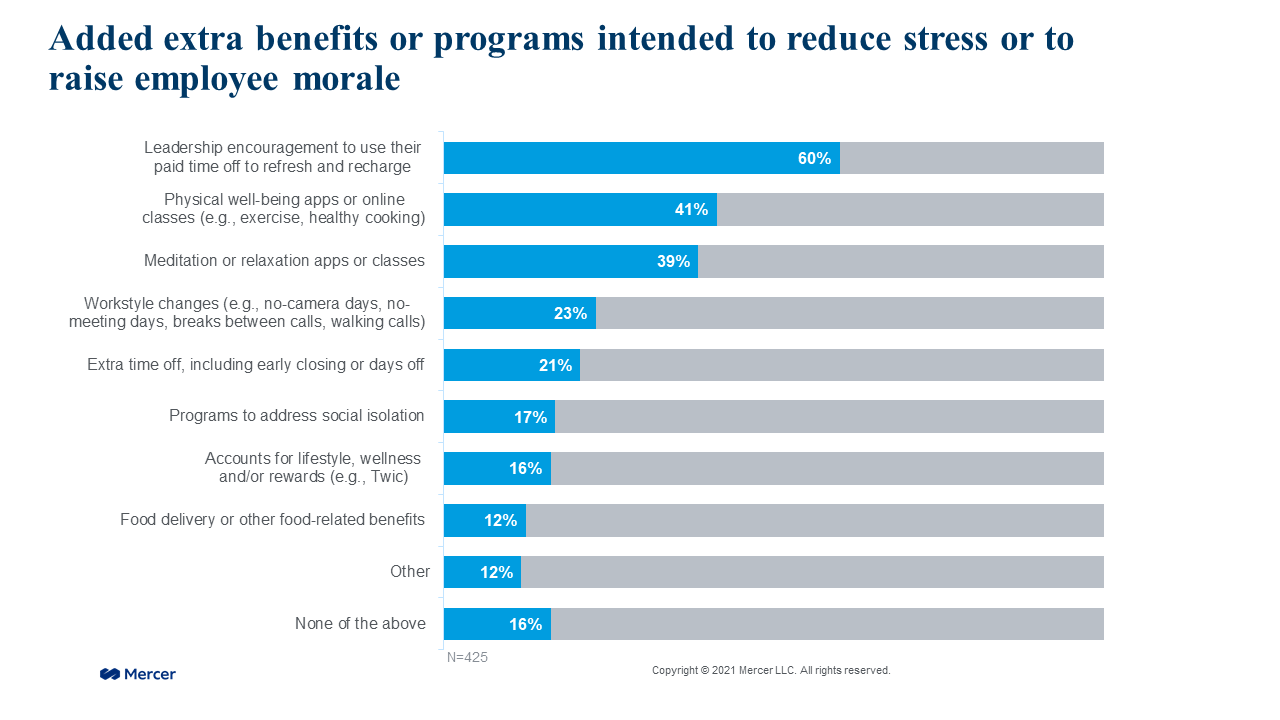 Offering employees your support now can make for a more successful transition to a fully open economy. We found that these strategies have been the most effective at supporting employee needs:
Actively listen: By implementing employee-centric strategies like virtual focus groups, leadership fireside chats, or manager training in empathetic listening, employers can better understand workers' needs, concerns and interests to target strategies to specific needs
Relatable communications: Create a meaningful and relatable communications approach by incorporating testimonials, recognition activities and team spotlights, and branding campaigns around compassion, caring and supportive culture
Positive environment: Adjusting interior design with brighter colors, creating space for meditation or onsite fitness activities (such as walking paths), or even offering micro-break computer programs can have a positive effect on employee mood.
Address inequities: Consider updated mission statements, leadership roundtable and panel discussions, targeted community efforts, sponsorships and BRGs, extended parental leave, including Juneteeth as a company holiday, and strengthening commitments to pay equity assessments and remediation
Promote togetherness: Pursuing personal and meaningful connections can go a long way towards creating a positive culture. Consider promoting a "random acts of kindness" campaign through peer-to-peer, social media or internal networking channels, charitable giving and donations between colleagues, PTO banks or food donation bins, or recurring/scheduled team breaks (e.g., 5-minute wall sits or group stretch).
Balanced schedules: Can your organization support flexible work arrangements? You can also support more balanced schedules through company or team-wide blocked time (no meetings allowed before 9:30 AM or after 4:30 PM to allow for ramp up/ramp down), 10-minute gaps between meetings (one hour meetings become 50 minutes), encouraging "relax and recharge" PTO, providing "summer Hours" (e.g., closing early on Fridays between Memorial Day and Labor Day) or additional time off – and help alleviate the stress employees feel in their day to day service delivery.
Employee burnout is a real problem that doesn't have a cookie cutter fix. As the workforce continues to shift through the next phases of the pandemic, the need for support and services will continue to build. Depression, anxiety, fear, and anger can be devastating to the individual employee and to the workplace. We recommend that all employers get a pulse on what's happening in their workforce and consider strategies and programming to support needed culture change – and get ahead of unanticipated turnover, absenteeism and leave. 
Related products for purchase