Health benefits matter a lot to employees. Mercer's Health on Demand survey of over 14,000 workers worldwide demonstrated that employees who believe their employer cares about their well-being are less likely to leave their jobs. If your benefit programs work better for some employees than others – if there are gaps that leave some employees feeling unsupported – finding and filling those gaps might be the best place to focus for a benefit strategy that strengthens the employer-employee bond. 
Inclusive family-building support is quickly becoming the norm. Nearly a third of large employers offer benefits such as access to fertility treatment coverage and adoption and surrogacy benefits, and almost another third are considering it for 2023. Mercer's Health on Demand survey found that LGBTQ+ employees strongly value specialized support for mental health, and while just 17% of large employers provide enhanced resources today, another 22% are considering it.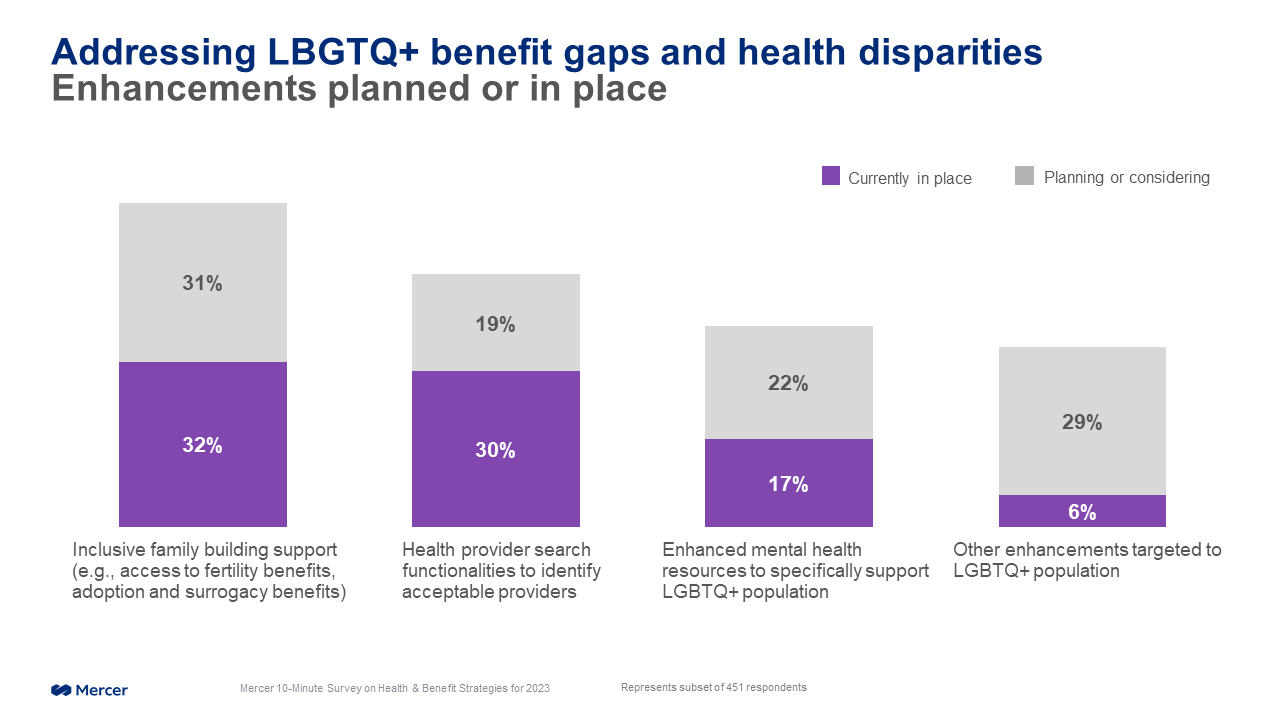 When considering resource enhancements, evaluate how health plans and vendors will provide acceptable access and equitable results to LGBTQ+ plan members. Acceptable access means ensuring people have a health care resource who will provide respectful care for all their health care needs. This will require access to a variety of care providers with different lived experiences. Equitable results are realized when LGBTQ+ plan members receive quality care that leads to good health outcomes whether they are receiving care for a chronic condition, a new issue or specialized healthcare need.

Employers have a key role to play when they engage with health plans or vendors to ensure all members can select providers that they prefer and trust. Employers can also request reports on quality outcomes including specific information about different populations. And, employers should remain vigilant about looking for structural biases and working with their health plans and vendors to remove those biases.

Related products for purchase