2023 - 2024 
Inside Employees' Minds study
Guide to US employees' pressing needs and how to meet them. 
Navigating the new world at work
This study includes 4,505 full-time employees in the United States, working for organizations with more than 250 employees, and was fielded between July 6th through July 20th 2023.
2023 brought a mixed sense of optimism to American employees. 
Employees are feeling more positive overall than last year. With inflation cooling, employees are no longer experiencing the acute shock, and are better equipped to navigate it. Labor shortages have somewhat eased, making workloads more manageable. And many employees have moved to roles where they're more satisfied. 
Employers have also made significant investments in their workforce, leading to happier employees. They delivered the largest pay increases since the 2008 financial crisis, while also making significant investments in Total Rewards — all of which increased employee engagement and commitment. This is evidenced by the end of the 'Great Resignation' and quit rates settling back to pre-pandemic levels. Keeping with this theme, even as return to the office mandates have swept the nation, office utilization remains at 50%, suggesting employers are sticking with hybrid work arrangements that better support employees.
Engagement is up across the board, and so is satisfaction. Since last year, employees have a greater sense of balance, belonging, and satisfaction with compensation, benefits, and career opportunities — and they are less likely to consider leaving their employers.
But things are not all rosy. One in three employees are still considering leaving their employer, still down from the 2022 level of one in four. Financial stressors remain high and employees continue to struggle to make ends meet. Concerns over the economy started to grow and the labor market started to point back in favor of employers — and generative AI and Chat GPT exploded onto the scene. These pressures have created new anxieties over job security for employees — and stressed employers, who are trying to figure out how to rapidly leverage these technologies.

In addition, new generations are rapidly changing the workforce — millennials make up the largest share of the current US workforce and Gen Z is projected to make up a quarter of the workforce by 2025 — and employers need to understand their expectations and adapt to shifting needs and priorities. This year's data indicate that we are coming down from a period of massive disruption and settling into a new world of work and life: one where people are more protective of their financial security as the economy feels volatile, where people prioritize well-being as the future is uncertain, and where there is a more stark divide between lower-income employees and the rest of the workforce — where lower-income employees are feeling the brunt of the pain.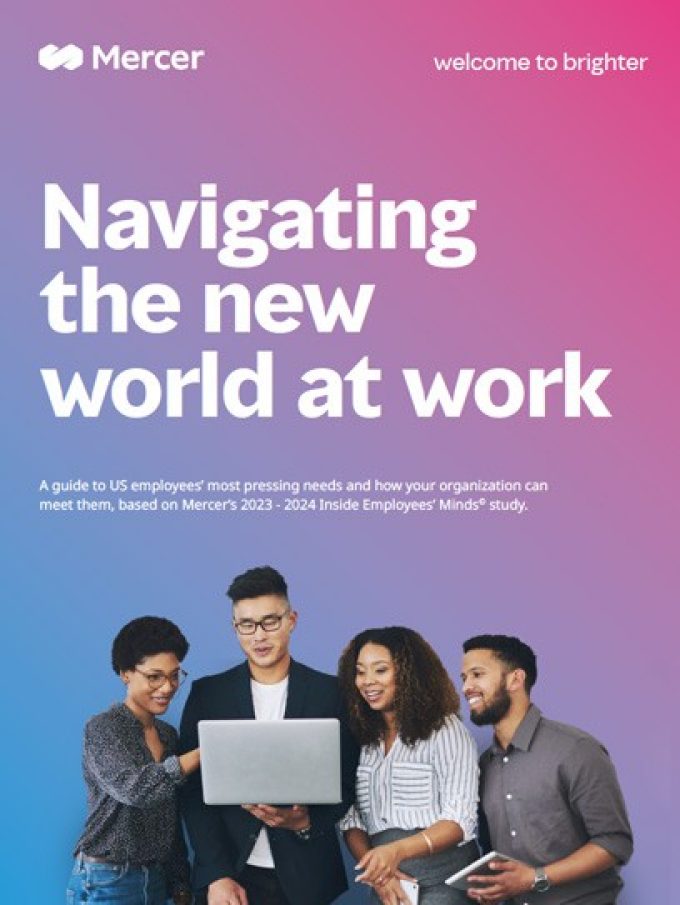 Uncover how you can attract, retain, and engage the talent you need in the new world at work.
The five key findings from this year's US Inside Employee Minds study reveal where employers should focus to adapt to changing employee expectations:
Focus on financial security.

Concerns over financial security continue to reign supreme, as employees struggle to recover from inflation stressors. Lower income employees continue to struggle to make ends meet.

Amplify well-being through flexibility.

Mental health concerns persist despite significant employer investments. The employee experience is still overwhelming and exhausting for many — and employees say that rethinking work is the key to improve their well-being.

Build trust through transparency.

Employees are researching and discovering information about pay ranges and career opportunities, regardless of whether their employers share that information. But when employers do share, employees are more engaged and committed.

Unlock potential through AI.

Concerns over job security have increased,both in response to declining economic confidence and technological advances. But employees overall are optimistic about the ways technology could improve their experience of work, helping them be more efficient and effective.

Embrace values for impact.

Employees increasingly say that ESG issues are important to them — and that they want their employer to support, not just through statements but actions. These shifting expectations are being shaped heavily by younger generations in the workforce.
Download the full US 2023-2024 Inside Employees' Minds Report.
Uncover how you can attract, retain, and engage the talent you need in the new world at work.