Talent Strategy
Enhancing your Employee Value Proposition (EVP)
A successful employee value proposition can result in improved talent outcomes, better business performance, and engaging employees.
Mercer's solutions can help clients develop the best program to enrich their EVP while achieving corporate goals.
Enhance the Employee Experience, Win the Talent War
Compensation and benefits are no longer enough to attract and retain key talent. Today's diverse workforce requires a compelling employee value proposition (EVP) - in other words, "total rewards plus" EVP is the total value an employee receives from the employer: compensation, benefits, career management, workplace/lifestyle and employee pride. The EVP defines the commitment the company will make to develop the employee in exchange for the effort the employee puts in to benefit the company.
Similar to successful businesses that differentiate their products and services to attract targeted segments of the population and retain them as long-term customers, employers must also provide differentiated offerings - a unique EVP - to attract and retain qualified talent and help them stand out from competitors.
Highly engaged employees are 87% less likely to leave their jobs than their disengaged counterparts.
A successful EVP can result in improved talent outcomes, better business performance, and engaged employees - a win-win for both the employer and the employees. It must present the company, however, as an employer of choice by being unique, compelling and credible.
The X-Factor
Employers are moving beyond salary and benefits as the key components for motivating employees to a "total rewards" perspective. Mercer has taken the concept of total rewards one step further with a fifth ("X") factor that compliments the contractual deal between employees and employer: an emotional connection. In essence, the greater the emotional connection, the less dependence there is on contractual components such as salary.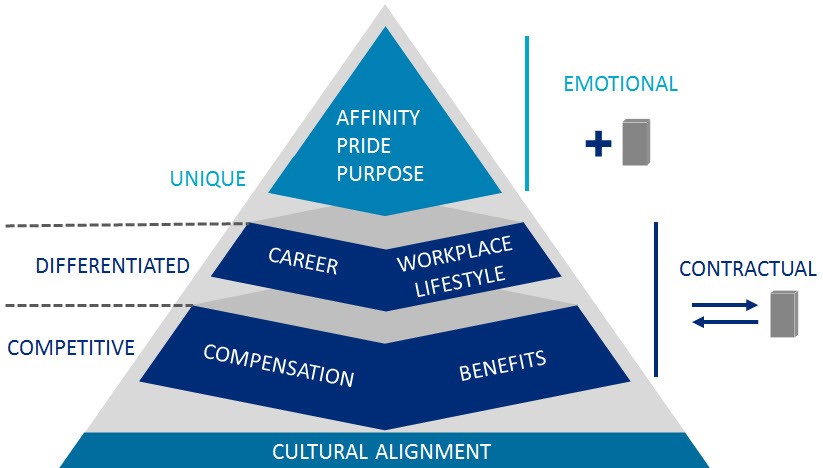 Speak with a Consultant
Leave us your details and we will get back to you shortly.