The final page has turned on a federal COVID-19 vaccine-or-test requirement for non-health employers, with OSHA withdrawing the Emergency Temporary Standard (ETS) following the Supreme Court ruling that blocked it from taking effect. 
Understandably, the current state of workplace vaccine requirements is all over the map. Some employers had implemented vaccine requirements before OSHA released the ETS; others had responded to the ETS or were in the process of doing so; while others, especially those most concerned about employee resistance, were waiting and hoping the ETS would just go away. 
New poll finds majority of employers with a mandate or considering one
Back in October, a Mercer survey of more than 1,000 employers found that 25% already required employees working onsite to be vaccinated. Fast forward to today, when a poll of nearly 500 employers taking part in a Mercer webinar found 44% with a mandate currently in place and 6% planning to implement one, with another 9% still considering it. While the results of this informal poll are not strictly comparable to our earlier survey, they suggest that some employers did move forward with a vaccine requirement in anticipation of the ETS (it should be noted that 9% of respondents indicated that they are obligated to mandate vaccination, based on federal or state/local laws). Still, about two-fifths of respondents (42%) say they are not considering requiring vaccines.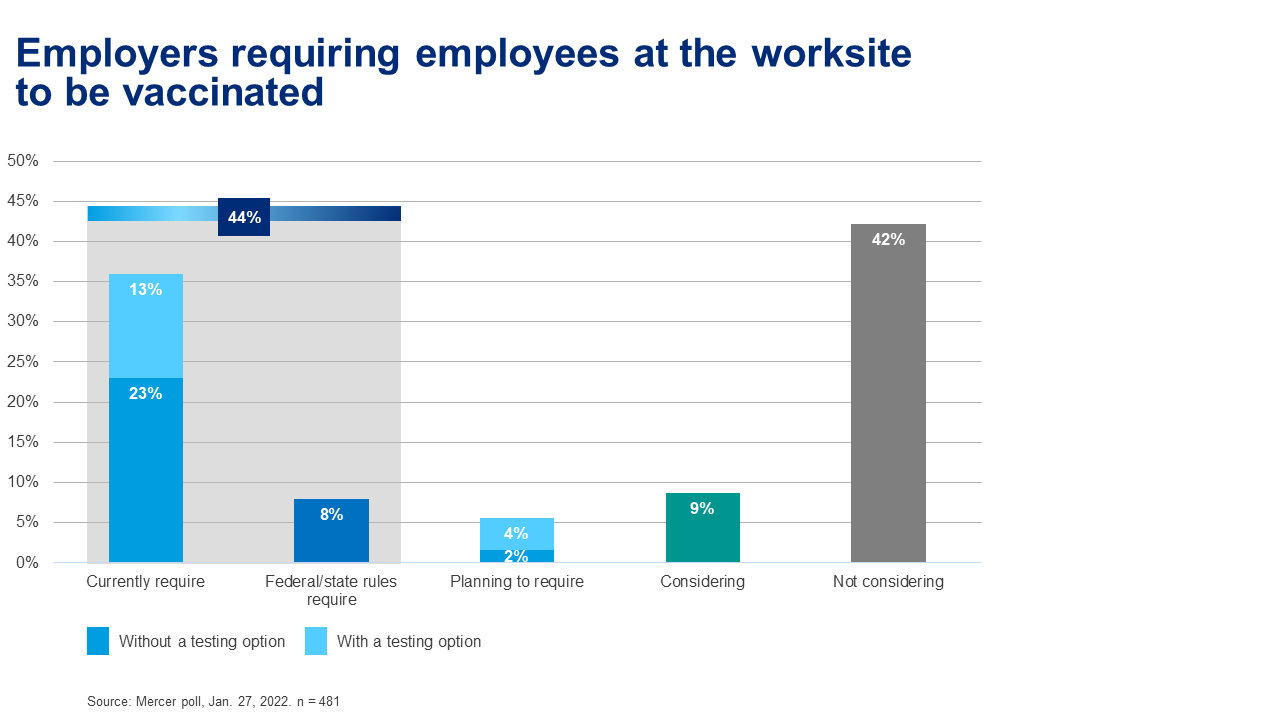 The pros and cons
For those on the fence, there remain pros and cons to implementing a vaccine requirement. Obviously, potential employee turnover is the primary downside, although surveys have found most employers experienced minimal staff loss. Of course, with no universal mandate, employees who feel strongly that they don't want to be vaccinated will likely be able to find someplace to work that doesn't require shots or testing. 
On the other hand, surveys of workers have found that the majority would prefer their employers to require vaccinations. Not having a vaccination requirement in place could hinder return-to-office plans and make it harder to attract new hires. Some employers believe it is their responsibility to protect workers onsite, even in the face of pushback from employees and customers. United Airlines maintains that their vaccination requirement has prevented at least eight employee deaths since it was implemented last summer. 
Moving ahead
If your organization was waiting for the court battles to conclude before taking action, the lifting of the ETS provides the opportunity to design a vaccination policy that is best suited to your particular workforce. One important question is whether to permit testing as an alternative to vaccination. While such a policy might be helpful from an employee relations perspective, the need to verify negative tests complicates administration and raises the question of who pays for testing, the employee or the employer. In our poll, respondents with a requirement in place were almost twice as likely to not permit testing, although those still planning to add a requirement were more likely say they would permit testing.
Although we've seen a few headlines about companies removing vaccination requirements after OSHA announced it was withdrawing the ETS, a poll by Gartner found that only 4% of employers planning to roll back vaccination rules. As you think about how to proceed from here, keep in mind that new OSHA and state-based regulations will likely be forthcoming. Workplace safety during a pandemic requires virus transmission mitigation action, and employers that do not require vaccinations will need to rely on remote work, masking and distancing and a testing program to meet this responsibility. If you ultimately decide that a vaccine requirement is the most straightforward approach, having the freedom to design the requirement your way could make it easier to move ahead. 
Related products for purchase