New Mercer Survey: Employers Overwhelmingly Support Preserving Coverage for Pre-existing Conditions  
(c) Dwight Nadig
According to a new Mercer survey conducted last month of nearly 600 employers of all sizes about their views on a number of health policy issues, the vast majority of respondents – 95% -- believe it's important that Congress preserve coverage for pre-existing conditions should the ACA be overturned.  Before the ACA was signed into law, the majority of larger employers voluntarily offered group health plans that covered pre-existing conditions for individuals who lacked prior continuous creditable coverage (even though such coverage could have been delayed under pre-ACA HIPAA rules).  Along with other ACA mandates, such as removing annual and lifetime dollar limits on essential health benefits, the ACA's requirement that employer-sponsored group health plans cover pre-existing conditions for all individuals regardless of prior coverage could only have caused costs to rise.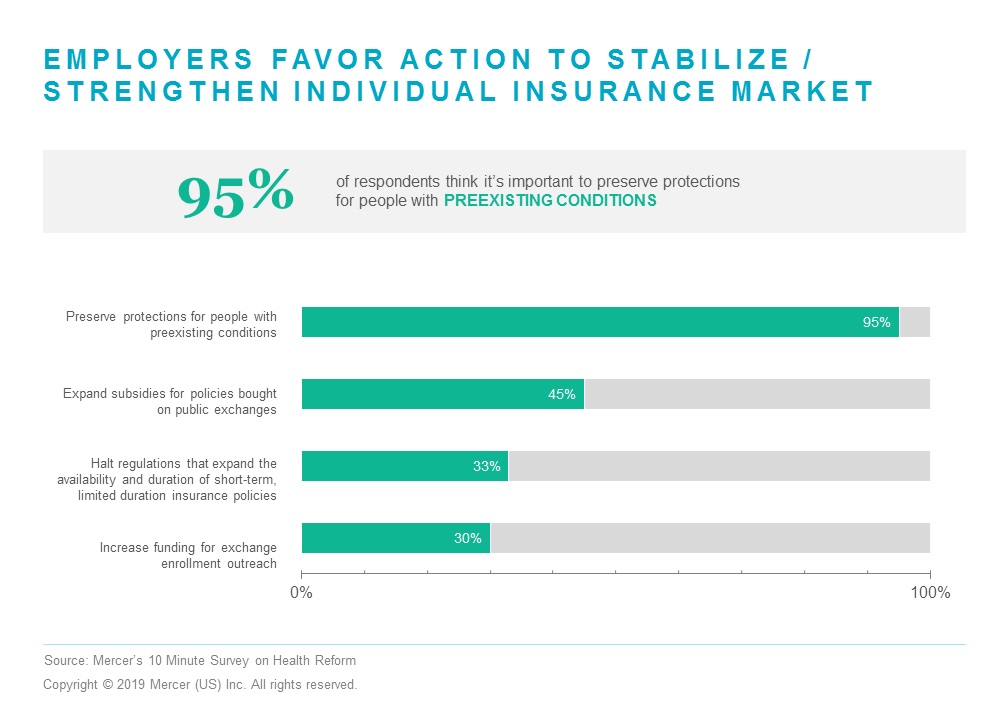 This issue has moved into the spotlight again following Monday's legal filing by the US Department of Justice urging 5th US Circuit Court of Appeals to uphold a lower court ruling that strikes down the ACA in its entirety (Texas v. United States (N.D. Tex. Dec. 14, 2018)). This is a change in direction for the Justice Department, which had argued that only certain parts of the ACA should be struck (like the ban on pre-existing condition exclusions), after originally declining to defend the case at all. At the time, the Justice Department did not seek to strike down other parts of the ACA, such as Medicaid expansion and federal subsidies for individual coverage purchased on the public exchange. Now the Justice Department says it agrees with the judge's entire opinion and won't challenge any part of that ruling as the case heads through the appeals process, and potentially to the Supreme Court.
While employer health plan sponsors could voluntarily choose to continue covering pre-existing conditions without limitations, they clearly support Congressional action to maintain the mandate that bans such exclusions.  In addition to believing, along with the majority of Americans, that protecting individuals with pre-existing conditions is the right thing to do, making it a universal requirement takes coverage availability off the table when people are making decisions to leave or stay in a job or look for a new one.
Democrats — many of whom ran on protecting the ACA last year — are treating the Justice Department's latest stance in this case as a new attack on the ACA from the Trump administration. In fact, just today, they introduced sweeping health care legislation - The Protecting Pre-Existing Conditions & Making Health Care More Affordable Act – to, among other things, lower health care costs, strengthen protections for people with pre-existing conditions and halt final rules that expand short-term, limited-duration insurance policies, which are not required to comply with any of the ACA's consumer protections (like the ban on pre-existing condition exclusions). In addition, they are holding hearings on various ACA issues, and planning to make protecting the ACA part of their platform during the 2020 elections.
The surveyed employers felt less strongly about shoring up other aspects of the ACA, which may have less relevance to their own populations. Fewer than half believe that it's important for Congress to expand subsidies for individual policies bought on public exchanges (45%) or to provide additional funding for exchange enrollment outreach (30%).  A third (33%) say that it's important to halt regulations that expand short-term, limited duration insurance policies that don't comply with all ACA requirements.
Related products for purchase