One in four Australian employees received a 7%+ pay rise this year. Learn how remuneration is evolving in the year ahead.
The combined pressures of inflation spikes and record job mobility have seen employers lift salary budgets to 4% – beyond their expected 3% increase for 2023.
Mercer's 2023 Salary Budget Snapshot survey also found 27% of employers increased salaries in line with or above inflation, and one in four also expect to increase salaries in line with or above inflation in 2024.
With inflation peaking at a three-decade high of 7.8% in December 2022 and 1.5million Australians now at risk of mortgage stress after 12 interest rate rises, it's not surprising to see employees pay closer attention to financial compensation. A 2022 RMIT study found 85% of those surveyed believe the high cost of living makes their salary more critical – and over one third changed jobs in the past year looking for better pay.
That trend is reflected in Mercer's findings, with Australian organisations recording their highest employee turnover rate in over five years in 2022, at 21.4%. This is likely to be maintained this year, with voluntary turnover alone reaching 10.2% in the first half of 2023.
Meanwhile, 60% of employers say they are still having trouble hiring or retaining employees in certain roles. Some skills are clearly still in short supply, and retaining and retraining existing employees is likely to be the priority for workforce planning in the year ahead.
This year's focus on retention saw employees in the same role at the same organisation awarded a median 4% increase in base salary. And those increases were not evenly distributed, with some jobs receiving close to 20%.
Employers are weighing up the priority skills for future growth, along with supply and demand factors, when allocating pay rises. They told us roles in sales, marketing and product management; engineering and science; IT, telecom and internet; and production and skilled trades are the most difficult to fill and retain.
Interestingly, the three industries awarding the biggest pay rises in 2023 were mining and metals, transportation equipment, and other non-manufacturing (including construction, hospitality, agriculture and others). Over a third of employees in mining and metals received a 7%+ pay increase. And that trend is likely to continue. Looking ahead, companies in the chemicals, energy, life sciences, manufacturing, and technology sectors are all planning to allocate between 3.6% to 4% of their compensation budgets to performance-based merit rises in 2024.
Given the disproportionate impact of cost-of-living growth on lower paid employees, many employers also focused on entry level roles and support staff. Para-professional employees received a 4.3% salary increase, up from a 2.5% rise in 2022, and entry level Project Engineering professionals got a 19% pay bump.
In contrast, new hire premiums for executives are in decline, down to just 0.9% in October 2023 according to the Mercer's Remuneration Database. This also suggests senior talent is being nurtured from within, reducing the pressure to compete for external leadership.
Giving employees more reasons to stay
With inflationary pressures likely to ease in the next year, pay negotiation may become less intense. In the near-term, employers will need to think about the factors motivating people to join and stay with their organisation.
While well-being benefits and flexibility are major considerations, these are becoming a baseline expectation. Career development is also a valued employee benefit with significant potential to impact retention.
According to Mercer's 2022-23 Global Talent Trends report, the employees who were planning to stay were more likely to say their current employer provides opportunities for horizontal career moves, or makes future career steps clear to them. Yet in many organisations, it's easier for people to find new opportunities outside, including with competitors, than within.
Some organisations are implementing a skills-powered talent model to enhance job transparency, capture data on employee experience, skills and interests, enabling them to match the right people with the right work from within the organisation. This data can also provide clarity on what skills are becoming less relevant and what will be needed for the future. And that should ultimately help determine remuneration strategies.
Easing pressure for talent
While employers turn their attention to retention, they are also more cautious about their hiring intentions for 2024. According to the Mercer's 2023 Total Remuneration Survey, only 28% of employers plan to increase headcount in 2024 – down from 46% in 2022.
In the US, the Great Resignation is already evolving into the Big Stay, with more employees choosing the stability of their current employer. In Australia, unemployment is expected to rise again to 4.5% by the end of 2024 – which means that seemingly endless supply of jobs might start to decline.
For employers, payroll is a key lever for talent acquisition and retention, and budgets will continue to be under scrutiny. It's essential to know how your remuneration stacks up against your competitors, and what other levers you can pull to make informed decisions to give your talent more reasons to stay.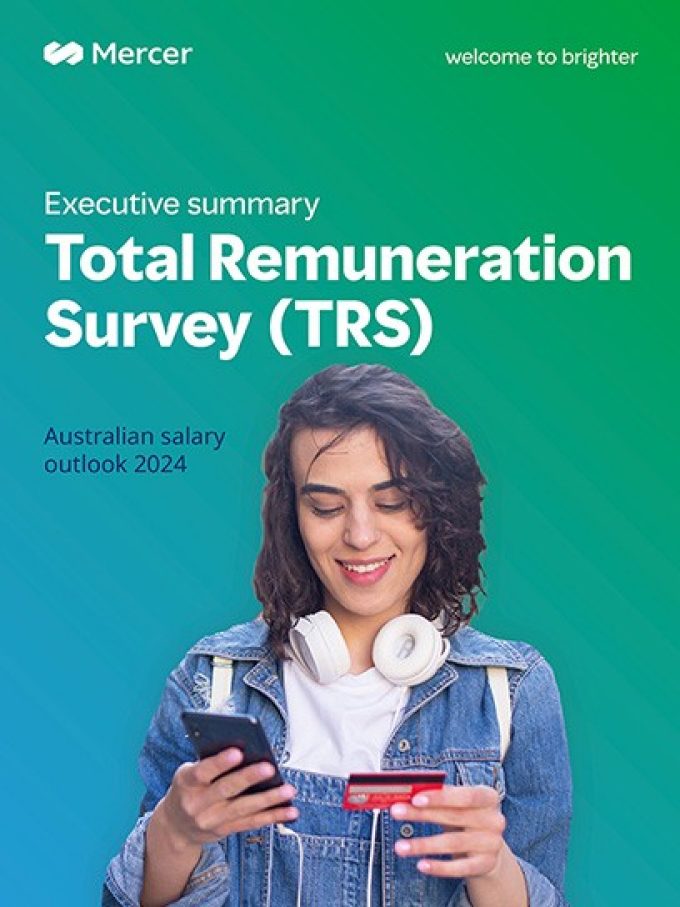 One in four employees received a 7%+ pay rise in 2023
More than 1,200 organisations participated in Mercer's Total Remuneration Survey Australia 2023. The results suggest that employers offered generous salary increases to mitigate the surge in employee turnover and support workers with the rising cost of living. 
Mercer's Total Remuneration Survey gives you access to the world's largest and most comprehensive source of compensation and benefits data, across every sector and over 6,000 Australian jobs. 
This content is intended to inform clients of Mercer's views on particular issues. It should not be relied upon or used as a substitute for professional advice specific to a client's individual circumstances. Whilst Mercer believes the prospective information and forward looking statements made by Mercer in this report are based on reasonable grounds, they are predictive in character and may therefore be affected by inaccurate assumptions or by known or unknown risks and uncertainties. This content has been prepared by Mercer Consulting (Australia) Pty Ltd (MCAPL) ABN 55 153 168 140. 'MERCER' is a registered trademark of Mercer (Australia) Pty Ltd ABN 32 005 315 917.
About the author(s)
Nithya Abraham
Products Leader – General Market, Digital & Insights, Mercer Workforce Solutions, Pacific
Chi Tran
Head of Market Insights and Data, Pacific
Cynthia Cottrell
Workforce Solutions Leader, Pacific
Related products for purchase