Flexibility is now a core component of employee value propositions among Australian organisations. Learn how benefits are evolving in 2024. 
High rates of fatigue and exhaustion are increasingly prevalent in workplaces across Australia. With over three-quarters of employees saying they're at risk of burnout and one in two workers aged 18 to 54 experiencing exhaustion, the impact is unmistakable. Research also suggests that fatigued workers are more likely to consider leaving their jobs. The findings of Mercer's 2023 Australian Benefits Review (ABR) should come as no surprise, revealing a consistently high voluntary turnover rate of 15% for two consecutive years. This aligns with the latest data from the Australian Bureau of Statistics, which shows the highest job mobility rate in a decade.
Giving people more flexibility and choice is one tool that organisations can use to address employee well-being and mitigate growing attrition. The results from the ABR indicate that since the pandemic organisations have become more attuned with this. Over half of ABR respondents (54%) believe their culture is now focused on 'work-life balance', up from compared with 43% in 2019. Fostering a culture of work-life balance can mean giving people the flexibility to choose a work pattern that helps them pursue the right balance for them.
Employers need to support their people in the moments that matter – and what matters right now to people is their mental, physical and financial well-being. According to social commentator Bernard Salt,
Australians today see a 'wealthy' life
as having the freedom to live the lifestyle they want – before and after retirement. This desire for individual freedom is also being seen in work-life balance preferences, with three in five employees now saying they will only join a company if they can work remotely or in a hybrid model.
54% of organisations say 'work-life balance' describes their culture – up from 43% in 2019.
Will a four-day workweek work for your organisation?
A lot has changed in how we work since Ford pioneered the five-day, 40-hour work week a century ago. So is that industrial-age model finally ripe for disruption?
Early results from a global trial of a 32-hour (four-day) week for the same pay suggest employers are maintaining productivity and revenue – and employees report feeling less stress, burnout or fatigue and improved mental and physical health.
Despite this, just 3% of ABR participant organisations say they offer a four-day week with no loss of pay. Offering a four-day week with the same hours is more common – such as compressing a 38-hour week into four days. However, longer workdays may be adding to stress, burnout and fatigue and can even result in lost productivity or focus.
A four-day work week requires a significant change management program. The culture needs to support it, line managers and leadership teams need training to plan their business rhythm around it, and it needs to be equitable across the business.
This likely explains why the majority of businesses lean towards providing ongoing flexitime options, allowing employees the freedom to start and finish their days earlier or later. Additionally, the availability of time off in lieu is also increasing.
Ultimately, employees value the gift of time. The time to focus on the things that matter to them provides a level of goodwill that goes a very long way.
The well-being benefits of flexibility
When it comes to employee well-being, we cannot ignore the physical and mental health benefits of having freedom to choose how and where to work and the flexibility of taking time off when needed.  A joint study conducted by the University of New South Wales, the Black Dog Institute and the National Mental Health Commission found that increased job control was linked to better mental health outcomes among employees.
However, most Australian health and well-being benefits are still focused on physical health – such as free flu vaccinations. More flexible options around leave, particularly for carers, would be welcomed by many Australian employees. Especially those juggling paid work with caring for children and ageing parents. A recent longitudinal study found 11% of Australian women aged 37-42 were caring for their own children as well as an ill, frail or disabled family member.
Just 11% of organisations provide childcare assistance, and only 9% support employees with elder care
Providing individualised well-being benefits in life moments that matter – whether support with aged care placement, or paying superannuation throughout an entire parental leave period – can help retain talented employees and make them feel valued while also helping avoid unplanned leave or productivity loss.
What people want from work has not fundamentally changed, but how they want to engage with work has. Whether it's the freedom to choose where they work, when they work, or how they take leave, Australian employees need and are asking for more flexibility. Employers will need to take a more holistic view of benefits than the traditional 'transactional contract' focused on pay and perks. Instead, they may need to see their total remuneration package as a 'lifestyle contract' – one providing a total life experience by considering individual needs for choice, connection and fulfilment.
This year's findings of the ABR highlight the continued evolution at of work. They also draw a line in the sand – this is the moment when companies need to make a conscious decision about giving people choice and flexibility. At a moment when employers are more focused on defining and evolving their culture and employee value proposition, it's a compelling opportunity to demonstrate their commitment to work-life balance by providing equitable, meaningful support in ways that truly matter.
Take the next step towards a flexible work-life culture
Mercer's 2023 Australian Benefits Review can help you benchmark your benefits against Australia's largest and most comprehensive source of employee benefits data.

Download the executive summary Or purchase the full 2023 Australian Benefits Review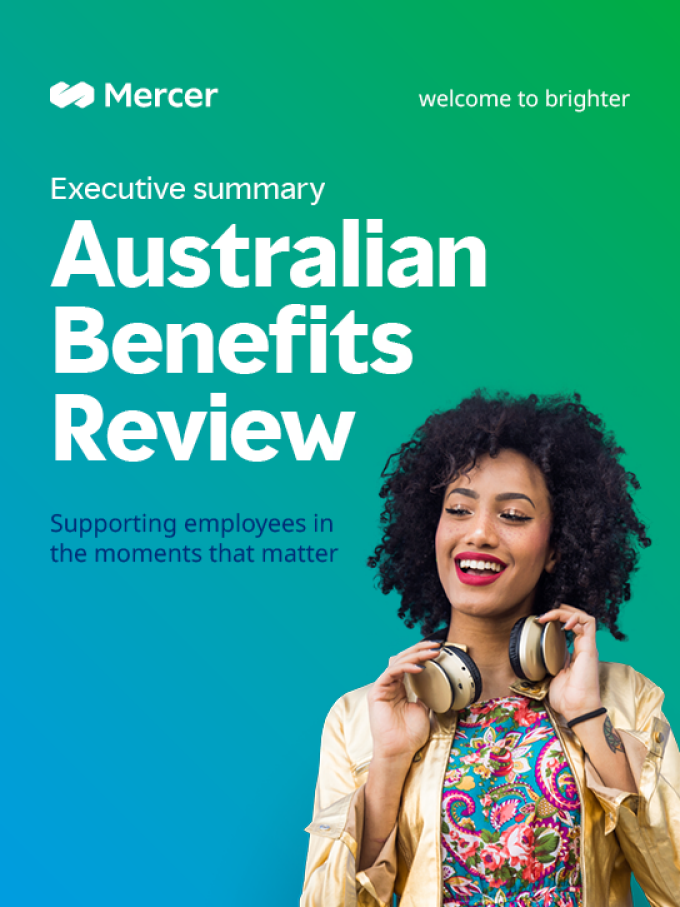 Moment by moment, employee experience impacts how employees feel and behave. Are you supporting your employees in moments that matter to them?
Discover the latest employee benefits trends.
Meet the Australian Benefits Review team ...
Related products for purchase