The age-positive workplace: Embracing the value of late-career employees 
Attract and retain experienced talent by overcoming misconceptions about older workers. It's time to rethink the employee experience.
As the way of working evolves and the average age of the Australian population continues to increase, organisations must work harder to recognise and combat both conscious and subconscious biases in the workplace. There is an opportunity to challenge the status quo by designing work experiences through the lens of the employee. As we fully embrace the workplace definition of the Experience Economy, the key is to recognise there is no 'one-size-fits all'.  Specifically, the value and contributions of our seasoned and incredibly experienced late-career employees must be harnessed and celebrated. 
Mercer's Recalculating Australia's Ageing Population report shows labour force participation rates for people aged 55-64 increased from 60% in 2010 to 68% in 2021. Similarly, the participation rate for those aged 65 and over increased from 12% in 2015 to 15% in 2021. This upward shift in older workers should be seen as a chance to further diversify the workplace with a wider breadth of knowledge, skills and experience.
We know that having diverse teams can lead to increased innovation, new approaches to problem-solving, increased productivity and knowledge transfer. But age diversity is something that can easily be left out of day-to-day team considerations. As our report highlights, the recent changes in population demographics is a call to shine a light on what organisations can do to attract and retain mature talent. 

Biased perceptions of our ageing workforce
As organisations continue to grapple with persistent talent and skills shortages, the untapped resource of experienced workers can help fill talent gaps. But recent research by the Australian Human Rights Commission and AHRI, suggests that organisations are ignoring this cohort of potential workers. The research indicates that ageism has been identified as potentially blocking older people from the workforce, revealing that that one in six organisations will not consider hiring people aged 65 and above.
Natalie Yan-Chatonsky, author of the book, The Art of Full Time Living, has interviewed hundreds of people entering the second half of their lives. One prevalent theme during these conversations was their shared concern about feeling irrelevant and undervalued as they grew older. Yan-Chatonsky says that there are plenty of misconceptions about late-career employees in the workplace, like being less productive or having a fixed (rather than a growth) mindset. There are also perceptions that they are "too set in their ways", aren't skilled in technology, or are less interested in training and development than younger colleagues.

While ageist stereotypes paint a picture of late-career employees as unadaptable or opposed to change, in reality they have gone through an immense amount of change.  In the last two decades alone the workforce has seen more technology advancements in job redesign than any other era, showing the reality of mature worker adaptability.

When explaining the benefits of having an age-diverse team, Yan-Chatonsky points out that late-career employees also have highly developed people and communication skills and their hands-on experience makes them calmer in high pressure situations. And if they've been in an industry for the majority of their career, they can offer an unparalleled level of stability and 'crystallised intelligence' as well as large networks built on meaningful relationships. These are all skills that an age-positive workplace can harness and share across the organisation.

While it's important to acknowledge that negative bias towards age does exist in the workplace, recent comments from the Age Discrimination Commissioner, the Hon Dr Kay Patterson AO suggest ageism is one of the easiest forms of prejudice to shift. And workplaces can lead the charge. 

Employee-centred design to support all employees
Employee-centred design is an approach to employee experience (EX) that takes an empathy-led approach to understanding the differences that drive varying human needs, motivations and desires. It also holistically considers experience factors such as workplace culture, benefits, career development opportunities and work-life balance. Organisations that focus on their Employee Value Proposition (EVP) are learning that employees are far from 'one-size-fits-all' when it comes to bridging the gap in what meaningful work means for the workforce of today. 
When it comes to creating a great EX for all employees, two factors are critical: 
Demographics 

Demographics include factors like age, gender, family status, education. These provide insights into employees' backgrounds and life experiences, which can influence their expectations and priorities in the workplace.

 Psychographics

Psychographic factors include things like attitudes, values and personality traits, which can affect their motivation, engagement, and satisfaction at work.
It is important to individualise the employee experience based on both demographic and psychographic factors so that allows for a better understanding of their employee's preferences. This provides a more comprehensive approach to understanding employee needs rather than relying on demographic characteristics alone. Our consultancy work has shown that biases may lead to incorrect stereotypes and poorly designed systems. This impacts both the employee and the organisation. 
Our Global Talent Trends 2022-2023 research has also shown that in a post-pandemic environment, people risks continue to weigh heavily on executives. More than one in three of them agreed that the pandemic has helped them realise the returns of investing in employee health and wellbeing. With a greater focus on total wellbeing, the opportunity is to engage and listen to understand employees. This includes understanding  'moments that matter' when it comes to ensuring support is both relevant and impactful.  Over a third of organisations surveyed have plans to expand their benefits program to be more inclusive and supportive of all workforce segments.   

What does a more age-positive workplace look like? 
Acknowledging the demographic shift toward an ageing workforce is one thing. Harnessing its potential is another. Understanding the nuances of late-career employees allows organisations to incorporate specific aspects that appeal to them. With 93% of organisations focussed on how benefit offerings can better support employee attraction, retention and engagement, they are starting to design experiences that suit the reality of their workforce.
Some needs are more demographics-driven. These include flexible working arrangements, support for physical and mental health, coordinated care, caregiving, and retirement planning. "With our ageing population, it's clear that caregiving support, particularly for employees with ageing family members or partners, is becoming a core requirement of employee benefits and wellbeing programs," Will Burkitt, Head of Care & Living with Mercer says.
On the other hand, regardless of age, finding meaning and purpose in their work, along with a desire to make an impact, is a shared goal amongst many employees. However, the way in which older workers go about achieving this may not look and feel the same as a younger worker. This should be seen as an opportunity to better understand them rather than a challenge to overcome.

Organisations can also enable late-career employees to recognise and capitalise on their strengths in an ever-changing work environment. This can be addressed by offering development opportunities that nurture their leadership capabilities and help them adapt to change. In addition, giving employees the chance to step outside the confines of their roles allows them to explore how they can utilise their experience in different and innovative ways throughout the organisation.

Inter-generational and cross-functional mentoring programs are another great way give both older and younger team members the chance to learn from each other's experiences and gain new perspectives. Burkitt says that this works to enhance innovation but also addresses an important aspect of business risk. "Knowledge transfer and skill retention is a significant risk in many Australian businesses as this generation retires and can already be felt in a number of industries," he says. 

EX design for late-career employees
Personalising EX design to meet the different expectations of diverse employee cohorts can set businesses apart by fostering a work environment that speaks to the individual. To design a compelling and energising EX for your late-career employees, try adopting these human-centred design methodologies for a more empathetic and effective approach that can lead to higher levels of employee engagement, productivity, and retention.
Talk to your people to understand what they want and need

The heart of any employee-centred initiative is empathy and understanding who you are designing for. A targeted employee research project including interviews and/or focus groups will gather insights on what your late-career employees value as well as their personal experiences, opinions, and feelings.

Make the most of your data

Combine qualitative data with quantitative data from sources like past engagement surveys, customer satisfaction and exit surveys. These surveys can provide useful quantitative data to compare with and offers further validation points for the themes identified in qualitative research.

Develop personas and empathy maps

Personas and empathy maps are powerful tools for designing targeted EX strategies. Personas are research-based representations of different employee types, which help employers better understand and empathise with them. Empathy maps, on the other hand, help organisations visualise the employee journey.  These two tools give you a succinct snapshot of the older employee experience, which helps with informed decision making

Identify the key 'moments that matter'

'Moments that matter' are the key touchpoints throughout the employee journey that have the greatest impact on employee engagement, satisfaction, and retention. By mapping out the employee journey, emotions and experiences associated with each employer touchpoint, organisations can understand the moments that contribute to a positive or negative experience. From here you can identify opportunities for improvement and develop targeted ways to make things better. For late-career employees, these moments may not be different to any other worker but the timing could be more specific. For example, when and how to have conversations about future retirement plans.
There has never been a better time to embrace a multi-generational workforce. Look both inside and outside your organisation to discover the untapped potential that late-career employees can bring to your team. Their diverse wealth of experience, wisdom, and worldly perspectives are invaluable. Take this as an opportunity to consider how you can create a thriving age-positive workplace with more diverse, inclusive, and innovative teams. Starting now will position your organisation at the forefront of the movement towards a more inclusive and successful future.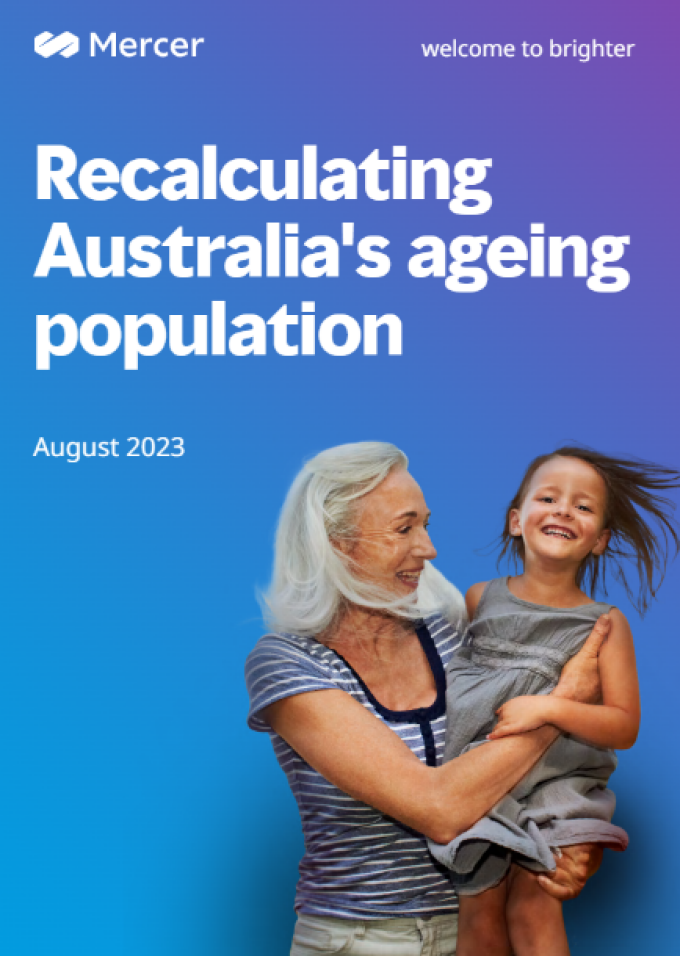 The world's population is ageing as we live longer and have fewer babies. We need to revisit the definition of an older person.
About the author(s)
May Lee
Employee Experience and Culture Leader, Mercer Pacific
Georgina Lee
Principal Employee Experience & Culture, Mercer Pacific