A sharp rise in macroeconomic volatility ended a decade of strong performance for 60/40 portfolios.
Now, investors must face the linked challenges of high inflation, rising yields and market volatility. To put this in perspective, inflation across all 38 members of the OECD between 2010 and 2020 (before the pandemic) ranged between 0% and 3%1. Now it is running at over 10%. This, combined with synchronised interest rate hikes (put in place by major central banks in response to inflation), risks triggering a global recession. Ironically, whether this economic contraction is mild or deep depends, at least in part, on the unpredictable path of inflation and further central bank responses.
In this report, we discuss regional monetary policy dispersion and look at how advisers and their clients can ensure portfolios are diversified both across and within asset classes, as well as by geography, sectors, factors, investment styles and non-traditional market betas. This diversification is vital as it will allow preparations to be made for a period of higher-for-longer interest rates, and an uncertain growth outlook.
Six areas of consideration for financial intermediaries
1. Navigating recession risk

Global recession risk increases as central banks hike rates

2. Capturing themes in private markets

Capture innovative strategies and sustainable opportunities

3. A hedge fund renaissance

Rediscover hedge funds in a low-return world

4. Adopting a pragmatic approach to net zero

ESG integration and engagement rather than outright exclusion


5. Proliferation of alternative products

Raising awareness of wealth management product development


6. Portfolio transparency and data "operational alpha"

Better portfolio visibility and transparency on ESG issues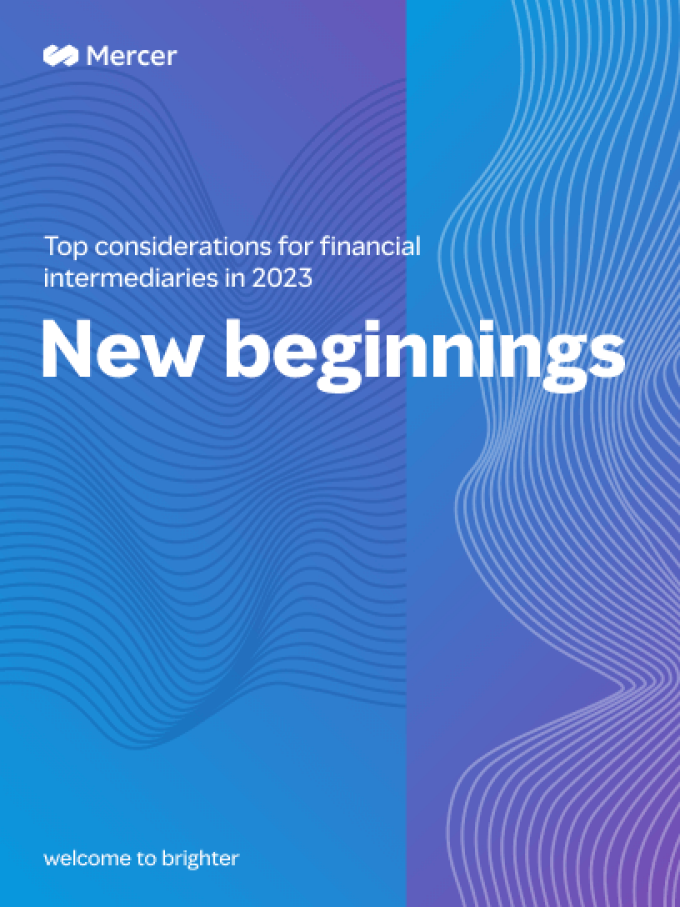 Learn more about the top six considerations for wealth managers and financial intermediaries in 2023.
Global Wealth Management Investment Survey findings
Below are some of the key findings from Mercer's inaugural Global Wealth Management Investment Survey2. This survey will run each year, so we'd love to get your input in 2023.
Allocating to alternatives
59% of respondents believe the biggest investment opportunity over the next three years is in diversifying portfolios away from traditional equities and bonds.
Investing in illiquid assets
73% of respondents are either currently invested or are considering to invest in illiquid assets over the next 12 months.
Sustainable investments
82% of respondents said that client demand for ESG products has increased over the past 12 months. The main driver for this demand was societal sentiment.
Tailored solutions to help you reach your investment goals
Important Information for Investors based in New Zealand
Before accessing this website you must read and accept the following terms and legal notices.
You are about to enter a website intended for sophisticated, institutional investors based in New Zealand. The information contained herein is only intended for investors who are wholesale investors for the purposes of the Financial Markets Conduct Act 2013. Any person unable to accept these terms and conditions should not proceed any further.
In New Zealand, Mercer's Outsourced Chief Investment Officer, Delegated Solutions and other Investment Services are delivered by Mercer (N.Z.) Limited, the manager of the Mercer Investment Trusts New Zealand and the Mercer Wholesale Funds.
Information about Mercer strategies and solutions is provided for informational purposes only and does not constitute, and should not be construed as, an offer to sell, or a solicitation of an offer to buy, any securities, or an offer, invitation or solicitation of any specific products or the investment management services of Mercer, or an offer or invitation to enter into any portfolio management mandate with Mercer. None of the content on Mercer.Com should be considered as regulated financial advice. No actions should be taken based on this content without first obtaining professional advice. Mercer makes no representation, and it should not be assumed, that past investment performance is an indication of future results. Moreover, wherever there is the potential for profit there is also the possibility of loss. Past performance does not guarantee future results. The value of investments can go down as well as up, so you could get back less than you invest.
Mercer reserves the right to suspend or withdraw access to any page(s) included on this Website without notice at any time and accepts no liability if, for any reason, these pages are unavailable at any time or for any period. The solutions, products and services described in these pages are not available in all jurisdictions.