Investment themes and opportunities 2023 
440299419
The world is currently in flux across various fronts and we believe investors should act promptly to get ahead
The world is currently in flux across various fronts. A global economic slowdown amid monetary tightening precipitated a bear market, which was then exacerbated by a "summer of disasters," conflict, and polarisation within and between countries. Governments around the world are facing sizeable challenges in managing the levels of debt built up over the past decade and especially the past two years. Inflation has continued to balloon above central bank targets, causing sharp rises in interest rates. At the same time, the conflict between Russia and Ukraine heightened the problems of complex and geopolitically sensitive supply chains and led to steep spikes in energy prices, particularly in Europe.
Three investment themes and opportunities for 2023
We have translated these experiences and developments into three themes for investors for 2023 and beyond, combining lessons from the 1970s with foresight fit for our new situation.
We assess current investment challenges, such as resources conflict, weak growth, spiralling inflation, monetary/fiscal tightening, in the context of the lessons learnt in previous years to equip investors for whatever comes next. We provide insights into inflation, the end of "free money" and the balance of power.
Against a backdrop of both increasing interest in sustainable issues and pushback against counterproductive sustainability culture, this theme suggests that investors are unwavering in their commitment to sustainability principles to ensure a joined-up transition. We provide insights into the "resource code", the age of engagement and the mother necessity.
This theme recognises the importance of good governance to enable investment committees' to take advantage of opportunistic investments, dynamic diversification and the construction of robust portfolios (including private markets). Investors in the 1970s would have been envious of the toolkit available today. We provide insights on the private eye on the case, operational alpha and dynamic diversification.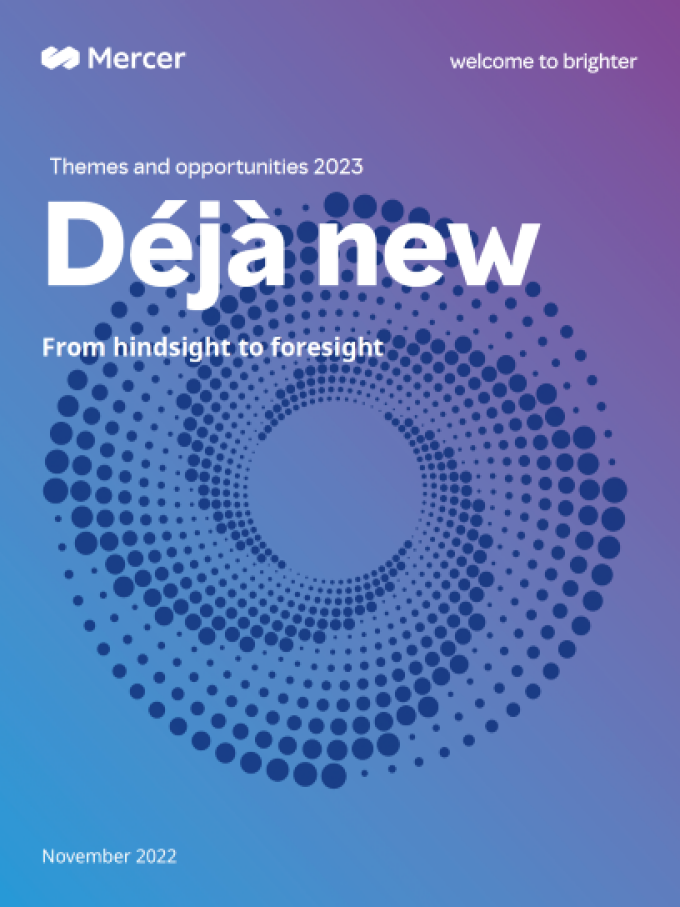 Download the report to learn more about the three key themes which we believe will better position investors for success in 2023 and beyond. 
Tailored solutions to help you reach your investment goals
Important Information for Investors based in New Zealand
Before accessing this website you must read and accept the following terms and legal notices.
You are about to enter a website intended for sophisticated, institutional investors based in New Zealand. The information contained herein is only intended for investors who are wholesale investors for the purposes of the Financial Markets Conduct Act 2013. Any person unable to accept these terms and conditions should not proceed any further.
In New Zealand, Mercer's Outsourced Chief Investment Officer, Delegated Solutions and other Investment Services are delivered by Mercer (N.Z.) Limited, the manager of the Mercer Investment Trusts New Zealand and the Mercer Wholesale Funds.
Information about Mercer strategies and solutions is provided for informational purposes only and does not constitute, and should not be construed as, an offer to sell, or a solicitation of an offer to buy, any securities, or an offer, invitation or solicitation of any specific products or the investment management services of Mercer, or an offer or invitation to enter into any portfolio management mandate with Mercer. None of the content on Mercer.Com should be considered as regulated financial advice. No actions should be taken based on this content without first obtaining professional advice. Mercer makes no representation, and it should not be assumed, that past investment performance is an indication of future results. Moreover, wherever there is the potential for profit there is also the possibility of loss. Past performance does not guarantee future results. The value of investments can go down as well as up, so you could get back less than you invest.
Mercer reserves the right to suspend or withdraw access to any page(s) included on this Website without notice at any time and accepts no liability if, for any reason, these pages are unavailable at any time or for any period. The solutions, products and services described in these pages are not available in all jurisdictions.