Investments
Research, financial tools, advice and bespoke investment solutions to help you manage risks, capture opportunities more quickly and position your portfolios to deliver on your unique objectives.
Investment solutions to suit your needs
Everything we do starts with your needs in mind. We take the time to understand your overall investment objectives and pain points and define an effective approach. We leverage our latest thinking and insights, and strategic and manager research to help you make better informed decisions. Get advice and guidance to help you identify effective ways to convert these insights into achievable and desirable outcomes – including portfolio construction and asset allocation. If you want our help with strategy execution, we can become an extension of your team and build a bespoke and agile implementation solution tailored to your portfolio needs.
Implementation and Implemented Investment Consulting

We can help you define, develop and implement your investment strategy by addressing areas such as governance, risk, sustainability and diversification. We flex our services to suit your needs and help you achieve your investment goals.

Sustainable investments 

We help you build a sustainable investment strategy that integrates environmental, social and governance (ESG) considerations; diversity, equity and inclusion (DEI) factors and seeks an optimal mix between positive change and favourable returns.

Alternative investments

Leveraging our existing relationships with hundreds of asset managers around the world, we can help you identify and source new investment strategies, opportunities, ideas and innovations across private markets and hedge funds. 

Strategic research 

Become a member of the MercerInsight® Community today to get access to strategic research from hundreds of thought leaders around the world, including Mercer and third-party publishers. It's complimentary and easy to join.

Asset manager research 

By subscribing to MercerInsight®, an alliance with eVestment, you can gain access to data, analytics and our forward-looking research on asset managers and thousands of investment strategies across both public and private markets. 

Managing investment risk

Our Mercer Sentinel team can help you conduct due diligence and mitigate operational risks across your portfolios and strategies. We assess asset managers, custodians and other service providers to help you deliver on your governance objectives.
---
We work with professional investors of all sizes around the world, to help them understand and manage investment risks, identify and capture investment opportunities and implement tailored strategies that are positioned to help meet their overall objectives.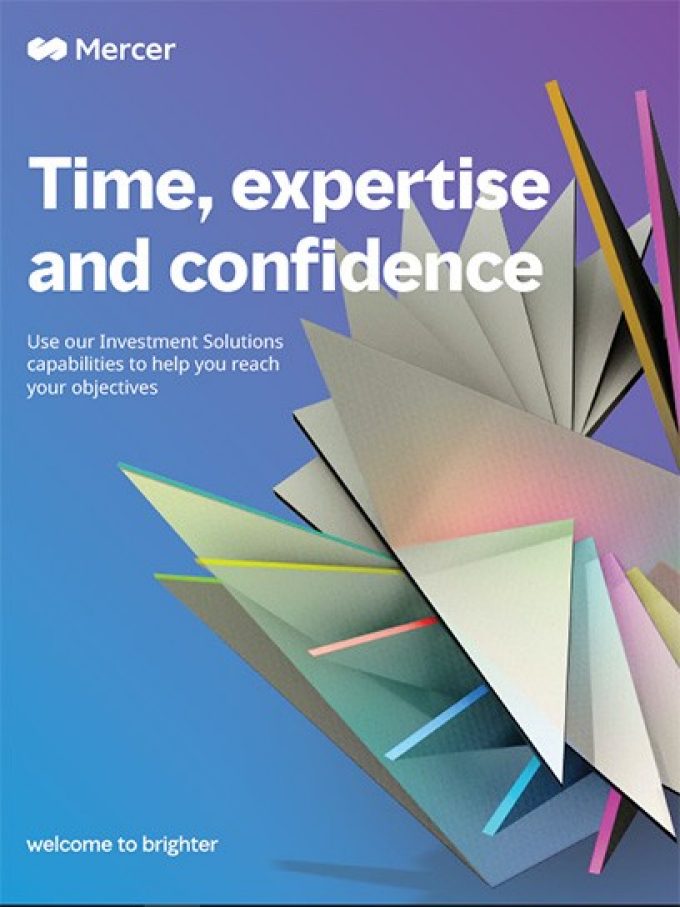 Lean on our experts to provide the advice, insight, implementation and operations your portfolio needs to help you invest with confidence. Explore what our range of investment solutions could mean for your portfolio today.
Access the latest investment research and insights
We empower you to make better informed investment decisions by providing you with access to the latest strategic investment and asset manager research, and our views and insights on the latest trends and investment themes. Learn more about our world of investment insights below.
1

Strategic research

2

Asset manager research
Join MercerInsight® Community to access strategic research from Mercer and hundreds of third party publishers across the investment industry. Membership is complimentary, and it takes seconds to sign up.
Subscribe to MercerInsight® to access comprehensive global coverage of asset managers and strategies, forward-looking research, robust analytics, and screening across public and private markets.
Introducing some of our leaders
---
Awards and industry recognition
Professional pensions 2022
Mercer received four awards at the 2022 Professional Pensions Awards, including:
DB multi-asset manager of the year
Fiduciary manager of the year
Cashflow-driven investment (CDI) manager of the year
DB investment innovation of the year
Leverage our breadth and depth
US $16.45 trillion in global assets under advisement1
US $379 billion in global assets under management2
More than 12,400 investment strategies rated3
More than 7,000 asset managers rated4
* 1 June 30, 2022,  2 September, 30, 2023,  3 June 30, 2022,  4 June 30, 2022
---
Related insights on MercerInsight Community
---
Discover how we could help you achieve your investment goals.
---
This content on this website is provided for informational purposes only and should not be taken as advice or recommendation to buy or sell any specific investment product or services, including Mercer's investment management services, or to enter into any portfolio management mandate with Mercer.
Any investment carries inherent risks and you should carefully consider your own investment objectives, financial situation, and needs before making any investment decision.
Past performance is not an indication of future performance.