Learning in the fast lane: Trends shaping the future of learning and development 
Trends in learning and development and insights for maximising reskilling and upskilling in the future of work.
The world of work has changed fundamentally. Skills-based hiring is now at the forefront of many organisations talent attraction and retention strategies. Increasingly, organisations are developing vibrant and resilient talent ecosystems with a mix of skills to meet their needs. Our recent Global Talent Trends Survey found that investing in workforce upskilling/reskilling was the number one priority for the C-Suite in Australia. But, just 24% of HR respondents to the same survey said that they had effective reskilling and upskilling programs in their organisation.
As new technologies and ways of working emerge, HR and L&D professionals must adapt their strategies and approaches to keep up. For many organisations though, it's HR themselves that are desperately in need of upskilling, particularly in the areas of digital and data analytics. This hinders their ability to harness technology to effectively assess their organisation's current and future skills needs.
Opportunities to develop, reskill and upskill are no longer a nice to have element of a successful Employee Value Proposition (EVP), but a must have. And, we know that organisations with the ability to respond quickly to changing upskilling/reskilling needs, both planned and unexpected, fare better than those that don't in today's volatile and complex world. Developing and instilling a culture of lifelong learning and curiosity in their people will begin to set employers of choice apart from the rest of the pack.
The pace of change is such that it's been estimated that 44% of workers' core skills will change considerably from now to 2027 (World Economic Forum). As technology continues to disrupt traditional industries and job roles, it's imperative that HR and L&D professionals find ways to help employees acquire the skills they need to adapt and succeed in new roles. This can involve offering training in emerging technologies, creating career development programs that support employees in making career transitions, or providing coaching and mentoring to help employees build the skills they need to succeed in their current role.
Below, we outline some of the ways HR & L&D professionals are meeting these challenges and ensuring their organisations are well supported with the right future-fit talent.
Microlearning involves breaking down training content into bite-sized pieces that can be consumed quickly and easily, often online anytime and anywhere. This approach is particularly effective for busy employees who may not have the time or attention span for longer training sessions but need to be across a topic quickly. Microlearning can be used to deliver training content in a more targeted and just-in-time manner, helping employees to quickly acquire the specific skills they need to complete a task or solve a problem. 
Mercer recently partnered with a global engineering firm to create a piece of microlearning that supported their pay equity strategy and develop awareness for line managers and leaders. With a backdrop of growing regulatory change across the globe on gender pay equity, together we were quickly able to build a short, highly interactive eLearning experience to drive change and raise awareness of this important issue. 
Increasing Personalisation
In line with the recent focus on the Employee Experience (EX), one of the most significant trends in learning and development is the move towards personalised learning experiences. Rather than taking a one-size-fits-all approach, HR and L&D professionals are tailoring learning experiences to meet the specific needs and preferences of individual employees. This might involve offering different types of training depending on an employee's learning style, providing personalised learning paths that align with an employee's career goals, or using data and analytics to identify knowledge gaps and offer targeted training.
Adopting Blended Learning
Blended learning, which combines traditional classroom-style training with digital learning tools and resources, continues to become the norm for many L&D programs, and for good reason. Different people learn in different ways and blended learning provides learners with flexibility in how, when and where they learn. It allows learners to access training and resources from anywhere. And, it enables organisations to deliver training more efficiently and cost-effectively – particularly for those organisations with distributed workforces.
Mercer's own learning programs for our clients have evolved from traditional in-person workshops on fixed dates and fixed locations to a blended and virtual approach. Our clients tell us that this approach increases collaboration and enables more individuals in their teams to be upskilled quicker.
While there will always be a place for solely in-person experiences, the combination of self-paced online learning, virtual classrooms and live-online workshops benefits both learners and organisations to get the best outcomes. 
The use of game mechanics and design elements in non-game contexts, such as learning and development is gaining traction in the L&D space. It's used as a way to engage and motivate employees in their training. By adding elements such as virtual reality, earning points, digital badges and leader boards to training programs, HR and L&D professionals can make the learning experience more fun and interactive, which helps to increase engagement and knowledge retention.
What about leadership development? 
Those in leadership positions are critical to the success or failure of many L&D programs. Arguably people leaders are feeling the impacts of the pace of change most. Leadership development is an essential aspect of any organisation's talent development strategy. For leaders at all levels of the organisation there are a number of key trends that should be top of mind for HR and L&D professionals as the future of work increasingly becomes the present.
Focus on Professional Skills & Agility
While technical (or hard) skills are important, there is a growing recognition that professional (or soft) skills are equally critical for effective leadership. Skills such as emotional intelligence, communication, and collaboration are essential for building strong relationships with employees, customers, and other stakeholders. The lasting impacts of the pandemic on the world of work have also led to leadership development programs to incorporate elements focused on employee wellbeing and sustainable productivity.  
In a world where change is constant, leadership development programs now focus on developing skills that empower leaders to confidently navigate change and inspire their people to brighter futures. Leadership agility refers to the ability to adapt quickly to changing circumstances and to lead effectively in a rapidly evolving environment. As the pace of change in business continues to accelerate, leadership agility has become a critical skill for effective leaders. Leadership development programs are therefore focusing on helping leaders build their agility by providing them with opportunities to innovate, practice decision-making, problem-solving, and strategic thinking in a variety of contexts.
There are other leadership (and human) traits that have been identified as being in need of enhancement at many organisations. Traits such as curiosity, resilience, motivation and self-awareness enable leaders to be relatable, demonstrate greater social influence and work better with others. 
Promote Diversity, Equity and Inclusion
Diversity, equity and inclusion (DEI) have become a critical focus for many organisations in recent years, and this is reflected in leadership development programs as well. Effective leaders must be able to create inclusive environments where all employees feel valued and supported. Leadership development programs are incorporating DEI training to help leaders understand the importance and benefits of creating diverse and inclusive teams, and to equip them with the skills they need to do so.
Mercer recently worked with a major global institution to support its DEI objectives. The program delivered an integrated, blended journey that challenged and created new mindsets around inclusion whilst also driving the technical and professional capabilities of the participants. The program included a mix of eLearning modules focused on technical skills, such as people analytics, and in-person and live online masterclasses lead by Mercer experts.
The world of learning and development is evolving rapidly, and HR and L&D professionals must stay on top of the latest trends to create effective training and development programs. By embracing personalisation, digital learning, microlearning, gamification, and reskilling/upskilling, HR and L&D professionals can create engaging and effective learning experiences that help employees acquire the skills they need to succeed now and in the future. By focusing on professional skills and leadership agility and embracing DEI, organisations can develop effective leaders who can drive their business forward in today's rapidly changing environment.
For more talent trends download our 2022-2023 Mercer Global Talent Trends report, or get in touch to learn how we can help your organisation keep pace with the rapid pace of change.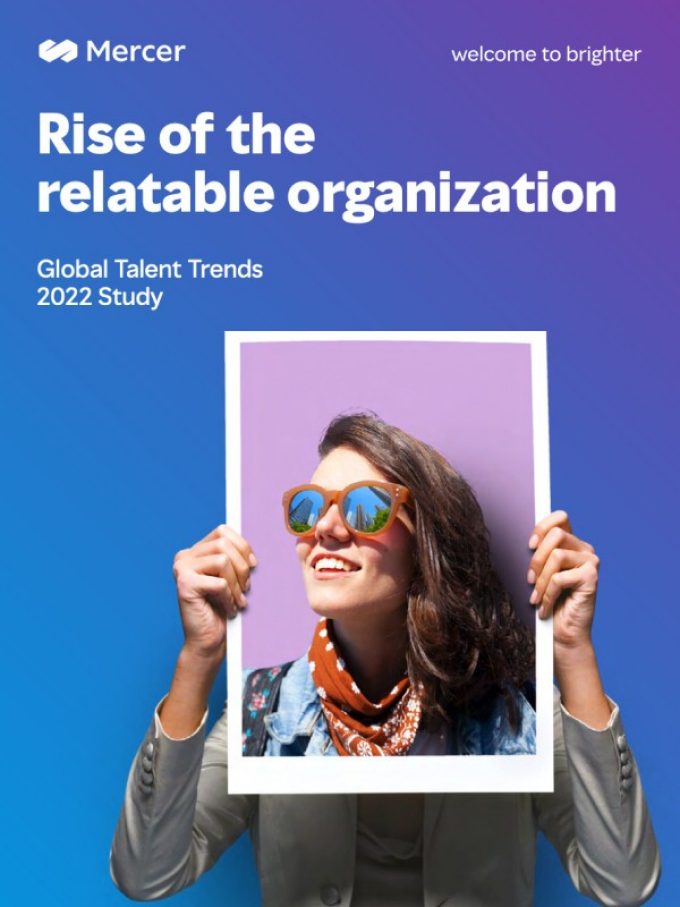 Explore more talent trends and insights and their implications to redesign work, working, and the workplace.