Address the 'great resignation' to overcome skills shortages 
The post-COVID world is an employee's market. To address talent shortages, employers must understand the employee experience.
The 'great resignation' is really just a byword for change. Even after the last few years, employees' appetite for change has not been satisfied. They now have a clear picture of how, where, when and why they want to work.
At a recent Mercer panel discussion, HR leaders reported that their organisations are intent on creating positive change, but are unsure where to start. With 58% of Australian companies saying turnover is becoming a problem, and 18% of them say the problem is getting increasingly serious for the business, it's time to embrace change and focus on retention.
Holding onto talent in an employee's market
In today's employment market, employees have unprecedented bargaining power. And they're looking for more than simply a competitive salary.
Although salary is still critical, many employees are looking for more from an employer – work–life balance, psychological safety, and continuous professional development. They want to work for an employer who will enable them to craft a richer and more purposeful life.
In the current climate, employers must tend to the "career wellness" of their employees, which encompasses personal wellbeing as well as professional development. Businesses should cultivate talent that is renewable, rather than replaceable – start with your existing talent and upskill/reskill them to address skills shortages while helping them grow and develop in their careers.
Investing in continuous learning to upskill/reskill your people for future roles and help them grow in ways meaningful to them will help your organisation boost employee engagement and sidestep talent shortages.
Flexibility is also a key element to build a truly engaged workforce. But the flexibility and bring some challenges for organisations. For instance, remote working can curtain opportunities for "incidental learning"– informal chats in the tea room, quick exchanges between meetings. This means that businesses must offer very deliberate development opportunities to keep teams in continuous learning mode.
Forward-thinking businesses can embed loyalty and get the most out of their people by involving their staff in setting organisation goals. We are seeing a shift towards a new leadership mindset – one that actively seeks to develop employees and align their values with the company mission. This new style of leader is humble rather than authoritarian and works to unlock their employees' potential, creativity and sense of purpose.
Great employee experiences in the moments that matter
Employees are more mobile than ever, working not just from home, but from wherever they chose. The goal is no longer to be an employer of choice, but rather a destination of choice.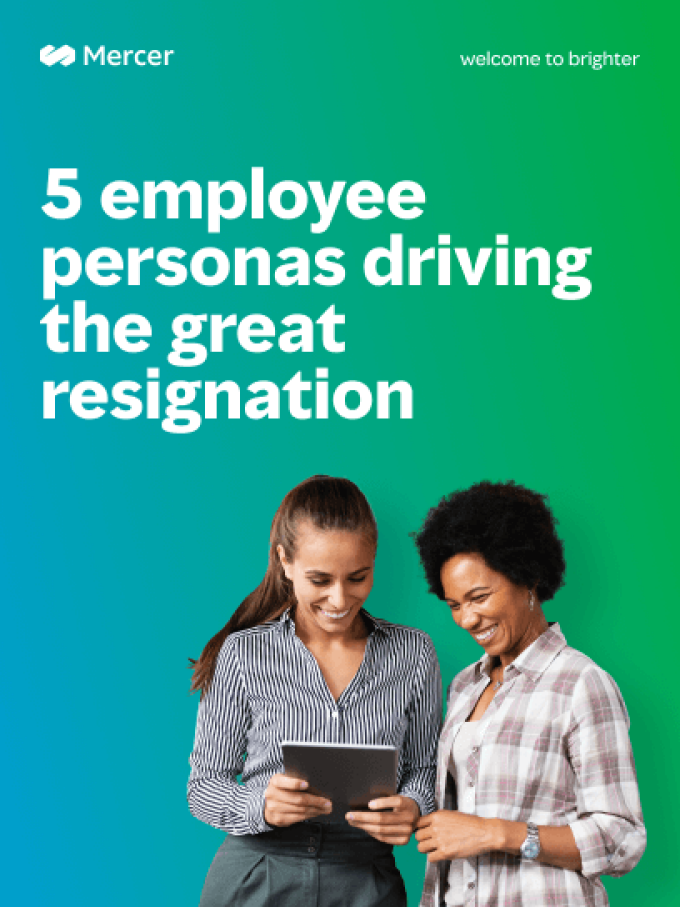 Understanding the employee experience
"I can't keep up with the number of opportunities and job offers."
The movement of talent across industries can be beneficial for skills infusion, innovation and fresh thinking. Smart employers can derive value from different people coming from different places with a range of different perspectives. But it can have a negative impact on retention.
When employees leave, those who stayed can feel compelled the re-evaluate their own relationship with the organisation. In addition, they might end up being required to work harder to covering for their former colleagues as companies struggle to replace them.
Let your people guide their own employee experience 
Getting ready for change by adapting company culture and reconfiguring the way the organisation works should be a top priority for every business. Start with listening to your people and turning their insights into action to truly understand the employee experience.
This human-centred approach leverages the unique perspectives of your employees to guide the process and turn 'the great resignation' into an opportunity.
HR leaders talk about 'the great resignation'
Key takeaways from our panellists
"Employees want to get a sense that organisations value what they value."
Kate Stewart, GM Talent, Leadership & Learning, nbn™
"Talent needs to be renewable, not replaceable."
 James Mcilvena, Managing Director, LHH
"Leaders who move quicker into being servant leaders are the ones who will win the game at retaining people."
Graham Almond, Executive Vice President, Chief Officer – People, Culture & Technology, OceanaGold Corporation

Contributor(s)
Cynthia Cottrell
Workforce Solutions Leader, Pacific
Anne Le Blanc
- Senior Principal, Workforce Solutions