The rise of remote work means there's more competition than ever before to retain and recruit the best talent available. 
Comprehensive Diversity, Equality and Inclusion (DEI) strategies are in the spotlight. And employees feel more empowered than ever to seek out new work to achieve better work-life balance.
Compensation strategy: what the data tells us
While wage increases are inevitable, there's more to the solution. As you plan your compensation strategy and total rewards program, you'll want the latest data-driven insights about the labour market.
Our whitepaper analyzes some of the big trends for 2022, such as improving employee wellness and leveraging remote work in your strategies for both compensation and recruitment.
Let's dive a little deeper into some of these trends in compensation planning.
Top talent is hard to find
Many employers are reporting an increase in attrition rates as employees begin to look for more appealing offers, both in their current industry and in new ones altogether.
That challenge of attrition rates can prove to be an opportunity with the right perspective. With remote work here to stay, employees can cast a much wider net in their job searches than when they were limited by geography. Savy employers are starting to do the same, expanding their labour market beyond regional boundaries.
Balancing culture with flexiblity
Flex work and full-time remote work are increasingly part of the employee value proposition. However, with teams spread across a country or globally, employers need to overcome key challenges in fostering a sense of organizational values and processes.
Developing a compensation strategy for remote employees will be central to their long-term retention. What metrics will be used to nurture their soft skills and leadership abilities? How can they be made to feel like they belong in your organization when not sharing office space and coffee breaks?
No two workplaces will have the same answers to these questions. View our expertise through the lens of your existing organizational culture to determine what kinds of solutions may work best for your remote team.
Strategic compensation: compensation beyond pay
While wage increases are on the horizon in almost every industry, employees are looking for more than just financial compensation for their work.
Start by examining your organization's work-life balance, opportunities for internal promotions and benefits packages. Then, consider benchmarking how your total rewards program stacks up against your competitive set: salary, benefits and those more nuanced qualitative differentiators that speak to your organizational culture.
Understanding where your offer may not be competitive enough can give you insights into what employees truly want out of their workplace.
Take your benefits to the tailor
The days of a standardized one-size-fits all employee benefits package could be drawing to a close. Organizations that recognize the specific lifestyles of their employees will have a head start in attracting and retaining top talent.
Personalized benefits plans are a great way to account for these discrepancies. For example, remote workers—especially those living in small communities or rural areas—may be more enticed by virtual offerings for medical and mental health support.
Likewise, employees with small children have also had a pandemic experience that is vastly different from those who have teenagers or no children. Providing more flexibility around days off for caregiver support could be one way to show the parents on your team that their wellness matters to the entire organization.
Diversity is your strength
The pandemic had the effect of thrusting inequality into the spotlight—not just in healthcare or law enforcement, but in the workplace, as well.
Employers are responding by developing DEI policies, all with the goal of making their organizational culture feel more welcoming to people with a wide range of backgrounds.
When it comes to total rewards, DEI can mean an inclusive benefits package: forward-thinking employers, for instance, are beginning to offer fertility and surrogacy benefits to same-sex couples, and support gender affirmation surgery.
But it's also the little things, like paying attention to what food is served in the office, what music is played at corporate events, and ensuring that everyone, at every level, is respected.
Listening to your employees about their concerns and acting upon them is central to creating an effective DEI strategy.  Just as important, however, is ensuring that your organizational culture is one that actively seeks out this kind of feedback, welcomes it and, most importantly, acts on the findings.
Boost pay without boosting fixed costs
Bolstering the financial health of your employees can be accomplished through channels other than simple wage increases. Not only can doing so enhance retainment, it can also save your organization money in the long run.
Top-performing individuals can be enticed with multi-year bonuses or lump sums to reflect current market premiums. Another way to boost their wealth without breaking the bank: expand the purpose of group savings plans to allow workers to save for a variety of goals, both short- and long-term.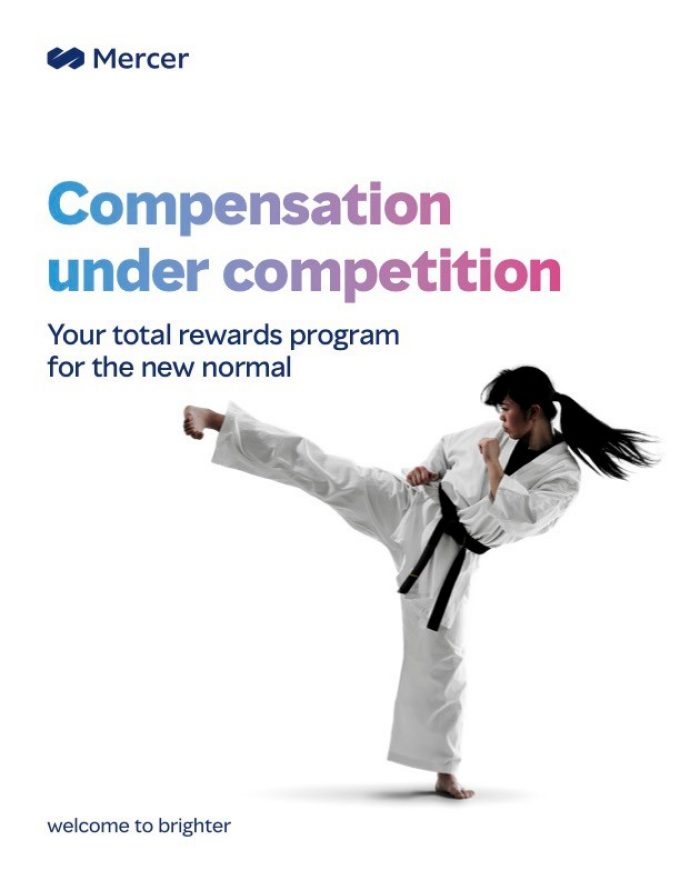 Download now learn about all these trends in compensation strategy and more as "the new normal" continues to evolve.
Related products for purchase