The what, why and how of creating a diverse private markets portfolio
As institutional investors' increasing appetite to embrace and promote Diversity, Equity and Inclusion (DE&I) within their investment portfolios coincides with a push into private markets, we have explored how they can be intertwined within their investment strategy.
We have drawn on various studies that probed DE&I in private markets from both our own research and third-party sources. We also assessed work on diversity more broadly, to gain a holistic understanding of the impact it can have on an organization. We researched and evaluated various asset managers' private markets DE&I programs and reviewed conversations with investors on their emerging manager programs to assess how they create, implement and oversee their specific approaches.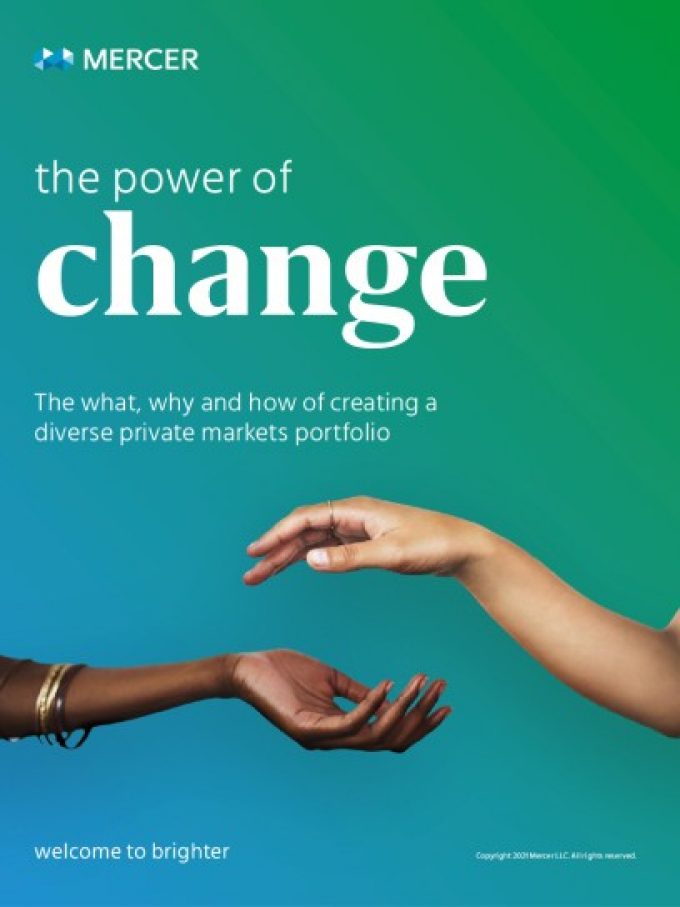 In this paper, we outline the potential for making Diversity, Equity and Inclusion work in private markets:
The why: The case for Diversity, Equity and Inclusion
The what: Definitions of Diversity, Equity and Inclusion in investments
The how: Putting theory into practice
Discover what we can do to help you today, and explore the benefits of private markets.
Related products for purchase
Before you access this page, please read and accept the terms and legal notices below. You're about to enter a page intended for sophisticated, institutional investors only.
This content is provided for informational purposes only. The information provided does not constitute, and should not be construed as, an offer to sell, or a solicitation of an offer to buy, any securities, or an offer, invitation or solicitation of any specific products or the investment management services of Mercer, or an offer or invitation to enter into any portfolio management mandate with Mercer.

Past performance is not an indication of future performance. If you are not able to accept these terms and conditions, please decline and do not proceed further. We reserve the right to suspend or withdraw access to any page(s) included on this website without notice at any time and Mercer accepts no liability if, for any reason, these pages are unavailable at any time or for any period.