One big systemic risk, the global COVID-19 pandemic – is all most people want to experience in a lifetime. However, another one looms right ahead of us if left unchecked; climate change will disrupt the global economy, communities, and quality of life. That is why governments and businesses are acting, to foster an economic transition towards a low-carbon future.
For any investor with a long-term view – like a pension fund, large or small – this change cannot be ignored. Download our new whitepaper, Shifting to Green, and discover:

The risks and opportunities presented by a changing economy
The basics of a transition plan
The processes needed to prepare for a low-carbon future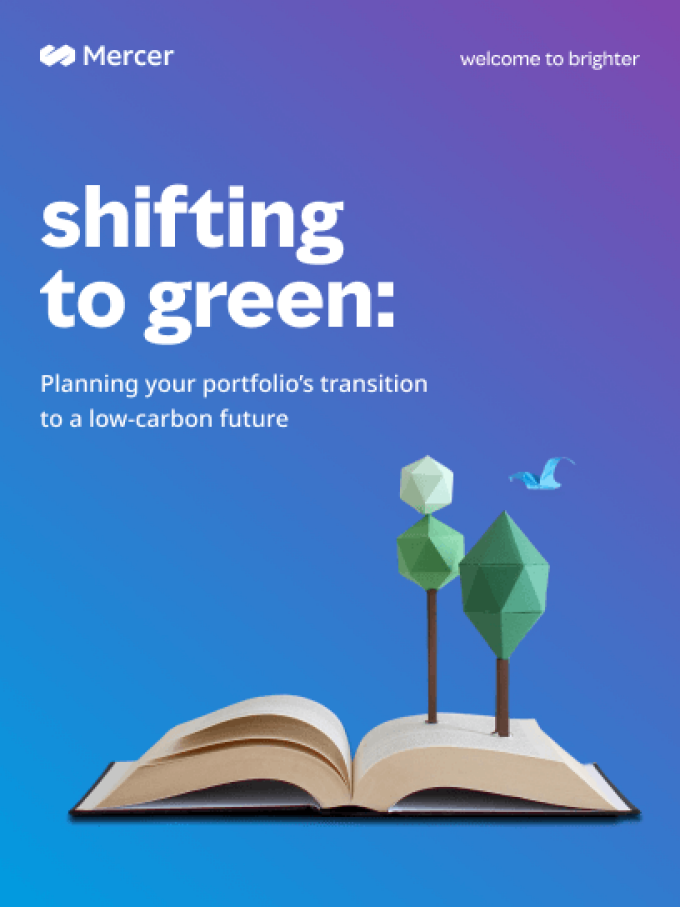 Planning your portfolio's transition to a low-carbon future
Before you access this page, please read and accept the terms and legal notices below. You're about to enter a page intended for sophisticated, institutional investors only.
This content is provided for informational purposes only. The information provided does not constitute, and should not be construed as, an offer to sell, or a solicitation of an offer to buy, any securities, or an offer, invitation or solicitation of any specific products or the investment management services of Mercer, or an offer or invitation to enter into any portfolio management mandate with Mercer.

Past performance is not an indication of future performance. If you are not able to accept these terms and conditions, please decline and do not proceed further. We reserve the right to suspend or withdraw access to any page(s) included on this website without notice at any time and Mercer accepts no liability if, for any reason, these pages are unavailable at any time or for any period.