People-centric HR transformation unlocks the employee experience 
As you join the wave of organizations working to enhance the employee experience — placing people at the heart of all you do — HR transformation can turn the function into a true partner to the C-suite, joining forces to drive the business and people agenda. Mercer's innovative HR planning strategy uses a new Target Interaction Model (TIM), which builds the function around employees' needs, replacing the traditional target operating model (TOM) that focuses on the organization.  
of HR teams believe they deliver an exemplary employee experience.
of HR leaders say we're in a candidate-driven market.
of executives invest in HR agility but struggle to sustain it.
of organizations plan to redesign their HR function for greater impact in 2022.
of executives believe that automated HR processes create a disconnect between HR and the business.
Your HR function isn't directly aligned to your business strategy. 

HR is not perceived as delivering real value to candidates, employees, leadership and your board

Your organization struggles to improve HR touchpoints and practices.
In the future of work, it's time for TIM 
Over the past few decades, the predominant HR model was designed around the perspective and perceptions of the HR organization, and its primary purpose was to address leaders' laser focus on business efficiency and cost savings. Out of this philosophy emerged the trinity of HR business partners, centers of excellence and shared services. But this prevalent three-pillar HR operating model not only failed to achieve the desired cost benefit; it also created a fractured candidate and employee experience.
In today's work environment — and to be agile and ready to adapt to the future of work — organizations need to refocus their HR transformation on interactions — choosing a Target Interaction Model (TIM) approach before designing the target operating model (TOM). Our TIM approach uses a multidimensional and people-centric HR transformation philosophy and methodology that grants the HR function greater responsibility than ever before, placing it at the table with the C-suite to create the organization's people strategy. 
Successful HR strategy centers around people, not org charts
It's time for HR to shape the future of work by providing relevant advice and services that directly align with and support your organization's business and people strategies. The right HR transformation drives the organizational strategy and people priorities, and it contributes true business value.
Mercer's HR transformation approach uses the TIM model to found the future organization around the employee experience and the business strategy, leveraging HR into a true people-centered function. TIM places a premium on exceptional personal and digital touchpoints, with employee satisfaction as the key success metric. 
By emphasizing the employee experience, building on end users' needs (including the C-suite's), HR's future-ready design can benefit the entire organization, introduce a better way of working and boost employee engagement. 
Target Interaction Model (exemplary)
The TIM - Target interaction model looks at four different parts of the HRIS platform starting with HR customers ( Candidates, external workforce, employees, people leader and top management. Then it looks is uses the people operations platform to sort through employee experience and HR and beyond. Then it provides personal support through people operations, advisory and administration, leadership and partner and people advisor. This becomes the agile talent pool that leads to functional experience whether that is HR customer facing communities ( Talent acquisition and talent development) or Enterprise serving communities ( project portfolio management, compensation and benefits, diversity, equity and inclusion or HR An Analytics)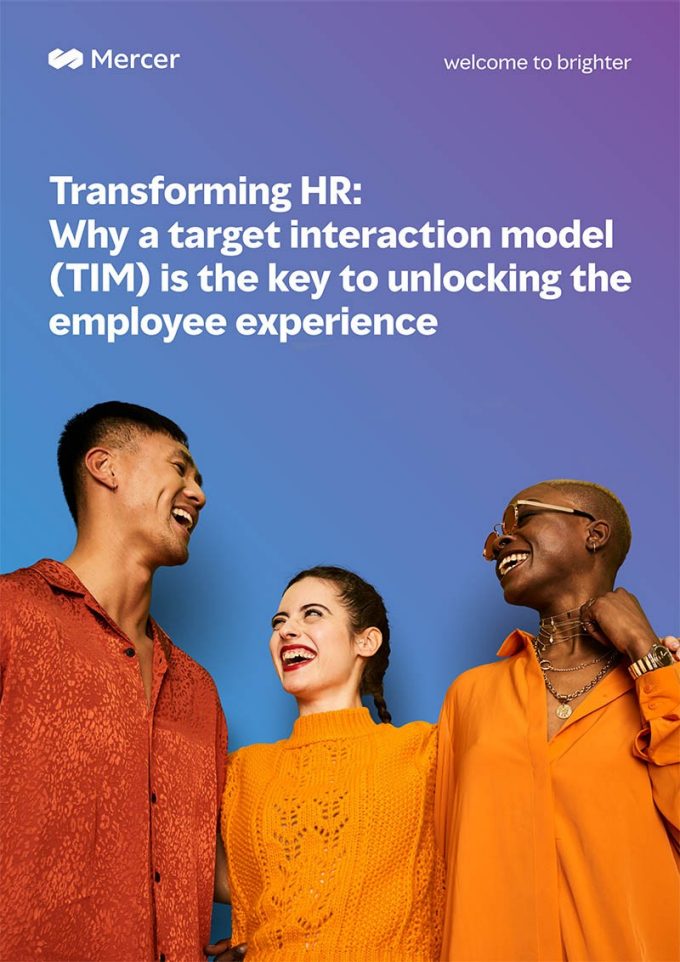 Why a Target Interaction Model (TIM) Is the Key to Unlocking the Employee Experience 
Four dimensions of successful HR transformation 
Your organization can transform the very nature, efficacy and perception of HR by rethinking the function and getting the design of four key dimensions right: strategy and content, processes, organization and systems.
Shaping HR strategies for the future
Learn about our agile approach for accelerating HR transformation.
In addition to using Mercer's innovative Target Interaction Model to speed up and increase the effectiveness of your HR transformation, the HR Accelerator delivers:

HR vision and strategy roadmap

Create a clear future vision to describe and execute your HR strategy that can transform your HR content, processes, organization and technology

HR process (re-)design, automation and radical simplification

Create an exceptional employee experience around moments that matter by carefully examining employees' expectations and interactions with HR and by streamlining and simplifying processes
HR roles: Trending toward the employee experience
Using the Target Interaction Model to transform into a people-centric HR organization is supported by trends in HR roles. 
HR strategic advisors provide insights to senior executives on how the workforce supports the business strategy.
Collaboration experts facilitate the flow of information, skills and capabilities between workforce populations, helping employees adapt to change.
Employee experience designers create intuitive touchpoints and user journeys, often for specific personas, such as new hires or business/function groups. 
Center-of-excellence experts design the global talent philosophy in partnership with the C-suite.
Center-of-competence experts execute HR processes, such as talent acquisition or mobility, in alignment with geographies or business lines.
HR business partners operate in a micro-environment to support the HR operational needs of a pivotal people leader.
HR shared service consultants handle exceptional cases and special requests that extend beyond digital and automated capabilities. 
Ready to start your HR transformation journey?
Mercer's digitally enabled advisory solution, the HR Accelerator, can help you achieve your HR transformation goals faster and more effectively, improving efficiency up to 25% while reducing transactional volume — which frees up the function to reinvent HR for the future of work.
Mercer's HR transformation framework
Embark

Lead with a point of view and hypothesis.
Agree on a vision of the future state.

Discover

Provide a basis for transformation through insights and benchmarks.
Clearly articulate the change management journey.

Shape

Create bold solutions with measurable outcomes toward the future-state vision.

Drive

Deliver sustainable value 
Bake the HR transformation into the fabric of the organization.
Related products for purchase