Defined Benefit Pension Plan Dashboard
Our interactive tool provides an overview of key statistics from your defined benefit plans, including investment strategy, funding position, projected cash flows and value at risk.
As the global pension market becomes increasingly complex, plan sponsors and trustees need quick and easy access to vital information to help them carry out their responsibilities.
To help organisations understand their global pension position and how it may impact their business, they need to see a range of bespoke data. Mercer's Defined Benefit Dashboard (DB dashboard) provides precisely that. The curated, aggregated platform allows stakeholders to monitor their global funding levels and accounting positions, and gauge the impact of interest rates and market movements.
It displays annual contribution commitments and helps plan sponsors and trustees manage risk at a global and local level. Complete the contact form below to get started and sharpen your analysis today.
Benefits for plan sponsors and trustees
Some features of the tool
Global Dashboard covering a range of information to help plan sponsors, trustees and organisations understand and monitor their pension plans.
Highlight key countries by selecting the display order of countries and ability to change between reporting and local currencies.
What-if analysis to gauge the impact of interest rates and other market movements...
...allowing comparison between 'Base' and 'Stress' positions.
Drill down to further levels of information across all widgets.
The Dashboard will become a repository over time, allowing comparison of data across a range of dates.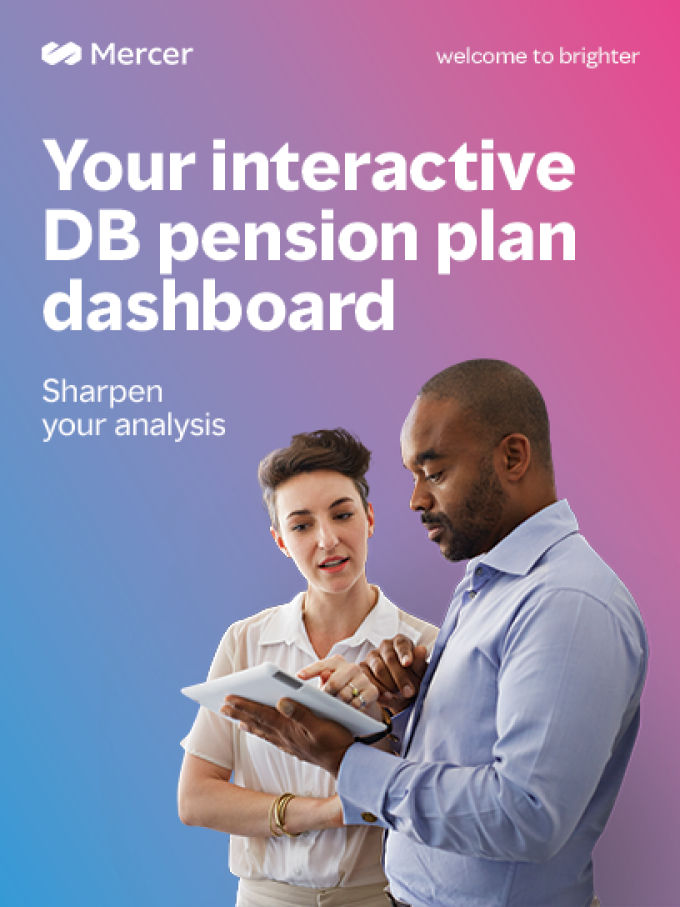 With the DB dashboard, all your pension assets and liability information is available at your fingertips - presented holistically, clearly and concisely.