A defined contribution pension plan designed to benefit you and your employees 
We offer defined contribution (DC) pension plans and retirement solutions, including outsourced chief investment officer (OCIO) services in many countries around the world. We can help you design, plan and manage customised DC plans or implement a fully outsourced solution that aims to help you deliver on your business objectives while addressing the retirement needs of your workforce.
Implementing a defined contribution pension strategy 
A defined contribution (DC) plan aims to minimise a firm's exposure to the pension risk, long-term financial uncertainty and volatility that are inherent in traditional defined benefit (DB) plans. However, DC plans can be complex and burdensome, and bring new risks and responsibilities. As well as investments, employers need to consider governance, risk, member engagement and retirement readiness.
Building your optimal strategy starts with design and implementation and then involves managing or outsourcing the delivery of a plan that aligns your organisational objectives with workforce demographics. To maximise the return on your time, effort and contributions made to the plan, it's important for employers to optimise retirement outcomes for employees. Engaging tools could help employees model their retirement outcomes according to changes in investment strategy, retirement age and contribution rates.
Investment responsibilities of defined contribution pension plan providers
We can help you find an optimal pension vehicle and investment structure that either is managed by your in-house teams or has certain elements outsourced to a third-party specialist. We can also suggest products that we believe will provide the right level of choice for employees, while staying aligned to company objectives.
As employees reach various life milestones, their choice of investment strategy may change. We can help you establish a DC investment structure that provides the option for flexible asset allocation and balances risk and expected return at all stages of members' working lives.
We can leverage our extensive and global industry research to provide you with tailored advice on investment manager and fund selection to support your chosen strategy. We also advise on emerging market trends and opportunities, along with new product innovation.
We can help you offer employees an optimised investment strategy, finding the appropriate mix of expected return, risk and diversification. We benchmark manager performance and fees, enabling you to identify any areas where changes could improve outcomes for employees.
We can help you develop a financial wellness programme that engages employees and helps them reach their goals for every stage of their financial lives.
We can help you monitor your DC plans to ensure you stay on top of take-up rates, contribution levels, investment choices, investment manager performance and any other provider performance. We can also help you with compliance tasks. 
Building an optimal defined contribution strategy
Do you have access to robust investment research?
We continually investigate, test and monitor investment managers and products, around the world, to provide you with the most up-to-date information and ideas.
Have you sought advice from an investment professional?
Whether you want to streamline your plan or determine the right investment strategies to adopt, we can provide sound advice and guidance to help you optimise what you offer your employees and navigate the global provider landscape.
Have you considered third-party solutions?
We can help you reduce the management and compliance burden associated with running your own self-administered plan, which could involve moving elements of managing the plan to third party packaged solutions tailored to your organisation, and employees.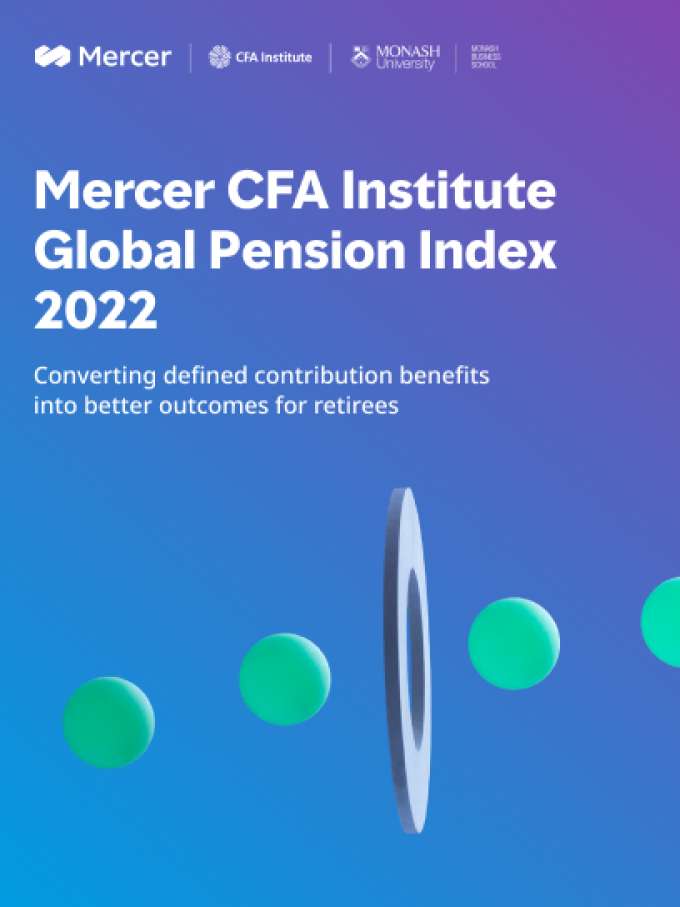 We benchmark 44 retirement income systems around the world, highlighting strengths and weaknesses.
Defined contribution pension plan solutions
We can help you deliver customised defined contribution (DC) plans that align with your business needs while providing your employees with a flexible investment opportunity. We can also support you with all aspects of DC pension provision, from investment to administration, enabling you to focus resources on your core business. Some solutions differ from region to region.
Contact us
to find out what is available where you are.
Master Trust 

We offer master trust solutions in Australia, the UK, and Ireland and collaborate with Equiom Fiduciary Services (Middle East) Limited in the UAE by providing investment advisory and solutions and with Alexander Forbes in South Africa by providing investment solutions.

Mercer Wise 401(k) 

A fully outsourced retirement plan solution that seeks to reduce the complexities, costs and fiduciary risk associated with managing a defined contribution plan. Mercer acts as a named fiduciary responsible for the operation and investments for the plan. We offer the 401(k) in the United States.

Mercer Wise PEP

A pooled employer plan that seeks to lower plan costs, improve access to innovative investment management, and transfer administrative and fiduciary burdens to a third party. We can help you evaluate the potential benefits and drawbacks and determine the best vehicle for you. We offer Mercer Wise PEP in the United States. 
---
How outsourcing your commitments could help you
achieve your goals 
A growing number of employers are choosing to work with specialist investment providers to help them manage their defined contribution (DC) pension commitments. While this approach has many names around the world – outsourced CIO, OCIO, delegated solutions, fiduciary management – the aim is the same: to offer solutions that enable plan providers to meet their goals more efficiently.
Through an outsourced model, employers and other providers maintain control over the critical decisions, such as strategy, plan design and asset allocation, leaving the technical and tactical tasks, including investment manager selection and monitoring, due diligence and oversight, to a third-party specialist like Mercer. We offer a range of outsourced pension and retirement solutions tailored to our client needs all around the world. Contact us to find out more.
---
Introducing some of our team
---
Insights, ideas, innovation
It's all here: MercerInsight® Community
Simplify your search. Get strategic research tailored to your interests from thought leaders across the investment industry, including Mercer and hundreds of third‑party publishers. Membership is complimentary, and it takes seconds to sign up.
Join the community
Contact our defined contribution specialists
We will connect you with specialists in your region/country.
---
References to Mercer shall be construed to include Mercer Financial Services Middle East Limited  and/or its associated companies.
© 2023 Mercer Financial Services Middle East Limited. All rights reserved.
This content may not be modified, sold or otherwise provided, in whole or in part, to any other person or entity without Mercer's prior written permission.
Mercer does not provide tax or legal advice. You should contact your tax advisor, accountant and/or attorney before making any decisions with tax or legal implications.
This does not constitute an offer to purchase or sell any securities.
The findings, ratings and/or opinions expressed herein are the intellectual property of Mercer and are subject to change without notice. They are not intended to convey any guarantees as to the future performance of the investment products, asset classes or capital markets discussed.
This does not contain investment advice relating to your particular circumstances. No investment decision should be made based on this information without first obtaining appropriate professional advice and considering your circumstances. Mercer provides recommendations based on the particular client's circumstances, investment objectives and needs. As such, investment results will vary and actual results may differ materially.
Past performance is no guarantee of future results.  The value of investments can go down as well as up, and you may not get back the amount you have invested. Investments denominated in a foreign currency will fluctuate with the value of the currency. Certain investments, such as securities issued by small capitalization, foreign and emerging market issuers, real property, and illiquid, leveraged or high-yield funds, carry additional risks that should be considered before choosing an investment manager or making an investment decision.
Information contained herein may have been obtained from a range of third party sources. While the information is believed to be reliable, Mercer has not sought to verify it independently. As such, Mercer makes no representations or warranties as to the accuracy of the information presented and takes no responsibility or liability (including for indirect, consequential, or incidental damages) for any error, omission or inaccuracy in the data supplied by any third party.
For the most recent approved ratings of an investment strategy, and a fuller explanation of their meanings, contact your Mercer representative.
Mercer universes: Mercer's universes are intended to provide collective samples of strategies that best allow for robust peer group comparisons over a chosen timeframe. Mercer does not assert that the peer groups are wholly representative of and applicable to all strategies available to investors.
Please see the following link for information on investment management index definitions.
Not all services mentioned are available in all jurisdictions. Please contact your Mercer representative for more information.
In the United Arab Emirates, Mercer's Services are delivered by Mercer Financial Services Middle East Limited ("MFSMEL"). MFSMEL is registered with the DIFC, License No. 0939 and regulated by the Dubai Financial Services Authority (DFSA).
For the conflict of interest statement of Mercer Investments, of which MFSMEL is a part, contact your Mercer representative or see https://www.mercer.com/conflictsofinterest.