The transformative power of digital benefits
Find out how you can use digital solutions to transform workforce well-being, engagement and culture.
Why digitisation is growing in importance
Rapid digital transformation is a priority for organisations all over the world. Firms must not only make changes to their business delivery, but also create a truly digital work experience for their employees.
This has been accelerated by COVID-19 and the workforce transformation it set in action. Employee expectations are changing. Two-in-five workers say they are less likely to leave the company if their employer promotes or sponsors digital health solutions. As such, HR teams must design employee experiences that are fit for a flexible, digital working environment.
Fortunately, accelerated digitisation has led to an explosion in digital health and well-being programmes, which have become more relevant and have gained significant traction.
However, people management practices have not kept pace with other technological developments. Risks involving cybersecurity, loss of personal information, and system obsolescence are heightened due to how HR data is maintained, and how benefits and other HR programmes are delivered.
Providing a consistent digital experience
Employee benefit programmes and the teams that deliver, manage and report on them have been thrust into the spotlight, with increased C-suite attention.
The importance of providing a globally consistent employee experience has also grown exponentially, accelerated by the pandemic.
As employers were forced to become more than just providers of employment—but also social connection, emotional support and mental wellbeing—benefits and the systems to deliver them became more essential than ever.
At a time when corporate incomes were plummeting, there might have been an expectation that benefits budgets would be cut. However, the opposite was true. More than 70% of organisations increased spend as a result of the pandemic.
With this increase in visibility and investment, HR and benefits teams will be under increased scrutiny, with pressure to deliver reliable data points to prove that this investment is being spent wisely and providing a tangible return on investment (ROI).
For this, they will need to consolidate their data sources, and focus on strengthening their data analytics capabilities.
Making sure you have the right digital infrastructure, benefit offerings and partners in place to face the challenges of tomorrow will be the real post-pandemic challenge for HR and reward teams.
The benefits themselves are only part of the investment that needs to be made—how they are delivered is also key. In an anytime, anywhere, anyplace working world, more investment in consumer-grade delivery of benefits will be essential.
Just as COVID-19 shone a spotlight on the vital role employee benefits play, it also highlighted the need for robust tech to respond to change and keep employees engaged.
HR technologies must keep pace with employee expectations. In many organisations, figuring out how to enrol and access benefits continues to be a frustrating experience.
Ease this frustration with digital solutions that gives employees easy access to well-being programmes and an intuitive benefits experience. This means you can engage better with your people and support them during moments that matter. It also provides you with better cost visibility, oversight and utilisation insights.
Getting started on your digitalisation journey
Five questions those responsible for HR and risk must ask to ensure that policies and practices are relevant and effective:
Are we confident the risk of a breach associated with HR data is sufficiently mitigated?
Are employees' personal details such as salary or dependent information being shared with third parties using spreadsheets? Is that a risk you are comfortable with?
Are our HR processes aligned to the employee experience we are seeking to create?
81% of employers said that achieving a 'globally consistent employee experience' is a 'high priority', and its importance has increased year-on-year since 2018.
Have we modernised our health programmes in light of a rapidly changing digital health ecosystem?
Prior to the pandemic, 68% of employers said they were likely to invest in digital health in the next five years. Interest was strongest among employers in high-tech, manufacturing/construction, and financial services/insurance.
What is our digitisation strategy?
Make sure you know who is driving digitisation in your organisation, and what contribution is needed from HR and the enterprise risk management team in order to craft a cohesive digital agenda.
Is our employee experience for managing benefits "consumer-grade"?
Sadly, for many employees, enrolling and accessing benefits is still a frustrating experience. Over the coming years, the bar will continue to be raised. At a minimum, even if programmes are highly fragmented, employers must determine what their digital approach to health, risk protection, and wellbeing programmes is and then work to continuously improve by delivering a more simple, fun, and integrated experience over time.
---
The challenges facing organisations today
of HR and risk managers agree that accelerated digitisation poses a serious threat to their business.
say cybersecurity issues are likely, and 59% say these risks could have a catastrophic impact.
of organisations spent more on HR tech during the pandemic as a result.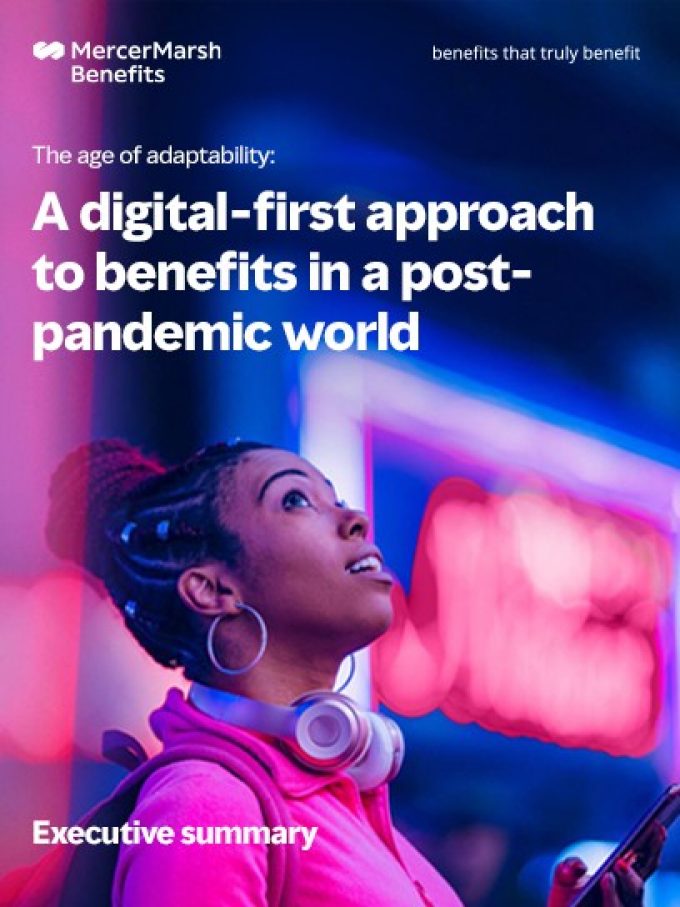 Organisations, HR teams and the employee benefits they provide have been repeatedly stress-tested in our evolving world of work. As a result, benefits and the technology used to deliver them have shot up the corporate agenda. Get an in-depth look at the impact this has had on benefits and technology trends.
How Mercer Marsh Benefits can help
We recognise the critical role digital solutions can play in helping employers take their reward and benefits strategy to the next level. The right tech solutions will drive improved value through enhanced communications, engagement and employee experience to improved efficiencies, analytics and risk management.
To ensure that technology delivers the right outcomes and return on investment for your organisation, our market-leading consultancy services are also here to offer specialist support and relevant insights at every stage of the digital journey.
Innovation sits at the heart of our digital strategy, and we are committed to keeping our clients at the forefront of the ongoing technical and data revolution.
Darwin

Take automation, user experience and analysis to a whole new level.

With Darwin, you have a system that seamlessly integrates with tools you already use and gives you flexibility, increases employee engagement, controls cost and reduces risk – all from one single platform.

Employee communications

Communicating the advantages of your benefits programme to employees is as important as providing those benefits in the first place.

Employees can only see benefits as a reward if they know about them, actively participate in their selection, and understand their value.

Benefits You

A suite of complementary digital tools designed to help modern businesses get the most out of their benefits. No matter if you're an SME with operations in a single country or one of the world's biggest multinationals, Benefits You meets you where you are, giving you the tools you need to achieve your goals.
---
Demonstrate your commitment to a digital approach to health and benefits
Contact a Mercer Marsh Benefits consultant today