This research report is full of robust data and critical insights to better manage people risks.
In this report, we offer an in-depth view of culture-related deal risks and provide strategies and practical solutions to predict and proactively plan for change.
Better manage uncertainty and people risks in M&A transactions
After studying the data and considering our experience supporting clients on over 1,400 deals annually, we see a clear pattern. Culture, left to chance, has significant potential to derail operations post-close. 
While many consider culture a "non-financial risk," 30% of transactions fail to ever meet financial targets due to cultural issues. If these operational risks are not recognised and addressed, they can lead to low productivity, flight of key talent, customer disruption and value destruction. 
This is a practical guide for those navigating the cultural complexities of a deal. It is a purposeful departure from the common, purely academic rhetoric around culture in business. 

This research will help you prioritise and document culture risk and formulate a clear plan of action to generate better investment returns. Make no mistake, the common denominator driving deal success and economic value across broad sectors of business and industry is people. This is particularly true in today's prolonged seller's market, where buyers are taking on enormous financial risk and paying record multiples to complete larger deals. 

This research includes input from 1,438 "road tested" business executives, HR professionals, employees and M&A advisers. While it is important to dispel any notion that an "ideal culture" formula exists, our research shows culture matters more today than ever in M&A. 

Successful leaders drive deal value and gain competitive advantage by leveraging culture to empower, engage and energise the workforce.
We launched our comprehensive M&A Readiness Research™ series on people issues to better understand emerging trends through the lens of experienced dealmakers.
The purpose of this research is to demystify culture in M&A and identify practical strategies and solutions to hedge culture-related integration risk. We took the pulse of 1,438 stakeholders involved in transactions, who told us culture, left to chance, has significant potential to derail operational performance post-close. Stakeholders from 54 countries who have been involved in over 4,000 transactions in the past 36 months on both the buy and sell sides reinforced that the common denominator in delivering sustainable economic value in this prolonged seller's market is people. The respondents to our research work for companies employing over 43 million people. Our researchers went deep inside these organisations to talk with employees, business leaders, HR professionals and M&A advisers about their experiences; we also considered how different age groups, geographic locations, industries and company sizes influenced people's views on culture. From these voices and our experiences, we see a clear pattern emerging: Culture absolutely matters in M&A.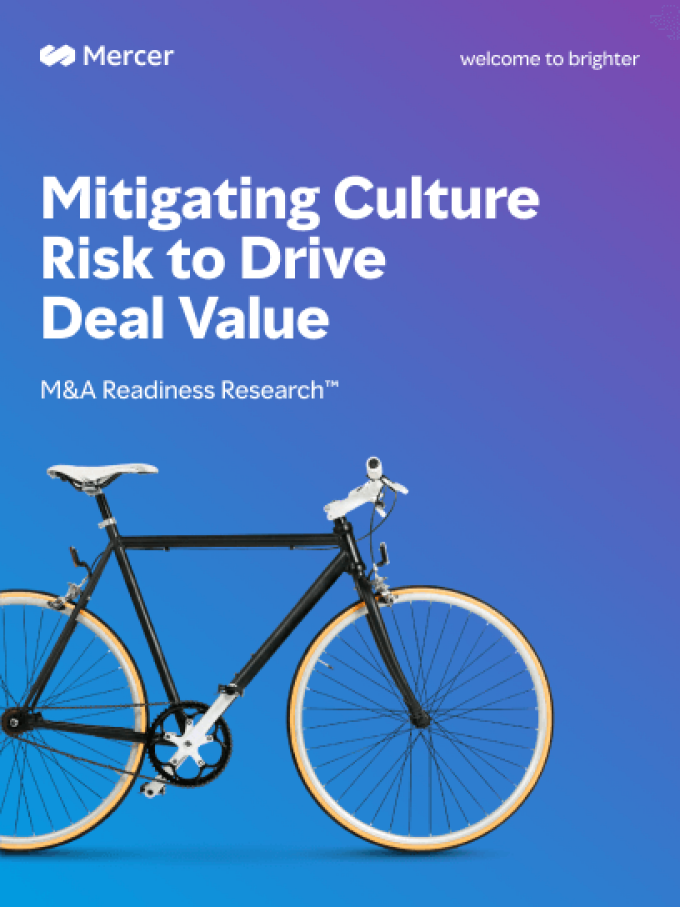 Be among the first to learn key findings from 1,438 M&A professionals located in 54 countries, who collectively worked on 4,000+ deals, and participated in our recent M&A Readiness Research™.
Due to culture issues:
of transactions fail to meet financial targets.
of participants have experienced synergy delays.
of participants have experienced delayed close, no close or an impact on purchasing price.
Culture is about individual behaviours that deliver business outcomes and how operational drivers can be leveraged to reinforce those behaviours. Cultural alignment is critical for effective organisational change in M&A.
A well-articulated strategy allows for more-effective organisational choices. Organisational choices include how work is done; how resources are structured; what is measured; how talent is selected, developed and rewarded; and how leaders foster a winning culture.2
Top drivers of organisational culture
How leaders behave (61%)

Governance (53%)            

Communications (46%)

Working environment (46%)
Jeff Black

Jeff Black is a Partner and Global M&A Advisory Services Leader at Mercer. With 25 years of experience as a trusted adviser to business leaders, Jeff advises strategic and financial buyers and sellers on global people risks through the full lifecycle of a transaction. A recognised expert in deals, he is a frequent keynote speaker and has been widely published and quoted in numerous industry journals and media outlets.

Brent Helsop

Brent Heslop is a Partner and an acknowledged global leader in business transformation. Over a career of more than 25 years, Brent has worked in both consulting and corporate leadership roles across a number of industries to develop, design and implement organisational structure and change critical to driving sustained performance, including numerous transactions.

Carly McCoy

Carly McCoy is Mercer's Director of M&A Culture Research. She is also a Principal in the M&A Advisory Services business based in New York. Over her career with Marsh & McLennan Companies and Mercer, Carly has worked on projects in over 40 countries, and she has particular expertise in culture, change, employee engagement, and diversity and inclusion.