Investments
Research, financial tools, advice and bespoke investment solutions to help you manage risks, capture opportunities more quickly and position your portfolios to deliver on your unique objectives.
Investment solutions to suit your needs
Everything we do starts with your needs in mind. We take the time to understand your overall investment objectives and pain points and define an effective approach. We leverage our latest thinking and insights, and strategic and manager research to help you make better informed decisions. Get advice and guidance to help you identify effective ways to convert these insights into achievable and desirable outcomes – including portfolio construction and asset allocation. If you want our help with strategy execution, we can become an extension of your team and build a bespoke and agile implementation solution tailored to your portfolio needs.
---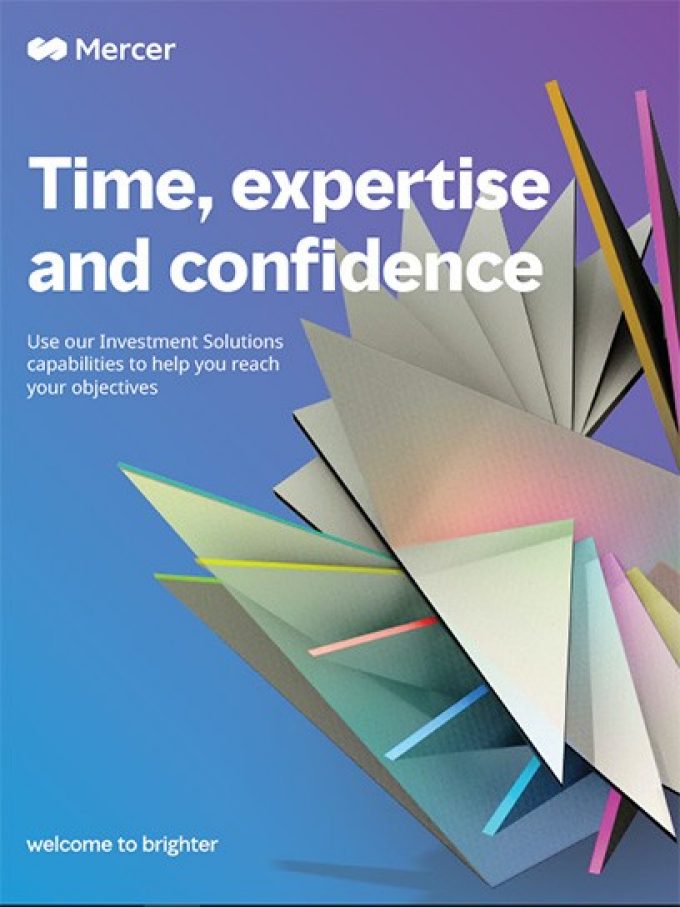 Lean on our consultants to provide the advice, insight, implementation and operations your portfolio needs to help you invest with confidence. Explore what our range of investment solutions could mean for your portfolio today.
Access the latest investment research and insights
We empower you to make better informed investment decisions by providing you with access to the latest strategic investment and asset manager research, and our views and insights on the latest trends and investment themes. Learn more about our world of investment insights below.
1

Strategic research

2

Asset manager research

3

Investor podcast

4

Blogs and articles
Introducing some of our leaders
---
Awards and industry recognition
Professional pensions 2022
Mercer received four awards at the 2022 Professional Pensions Awards, including:
DB multi-asset manager of the year
Fiduciary manager of the year
Cashflow-driven investment (CDI) manager of the year
DB investment innovation of the year
Leverage our breadth and depth
US $16.45 trillion in global assets under advisement1
US $393 billion in global assets under management2
More than 12,400 investment strategies rated3
More than 7,000 asset managers rated4
* 1 June 30, 2022,  2 March 31, 2023,  3 June 30, 2022,  4 June 30, 2022
---
Insights, ideas, innovation
It's all here: MercerInsight® Community
Simplify your search. Get strategic research tailored to your interests from thought leaders across the investment industry, including Mercer and hundreds of third‑party publishers. Membership is complimentary, and it takes seconds to sign up.
Discover how we could help you achieve your investment goals.
---
Important Information for Investors based in Hong Kong
Before accessing this website you must read and accept the following terms and legal notices.
You are about to enter a website intended for sophisticated institutional investors based in Hong Kong and the information contained herein is only intended for investors who are Institutional or Corporate Professional Investors as defined in the Securities and Futures Ordinance, Cap 571 Laws of Hong Kong and the Securities and Futures (Professional Investors) Rules.  Any person unable to accept these terms and conditions should not proceed any further.
In Hong Kong, Mercers Outsourced Chief Investment Officer, Delegated Solutions and other Investment Services delivered through Mercer Funds are delivered by Mercer Investments (HK) Limited ("MIHK"). MIHK is authorized by the Securities and Futures Commission to undertake Type-1 (dealing in securities), Type-4 (advising on securities) and Type-9 (asset management) regulated activities in Hong Kong subject to the limitations set forth at https://apps.sfc.hk/publicregWeb/corp/ALR969/details. MIHK is registered with the Mandatory Provident Fund Schemes Authority as a principal intermediary. MIHK is registered in Korea with the Financial Services Commission as a Cross-Border Discretionary Investment Management business and as a Cross-Border Investment Advisory business.   
Information about Mercer strategies and solutions is provided for informational purposes only and does not constitute, and should not be construed as, an offer to sell, or a solicitation of an offer to buy, any securities, or an offer, invitation or solicitation of any specific products or the investment management services of Mercer, or an offer or invitation to enter into any portfolio management mandate with Mercer. None of the content on Mercer.Com should be considered as advice.  No actions should be taken based on this content without first obtaining professional advice. Mercer makes no representation, and it should not be assumed, that past investment performance is an indication of future results. Moreover, wherever there is the potential for profit there is also the possibility of loss. Past performance does not guarantee future results. The value of investments can go down as well as up, so you could get back less than you invest.
Mercer reserves the right to suspend or withdraw access to any page(s) included on this Website without notice at any time and accepts no liability if, for any reason, these pages are unavailable at any time or for any period. The solutions, products and services described in these pages are not available in all jurisdictions.