Global Talent Trends 2019: Four Trends for Transformation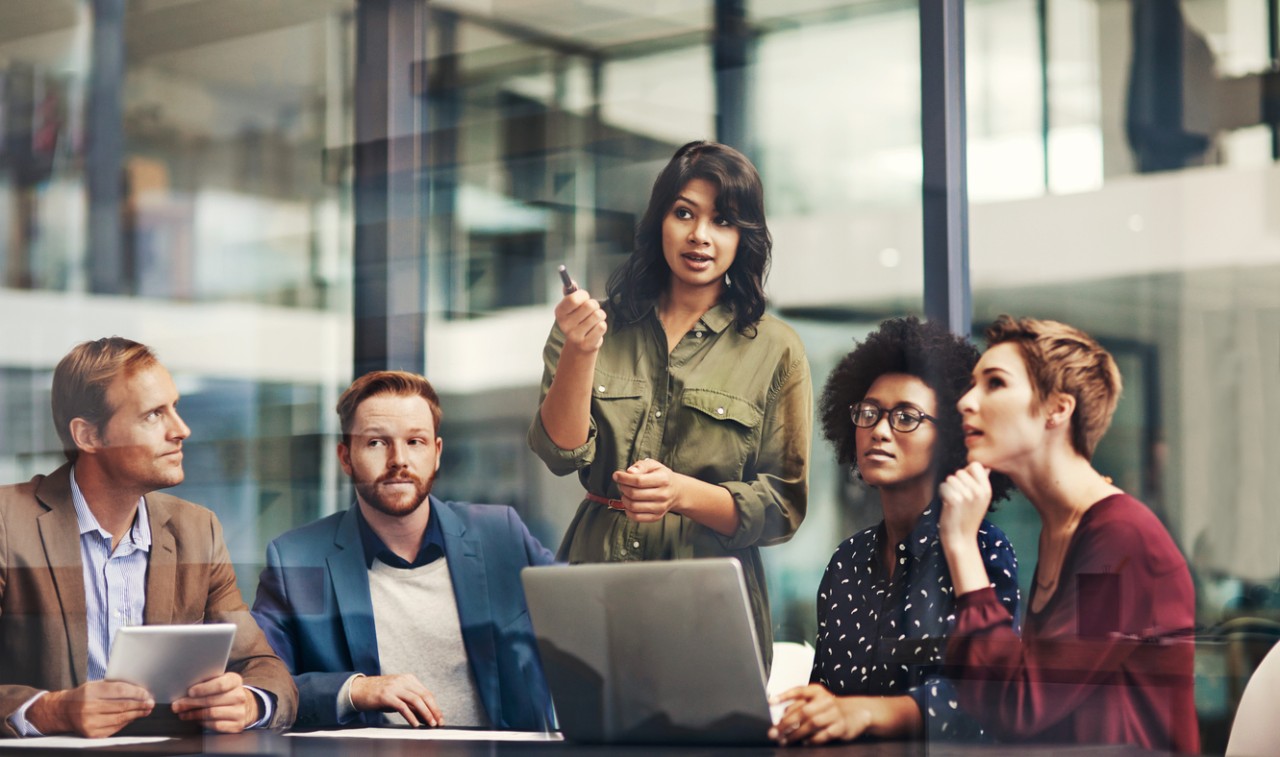 29 March 2019
What does the future hold, and are we ready for it? According to Mercer's 2019 Global Talent Trends Study, nearly three-quarters (73%) of executives predict significant disruption in the next three years, compared to 26% in 2018, and nearly all organizations are taking action to prepare for the future of work.
 Yet, as executives focus on making their organizations future-fit, significant human capital risks can impede transformation progress. In today's uncertain and fast-changing climate, employees seek stability. Mercer's study finds that job security is one of the top three reasons employees joined their company, and the main reason they stay. Addressing people concerns is paramount, given that only one in three executives rates their company's ability to mitigate human capital risks as very effective.
 "In recent years, organizations have moved from anticipation to action in preparing for the future of work," Ilya Bonic, a Senior Partner at Mercer and President of its Career Business, wrote in a recent article on BRINK. "But they risk bewildering people with too much change, ignoring the values people admire, and inundating them with endless process built around constant change, including the automating capabilities of AI and various software solutions."
The way to help employees feel secure is to foster human connections. Thriving employees — that is, those who are prospering in the areas of health, wealth, and career — are twice as likely to describe their role as "relationship focused" and their work environment as "collaborative.
By comparing high-growth and modest-growth organizations' practices, and taking note of those further along on their digital transformation, the study identifies four trends that leading companies are pursuing in 2019: Aligning work to future value, building brand resonance, curating the work experience and delivering talent-led change.
1.     ALIGNING WORK TO FUTURE VALUE
Agility remains a critical organizational competency. Executives are confident they are making good progress, with nearly one-third (30%) saying that their organization can change at speed — up from 18% in 2018. But agility alone is not enough. Furthermore, as flatter work structures and agile work models become the norm, new value creation approaches are needed to stay ahead.
Leading firms are aligning change efforts to a few anchor points where they believe future value will be created — be it new products, new partners, new critical skills, or new operating models. Key to success will be redefining the "jobs to be done" and building integrated people plans. This year the C-suite names job redesign as the area of talent investment with the highest ROI potential. Furthermore, high-growth firms are most likely to have invested in job redesign and are four times more likely to have an integrated people strategy.
"Organizations are looking for new ways to deliver value," writes Kate Bravery, a Partner in Mercer's Career Business and Global Practice Solutions Leader. "This involves choosing a few anchor points where firms believe future value will be created — be it new service lines, new strategic partners, or new skills — and aligning an integrated people strategy around them. This is an approach deployed four times more frequently by high-growth companies (i.e. +10% growth). In practice it could mean radically moving people to areas of the business with greater return, or investing in non-traditional talent by creating new pathways into skilled jobs."
2.     BUILDING BRAND RESONANCE
Attracting top talent remains a priority. What has changed this year is employee perceptions. Job seekers care about the way a company conducts business and upholds brand values.
In a social, transparent world, the lines are blurring between a company's consumer brand and its talent value proposition (TVP). One way to build a sustainable talent pipeline is to ensure the brand resonates with all workforce segments, as 68% of high-growth organizations say they differentiate their TVP to different groups, contingent workers included, compared to 47% of modest-growth companies.
Despite good intentions, only 11% of companies conduct analytics to measure the extent of pay inequities in their organization — an area that warrants more attention in 2019.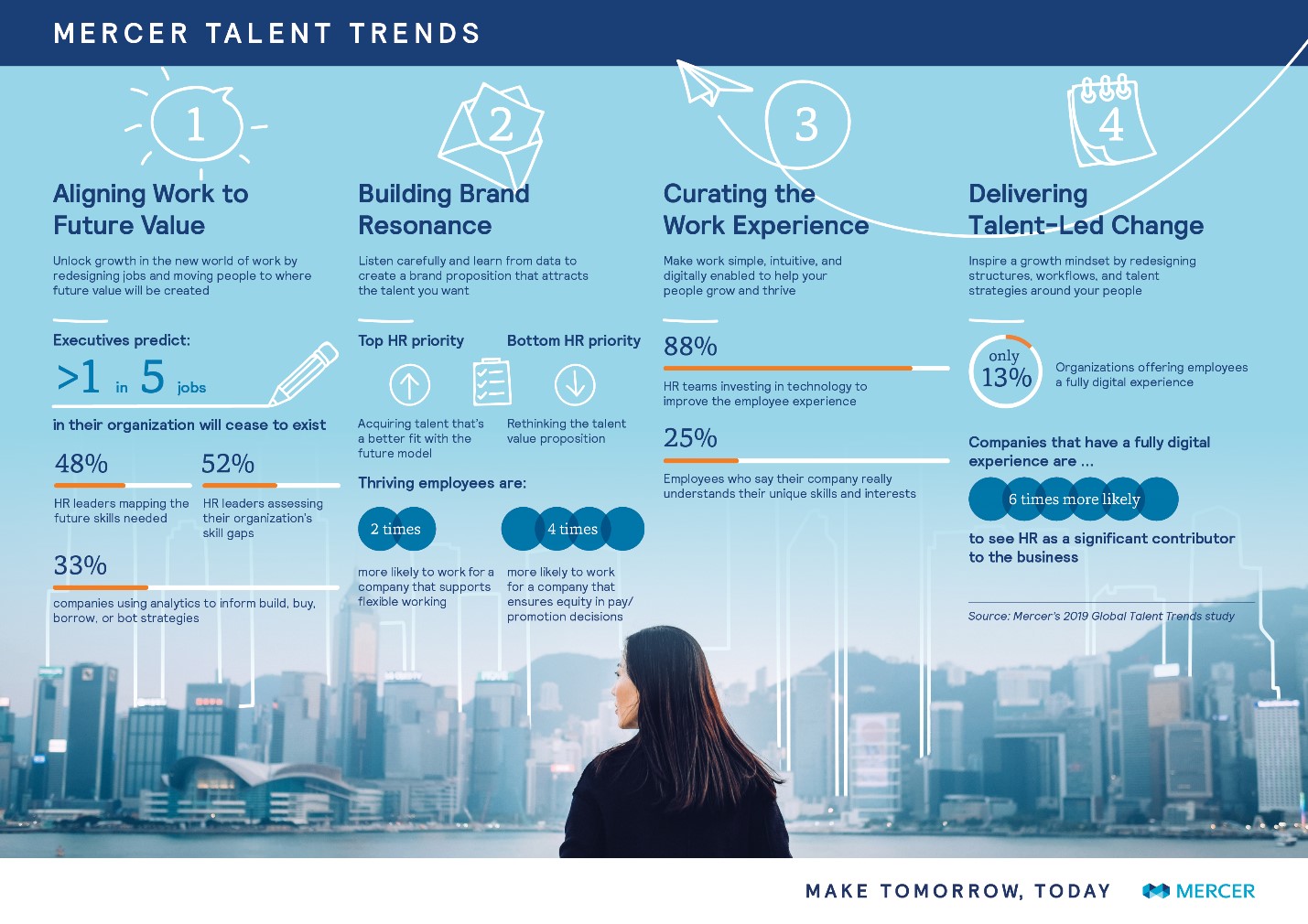 3.     CURATING THE WORK EXPERIENCE
The immediacy and volume of information afforded by technology can be overwhelming. For employees inundated by information and choices, simplicity is key. Thriving employees are three times more likely to work for an organization that enables quick decision making, and more than half (56%) want curated learning to help them evolve their skills and prepare for future jobs. This is an area where investments in career frameworks and AI are already paying dividends.
By being more deliberate about what, when, and how information is shared, companies can help employees manage choices about benefits, training, career paths, and more. Technology plays a critical role; high-growth firms are twice as likely as modest-growth firms to provide a fully digital experience for employees.
4.     DELIVERING TALENT-LED CHANGE
This year's findings show greater awareness of human capital risk. High turnover, low engagement, and change fatigue are major impediments to transformation efforts that stall the progress of change. For the first time, executives are concerned about employee burnout metrics, while "attrition" and a "decline in employee trust" are HR leaders' top concerns when it comes to implementing change.
To ensure the Human Agenda is front and center of change, HR should have a stronger voice in business transformation, as only two in five HR leaders currently participate in the idea generation stage of transformation initiatives. When HR is bold, the business benefits: 53% of high-growth organizations say HR is involved in kick-starting major change, compared to 39% of modest-growth organizations.
"These findings from the 2019 Global Talent Trends study point to the need for transformation efforts to focus more on people-centered design and better talent metrics to understand how people are experiencing and embracing change," adds Bonic. "After all, peoples' aspirations and motivations often spark innovation and improve productivity. In a rapidly automating age, human factors should take center stage as companies build their workforces for the future."
Read Mercer's 2019 Global Talent Trends study for our complete findings, as well as strategies to stay ahead.