International Health Predictions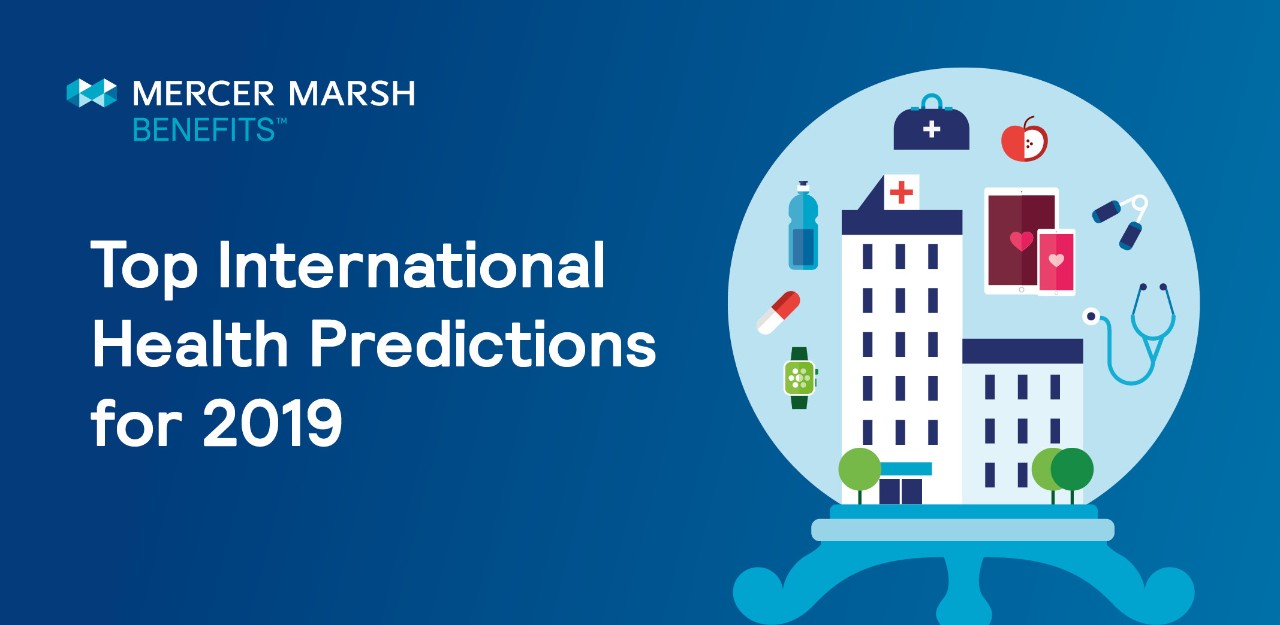 08 January 2019
Top International Health Predictions For 2019
In 2018, the world was preoccupied with medical inflation, the health needs of the new generations entering the workforce and the emergence of data analytics for insurers.
What will 2019 hold? Mercer Marsh Benefits has made 10 health predictions for the new year and, no surprise, high medical inflation will continue to be a concern. We see many new trends emerging, however, from a different role for artificial intelligence in the healthcare, to a novel direction for healthcare integration and the increased importance of—and attention to—one area of human health.  
Download the infographic below with all of our predictions to gain insight into these trends and use them to help you build and sustain a benefits strategy for an engaged, productive and healthy workforce. As you plan the year ahead, you may also find it helpful to look back at the trends of last year, which we explored in our report "2018 Medical Trends Around The World."
Mercer Marsh Benefits has many other resources for global healthcare and benefits managers. Our new white paper series "This Is Health" showcases our thinking on strategies to help you address increasing health and benefit costs, changing workforce dynamics and increasing business complexity. 
The first paper in this series is entitled "Creating Employee Benefits That Drive Engagement". It introduces the concept of a so-called design thinking approach--an understanding of your employees' specific pain points—and will help you to understand how to apply this approach to create a targeted plan for your workforce. The second paper is "Driving High Quality Healthcare Through Smart Benefit Design". It looks at why employers should care about quality healthcare, what Mercer Marsh Benefits means by quality healthcare and what employers can do to help ensure quality, wherever their location around the planet. This understanding is critical because healthcare is an increasingly inter-connected sector. 
Mercer Marsh Benefits' "This Is Health" series can be found here. Download the first two papers and sign up to receive notifications of future reports.
Download the full report
If you do not have your pop-up blocker enabled, you will be prompted by your browser to download the report or to view it in a new window. In addition, you will receive an email from Mercer shortly with a link to access the Top International Health Predictions for 2019.