Upskilling is About to Explode


19 December 2018
This time of year at Mercer, we are busily drafting our view of trends in talent for the coming year. We expect to release our fourth-annual Talent Trends report in February 2019. Already a number of key themes are emerging and today I want to call out one statistic in particular that has caught my eye.
As a priority on the executive agenda, upskilling and reskilling has risen from 10th to 4th place. Since I read the book Everybody Lies by Seth Stephens-Davidowitz, I often find myself playing around with Google Trends to see how interest in a topic has changed over time. In the figure below, look what happened when I typed in "Upskilling" – this figure shows the trend in worldwide searches, so we can assume that it's not just executives who are curious about upskilling.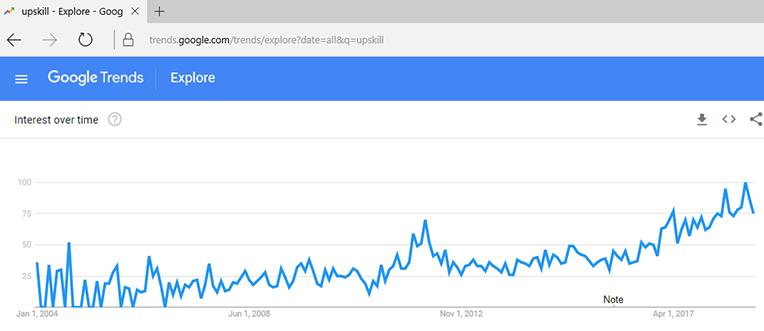 It is interesting to track back and see how executive priorities have evolved and very rapidly moved from business to people strategy. While our 2017 Talent Trends research found executives most concerned about their organization's long-term competitiveness in an increasingly digital world, our 2018 Talent Trends research revealed an executive agenda that emphasized the need for organizational agility and ability to change at speed. Change at the strategic organization level has substantial workforce implications. With unemployment tracking to all-time lows, a people strategy that emphasizes build and develop instead of buy is the new normal for organizations.
Any strategy over-emphasizing buying the skills for the future is one where success will be limited. There is only so much talent available, so it's unaffordable long-term as clearly illustrated in a couple of prominent news articles: Tech Giants Are Paying Huge Salaries for Scarce A.I. Talent (New York Times, October 2017) and Oracle recently offered an artificial intelligence expert as much as $6 million in total pay as Silicon Valley's talent war heats up (Business Insider, July 2018). Even in Silicon Valley, such eye-popping labour prices are unsustainable. I suspect recent stock market gyrations, and particularly their impact on technology valuations, are a window into the question of investment costs, returns and sustainability.
When talent is scarce, people development, upskilling and reskilling become the keys to organisational competitiveness and sustainability. Best practices and case studies continue to emerge. AT&T is one of the highest profile and most discussed examples of workforce reskilling at scale with a strategy dating back to 2014. In March 2018, LinkedIn released its Top Companies Where the US Wants to Work Now list. Topping the list were those companies perceived as creating an environment where their people could Thrive, including accessing development opportunities to help maximise their career potential and ensure their long-term employment relevance – be that with their existing employer or elsewhere.
Just yesterday, I spent time with Jill Zimmerman, Mercer's Global Head of Talent & Inclusion. Jill had just returned from an edX conference, where she led a discussion on skills for the future. She shared Mercer's own experience, strategy and belief that the skills we will need in the future go beyond technical to skills such as creativity, interpersonal, agile/experimental, empathy, negotiation, and communication. These human-centered skills are also in scarce supply. What I found most interesting from talking to Jill is that our universities and colleges are developing immersive programs to build these capabilities and promote the employability and relevance of the future workforce. Jill shared that IBM also presented its story about harnessing the power of Watson internally to recommend learning and nudge employees onto a path of continuous upskilling and reskilling for the benefit of their own careers and IBM overall.
Innovation and interest in the area of upskilling and reskilling is about to explode. Are you already seeing this trend in your workplace? What are some examples?