New Rules for Attracting and Retaining Talent in a Multigenerational Workplace


29 May 2019
Depending on the day you read the news, Millennials work on the go (not at a desk), they're demanding pawternity, and they believe they will be millionaires by 40. Such news is likely to have older generations rolling their eyes.
What employees want, to a certain extent, is universal. Mercer's 2019 Global Talent Trends Study reveals certain drivers unite the generations, such as being able to balance work and life in order to thrive. In today's turbulent world, job security is the main reason all generations stay with their employer, and competitive compensation is the main reason they leave.
And yet with such a wide span of generations in the workplace, it is no wonder organizations agonize over how to manage a multigenerational workforce. This year's study offers revealing insights – and suggests new rules for attracting – three of those cohorts: Generation Y (or Millennials), Generation X, and Baby Boomers.
Silver workers want to keep working, but barriers remain high
Experienced workers want to work, and this trend is set to continue as three-quarters of all employees say they intend to keep working past the normal retirement age. Financial necessity is the main driver of this preference, particularly in Canada, the US and Japan.
Yet stereotypes about older workers persist. Typically, they are seen as being less productive, less tech-savvy, and cramping youngsters' career progression. But with more companies placing increasing emphasis on creativity for value creation, these arguments hold less currency. True, conceptual reasoning skills diminish with age, but the corollary is that creativity and evaluative thinking – both vital for innovation – tend to increase.
So how can organizations retain experienced workers? Understanding their different priorities and motivations is a start. For example, in designing the value proposition, compensation is a key driver for Baby Boomers (while it is less important for Gen Y). This means more effort needs to be spent communicating pay benchmarking data and being honest about what is valued. Baby Boomers are also more likely to cite meaningful work and a convenient office location as key reasons for joining a company.
Older workers also feel they lack good coaching and career opportunities. Only 57% of Baby Boomers praise their manager's skills in coaching and developing them (compared to two-thirds of Millennials). Yet, 73% of HR leaders say they provide specific support to managers in having career conversations with workers nearing retirement. This contradiction indicates that talk is one thing, but without specific roles and new ways of working these are likely to have limited impact.
Contingent working is becoming more prevalent- in fact, 79% of executives believe contract workers will substantially replace core workers in the next five years. And, given the need to stay connected to institutional knowledge and the flexibility it affords on both sides, the opportunities of gig working seem particularly well suited to older workers. But organizations are falling short at tapping this workforce – both external and in terms of building an internal talent market: far fewer Baby Boomers have had training in how to work flexibly than younger generations, and they find it harder to sign up for short-term gigs.
Lessons from younger generations about the future of work
Millennial employees hoard much of the media attention and angst when it comes to building the workforce of the future. Gen Y is no less concerned about its place in an uncertain landscape: one in three Gen Y employees are concerned that AI and automation will replace their job in the next three years, more than older generations. There are three findings about Gen Y that stand out this year:
Gen Ys are eager to gain experience, any way they can. Gen Y is more likely than older generations to take on a new project at work without extra pay or benefits, or to exchange vacation days for experiences in other departments, to build an experience portfolio. This demands an agile working model and performance system that facilitates internal moves.
Eighty-four percent of Gen Y individuals say they are willing to consider freelance or contingent work, more than the 74% of Baby Boomers who say the same. Yet, all generations continue to be apprehensive about the lack of a stable income if they take this route. Flexibility is often cited as a benefit of gig working; doubling down on adaptive work models and making it easy for people to manage a portfolio career whilst still working for a firm would attract Gen Ys.
Professional development trumps other motivators. Yet, Gen Y ranked the "potential for long-term career opportunities" #1 reason for joining an organization. Job security and opportunities for professional development are tied as the main reason they remain loyal. This puts pressure on companies not only to get an agile and dynamic career framework in place, but also challenges their perceptions (and assessment approaches) around who can do a job and who should move into 'acceleration' roles. Mapping international labor moves and roles that typically lead to multiple future roles can identify these acceleration roles and flag them to high performers.
WHY DO EMPLOYEES STAY AT THEIR COMPANY?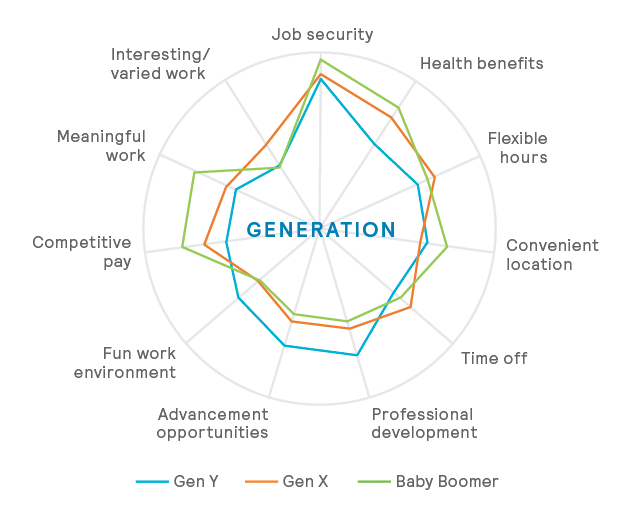 Generation X, the glue in many organizations, deserves more attention
Stuck in the middle in experience and, often, seniority is Generation X. If older workers suffer from unflattering stereotypes, then consider the Gen X manager: organizations grumble he doesn't understand – and therefore can't work with – Gen Y; and despite being a workaholic (of those who say their workplace is unhealthy, only two in five Gen Xers complain about workload, versus more than half for other generations), he nevertheless gets caught in a rut on delivery and can struggle to think differently of those who say their workplace is unhealthy. One executive in Talent Trends this year bemoaned that, "Gen Xs are the workhorses of the company, but they don't always work smarter."
The frustration is mutual. Of all the cohorts, Gen X is far more likely than others to cite "corporate culture" as the culprit of an unhealthy workplace. It is not clear when the divergence between Gen X and the organization started, but more effort needs to be invested in building these leaders into the champions of tomorrow, for it is the middle that is shaping organizational culture today.
Helping Gen X to get unstuck is a priority for any company seeking to attract a new generation and make progress on building the future of work. Doing this requires helping Gen X not only to thrive in their roles, but also to be part of designing that future. Interestingly, Gen X is the only cohort to rank working on meaningful projects among the top five things that would help them do this. The others include managing work/life balance, and being recognized for their contributions. And when asked what would help boost performance, Gen X is more likely to ask for more aggressive management of under-performance, and better alignment of individual goals with business goals.

Gen Z: A distress call
By all accounts the next generation will pose new and significant challenges again. Gen Z, or iGen, benchmarks differently on many personality dimensions, having grown up in a digitally-enabled and socially-connected society. They are profiling both idealistic and disenchanted. Indeed, a recent report suggests they are twice as likely to suffer from mental health issues, such as depression and anxiety, as Gen Y.
This raises the specter of ensuring transformation efforts are truly talent-led in the age of connectivity. Unlocking human potential demands a holistic approach if individuals, businesses and societies are to thrive. And ultimately, this demands a rethink of the purpose of work, the wellbeing of workers and the role of organizations in societal happiness.