It's No Longer About Getting a Seat at the Table. Tomorrow's CHROs Need to Lead Business Change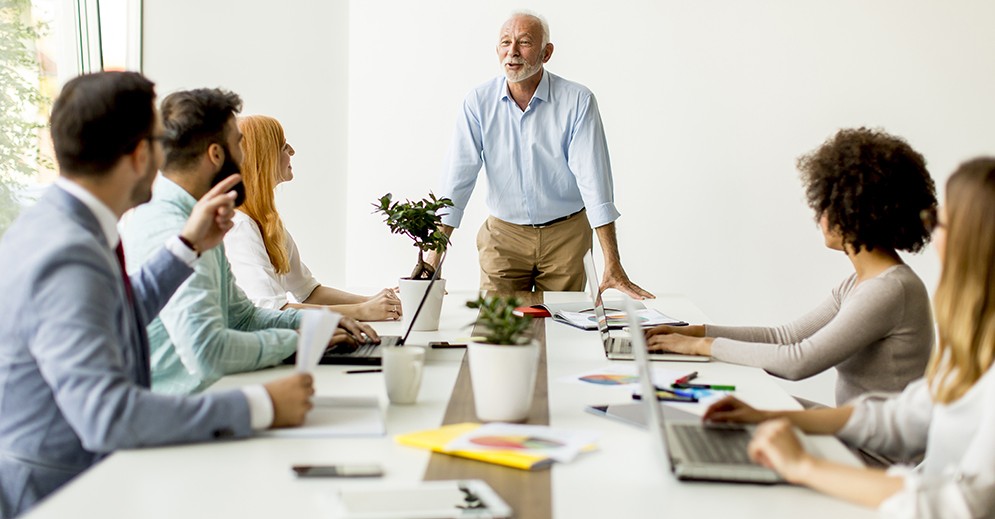 06 December 2018
Today represents an historic opportunity for HR leaders to drive change. New labor demographics, technological developments, and fast-moving markets have come together in such a way that there's never been a better time for the CHRO to impact the business in dramatic, value-enhancing ways. In Mercer's Talent Trends 2018 survey, 26% of executives indicated that they expect significant disruption to happen in their industry over the next 2 years. Another 43% said that they expect moderate disruption. These big numbers show how much business and work are in flux.
The evolution in HR now is similar to the transformation marketing colleagues experienced over the last decade - where technology tools and data helped them take a more data-driven, ROI-focused approach to their work. Emerging people-related technology is helping a company connect the most critical work to the right people, generating valuable data on capabilities and skills inside and outside the organization.
This means HR is at a critical turning point - one where it has the opportunity to become a true data-driven business leader. Based on our collective experience, we've identified three key behaviors that will make today's strategic CHRO effective in driving sustainable change across the entire enterprise.
Operating with a business-first mindset
The realities of business today require that the CEO, CFO, CHRO, and other leaders align around HR as a strategy function. The business-first CHRO seeks to drive outcomes that are important for the overall business, such as offering a stellar customer experience that drives revenue growth. He or she begins planning and building from the starting point of those desired outcomes, then works backward, asking critical questions along the way:
If the company needs to move from doing X to doing Y, what skills, talent, and workforce structure are needed?
How might the company's workforce be retrained, upskilled, and redeployed to drive growth?
There are also examples of the risk involved when a business is not operating in this strategically-aligned way. At one large industrial company, a single business unit leader introduced a pilot program to engage employees for projects using, essentially, an internal gig marketplace technology. The problem? This program launched before HR had been brought up to speed on the business purpose and outcomes sought. When employees had unanswered questions around incentives, performance, and manager training, the initiative stalled. The company spent significant time, effort, and cost post-launch aligning HR with the business and getting the program back on track. The takeaway: business-led initiatives involving workforce management run more smoothly when HR is brought in and engaged early. 

Driving change and innovation
At its core, transformation is about architecting, managing, and directing behavior change in people - not just about implementing technology, but changing the way people work.
At Highmark Health, a Pittsburgh-based company employing 50,000 people across the US, the CHRO leads an ongoing digital transformation that now includes some 500 strategic projects being vetted, 37 projects under way, and 13 already completed. As part of the process, Highmark came up with various solutions to redeploy and retrain its people to perform higher-level, more value-added functions. There are emerging tools available that enable rapid, value-adding deployment of talent -and access to external skills -in a landscape of accelerating change and increasing demand for specialized skills.
In fact, Mercer believes the future of work will be open-source, with recruiting evolving from acquisition to curation. The fluid talent pipeline of the future will be built by organizations that embrace the principles of open-source talent: collaboration, sharing, and community-building.
Preparing to manage a human workforce augmented by technology
At some companies, the push for digital transformation leads to the hiring of a technological visionary as CDO (Chief Digital Officer). But the required transformation goes beyond technology to encompass people, typically the focus of the CHRO and HR. It's not that hiring a CDO is a mistake; rather, the pitfall is in separating digital strategy from HR strategy. When organizations view digital transformation as "technology-only," they confront problems with people who may quickly derail change efforts.
It's clear to us that the CHRO is where business priorities and humans intersect. The word "automation" (frequently on the list of today's business priorities) can create anxiety throughout a workforce, as people worry whether they have the requisite skills for today or the future. In our view, automation is less likely to mean job elimination for most people and more likely to mean job transformation. How will new technology complement one's job or make it more efficient? How can people adapt their skills as technology does more? This is where the CHRO helps manage the human impact of strategy, getting people ready to adapt in order to drive business growth, all the while reducing anxiety and related business disruption.
The takeaway: CHROs need a business-first mindset
Blending people and technology is what success looks like today and tomorrow in HR and all areas of the business. At far too many companies over the 70-year history of the HR function, the CHRO has been brought into business decision-making at the end of the process only to enable or implement. CEOs need to reverse this dynamic to build the organization of the future.
This is an edited version of an article that first appeared in TLNT.com, a news and information site for human resource professionals. 
By Antonis Christidis - Partner and Global Products Innovation Leader; Larry Kleinman - CHRO, Highmark Health; Pat Petitti - CEO, Catalant