#MercerChats Rewind: Why Employee Experience is the Next Frontier in HR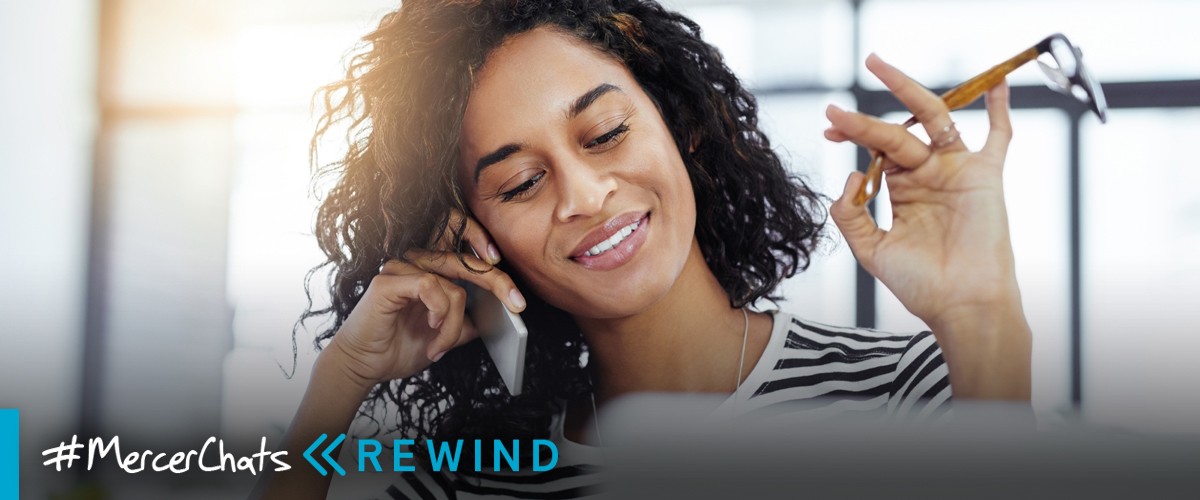 04 December 2018
Each month, Mercer brings together in-house experts and external thought leaders, subject matter experts and influencers for an online discussion of the most pressing issues in the future of work and health. The program is called #MercerChats and takes place entirely on Twitter, where individuals around the world engage with Mercer's intellectual capital and other leading thought leadership to share insights and discuss the best solutions to help organizations thrive. Below is a summary of our July 2019 tweet chat, highlighting some of the key themes discussed and the best insights shared.
A hassle-free return. A quickly question answered. A real person answering the phone when you call customer service. We all know a great experience, and more importantly, we all know a bad one.
In the era of unlimited consumer choice and unchecked consumer reviews, the quality of an individual's experience with your organization is as important as the quality of the product or service you provide. And while executives around the world are bending over backwards to build a better experience for every individual who walks into their virtual store, are they investing the same time into the people who work there?
I consider Mercer one of the leading experts on human resources and workforce management, and this topic is a key focus area working with organizations to elevate. Whether through their latest perspectives on how to build a better employee experience or Mercer's industry-leading guidance on how to retain focus on people through digital transformation, they're well versed in keeping employer's focus on their most important asset: their people.
But we're not the only ones with a perspective. During our most recent #MercerChats tweet chat, we asked global experts from inside Mercer and beyond to share their views on the importance of employee experience, who should drive it, and the key tenets of a positive employee experience in the in the future of work. Below are just a few of the highlights and takeaways from our discussion. 
Employee Experience is the New User Experience
We are all a product of our surroundings, and employees are no different. When we come into work, we carry with us all the other the experiences that make up our day-to-day lives – whether it's easy and secure online banking from our smart phones, fluid customer service with a retail store, or on-demand access to all our information from one cloud-service provider – and we naturally contrast those with the efficiencies of our professional lives.
Is it fair for the user experience of your online benefits portal to be compared to the functionality of the world's leading software firms? It doesn't matter, because that's what's happening day-in and day-out at offices around the world. And while you may not dump millions of R&D into how to optimize the flow of your newsletters, it is important that employers begin thinking about how to make the most of every touchpoint between their workforce and the organization. Our own Mercer research shows that employees want to feel valued, and streamlining their working lives for greater efficiencies and fewer pain points is one way for employers to show they care. 
Employee Experience is your Brand
But let's pretend you don't care about streamlining your work experience for greater efficiencies (again, not advised). Is there any other reason to add "employee experience" to your growing list of concerns in the future of work? I mean, a good reason? How about this: because your employee experience is your brand!
A hospitality consultant once told me that if a diner has a good experience in a restaurant, they're likely to tell one person. If a diner has a bad experience at a restaurant, they're likely to tell nine people. The same is true for your employees. This massive group of individuals goes home every day and tells the truth about what it's like working for your organization, and their experience carries greater weight than any corporate communication can muster. This extends beyond whether your employees would recommend your organization's products or services; it can impact whether top talent stays at your organization, whether external talent would consider you as a prospective employer, or whether other organizations would consider partnering with you on new projects in the future. So if you don't invest in your employee experience for your employees, invest in it for yourself.   
Don't Build your Employee Experience without Employee Input
So if you're convinced that employee experience is a worthwhile investment, the next question is obvious: how do I build a better one? The good news is that the answer is just as obvious: ask them.
For as straight forward as it may be, many employers don't ask employees what's most important to them. Whether they're too afraid to ask or they think they know the answers, it's a huge lost opportunity to engage and learn from the group that is most important to your organization's success in the future. As a cross-organizational body with a depth of experience dealing with employee data and talent strategy, this is HR's opportunity to shine in the reimaging of employee experience. Because while line managers and operational functions may be the touchpoints that are improved in an optimized employee experience, no one's better at gauging and handling human resources like HR. 
A5. #HR has to take the lead on both gathering data and placing it in context for our orgs. I firmly believe we have to start by understanding the attitudes and perspectives of HR teams first before HR teams are dispatched to canvas other employees. #MercerChats #WEF20 https://t.co/0RoaNZdUwL

— #HR Pro | The Workplace Evolutionist (@MarciaFRobinson) 26 de noviembre de 2019
Conclusion
So what did we learn from our conversation with the world's leading minds on workforce engagement and employee experience? That refining the way your employees engage with your organization can be immensely complicated, deceptively simple, and absolutely vital to your organization's success in the future of work. But here are three easy takeaways to consider:
Everything is your competition – Don't compare your employment experience to your competitors'. Compare it to every other experience that your workforce has in their day-to-day lives.

All you have to lose is everything – Your employees are your organization's most valuable asset and its most effective public relations arm. It's time to consider what they think of you.

If you want to get better, just ask for help – People will happily tell you what they want and need. It's your responsibility to figure out what to do with that information.