'Health Care Reform Five Years In' Reveals:
Few of the newly eligible elected coverage.
Medicaid expansion offers some low-paid workers a less expensive alternative to employer plan.
Enrollment increases for some employers were offset by decreases for others.
With open enrollment results now in, an important question has been answered: The new eligibility requirements mandated by the Affordable Care Act (ACA) had very little impact on enrollment in employer-sponsored plans in 2015.
According to "Health Care Reform Five Years In," a survey of nearly 600 employers conducted last month by Mercer, there was virtually no change between 2014 and 2015 in the average percentage of all employees — full-time and part-time — enrolled in employer-sponsored health plans.
While there was a 1.6% increase in the absolute number of employees enrolled, that was the result of a 2.2% increase in the size of the workforce, rather than the changes required by the ACA.
"Employers that had to offer coverage to more employees were braced for a bump in enrollment this year, but they didn't know how big it would be," said Tracy Watts, a senior partner and leader for health reform at Mercer. "While some did see increases, for the most part it seems the newly eligible either had coverage through a parent's or spouse's plan or through Medicaid — or are continuing to go bare."
Across all employers in the survey, the average percentage of employees who were eligible for coverage rose one percentage point, from 87% to 88%, but the average percentage of eligible employees who enrolled dropped a point, from 84% to 83%. That left the average percentage of all employees (both eligible and ineligible) who enrolled in 2015 essentially unchanged from 2014, at 74% (see Figure 1).
Among respondents in food and lodging businesses, the industry sector most affected by the 30 hours rule due to high concentrations of part-time workers, the average percentage of employees eligible for coverage rose from 57% to 60%. But overall growth in the percentage of employees enrolled rose by less than one percentage point, to 34%.
Still, for some employers, enrollment did grow. For one in ten employers in the survey, the percentage of their workforce enrolled in a health plan rose by 5% or more from 2014 to 2015.
But, given the number of respondents with no growth or even a decrease in the percentage of employees enrolled, this wasn't enough to move the needle overall.
Why didn't the ACA rules have a bigger impact on enrollment?
Mercer's survey found that most respondents — 81% — were already in compliance with the eligibility requirement prior to 2015. And among those employers that did extend coverage to more employees, many found that few of the newly eligible chose to enroll.
While the individual mandate may have inspired some employees to enroll for the first time, other factors may have drawn employees out of employer plans. While 18% of all respondents (and 31% of those with 5,000 or more employees) believe that more employees elected coverage than in past years due to the individual mandate, 7% of all respondents (and 14% of those with 5,000 or more employees) believe some former enrollees now waive coverage because they are eligible for expanded Medicaid.
Additionally, some employers took steps to hold down enrollment growth. This included reducing hours of at least some employees who consistently worked 30 or more hours per week so that they did not become eligible for coverage or keeping new hires to less than 30 hours per week. However, very few respondents — just 2% — said they cut staff to avoid covering more employees (see Figure 2).
"Only 3% of respondents say they are likely to drop their plans within five years," said Beth Umland, Mercer's director of research for health and benefits. "The need to compete for talent is the number one reason employers don't drop coverage, but for those that might be tempted, the ACA makes it that much harder to do."
About Mercer
Mercer is a global consulting leader in talent, health, retirement and investments. Mercer helps clients around the world advance the health, wealth and performance of their most vital asset – their people. Mercer's more than 20,000 employees are based in more than 40 countries and the firm operates in over 130 countries. Mercer is a wholly owned subsidiary of Marsh & McLennan Companies (NYSE: MMC), a global professional services firm offering clients advice and solutions in the areas of risk, strategy and people. With 57,000 employees worldwide and annual revenue exceeding $13 billion, Marsh & McLennan Companies is also the parent company of Marsh, a leader in insurance broking and risk management; Guy Carpenter, a leader in providing risk and reinsurance intermediary services; and Oliver Wyman, a leader in management consulting. For more information, visit www.mercer.com. Follow Mercer on Twitter @MercerInsights.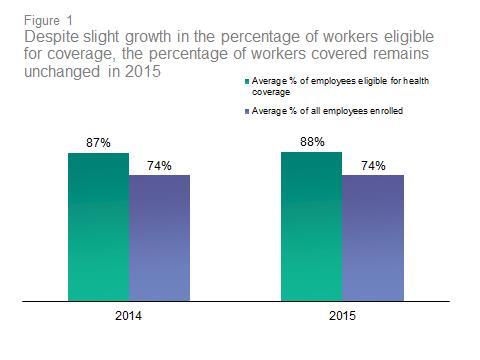 Source: Mercer's 'Health Care Reform Five Years In' Survey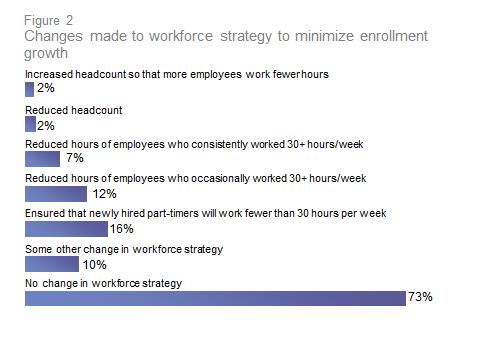 Source: Mercer's 'Health Care Reform Five Years In' Survey