Award-winning Darwin 
employee benefits software
You invest heavily in employee benefits, so you need a benefits platform that helps you get the most from your spend. Our award-winning Darwin employee benefits software helps you streamline benefit administration, control cost. reduce risk and boost employee engagement.
Benefits management software
Investment in engaging employee benefits programmes is higher than ever.
Inflation, rising insurance premiums and the increased need to keep employees connected and supported in a post-pandemic workplace are a number of the driving forces.
Explore how Darwin employee benefits management software helps you increase engagement, control costs, streamline administration and reduce risk, making sure you get the most from your benefit spend.
1

Increase engagement

2

Control cost

3

Streamline administration

4

Reduce risk
Provide your employees with an engaging and accessible digital benefits experience – wherever they're based.
Make benefits a breeze
As a single global platform, Darwin gives your people a consistently great experience - no matter where in the world they are. It makes it quick and easy for your people to learn about, enrol in and manage their benefits.
Always relevant and inclusive
Reinforce your employee value proposition at every step of the benefits journey. Personalised total reward content emphasises the investment you make in each employee as an individual and showcases what it means to work for you, boosting employee satisfaction and increasing productivity.
Connect with your employees
Be there for your people at the moments that matter. Darwin makes it easy to send targeted and engaging communications to your employees. Automatically connect at key points in their professional and personal lives, suggesting relevant benefits and reminding them that you have their back.
Turn art into science
Take guesswork out of the equation. Darwin's powerful analytics give you the full picture of how engaged your workforce is. Demographic analysis pinpoints areas for improvement enabling you to take corrective action and keep engagement high.
For most businesses, benefits are a major outgoing, comprising around 20% of total payroll costs. Maximise your return on this investment with increased benefit take-up, greater benefit administration efficiency and global visibility of costs.
Make the invisible visible
Employees often underestimate – and underuse – their reward packages. Darwin keeps your employees engaged, continually reinforcing your employee value proposition, and highlighting your investment in your people. This keeps take-up high and increases employees' perception of the value of your offering.
Do more with less
HR departments are under increasing pressure to deliver more, often with flat or shrinking budgets. Darwin helps busy benefit teams do more with less by automating manual administration processes, enabling teams to focus on value-add work.
Right first time, every time
Unreliable, inaccurate data costs businesses money. Instant automated transfers minimise the risk of errors creeping into your data, ensuring your employees have the right cover at the right time - and you only pay for employees who should be covered.
Secure your benefits budget
By uncovering previously inaccessible information across your global benefit schemes, Darwin Analytics Centre enables you to see where benefits and providers can be standardised, reducing the complexity of your benefit offering and delivering greater cost efficiency.
Manually managing benefits is time-consuming and resource intensive. Darwin's automated, software-driven administration means reward and benefits teams can concentrate on delivering strategic value to your business. 
Simplicity from complexity
Complicated rules, manual processes, diverse carriers, and multiple systems make benefit administration a difficult and time-consuming task. We help you achieve extensive efficiencies by streamlining, digitising and automating your administration processes, no matter how complex your benefits are.
No more data headaches
Most HR teams use lots of different HCM applications – but the systems don't really speak to each other. Darwin sits at the centre of your HCM ecosystem, swiftly and seamlessly transferring data between your HR, payroll and third-party provider systems minimising time and resources spent manipulating data.
Putting you in control
Most benefit platforms are offered on a "managed service-only" basis. Darwin is different. It gives you complete control and full visibility of process, empowering you to manage every aspect of your schemes – from administration and reporting to content editing and communications.
Darwin works how you work
Multinational companies are increasingly centralising their HR operations. Darwin's powerful Control Centre gives you the flexibility to include benefits administration as part of an HR shared service model, enabling you to realise major efficiencies.
Minimise your exposure to unnecessary risk by eliminating outdated processes and manual data handling.
Minimising human data handling
Data breaches come at a huge cost, damaging relationship with clients, partners, employees and prospective joiners. Darwin automates your processes and transfers, eliminating human handling of data and giving full oversight and audit tracking for strong governance.
Enterprise-grade security
Some of the most security-conscious organisations in the world trust Darwin with their employees' sensitive data. Our enterprise-grade data security ensures your compliance requirements are met and that information stays safe, protecting you and your people.
Mind the gap
There's an increasing focus on gender equality in businesses. Darwin analytics can help you find and fix any potential gender gaps in your benefits offering, ensuring you're doing the right thing for all your people and removing the risk of reputational damage.
---
A consumer-grade benefits platform for employees
Darwin makes employee benefits management simple, supercharging employee engagement, increasing benefit take up and maximising the return on your investment. As a single consumer-grade benefits platform, it lets your employees to do everything they need, no matter where they are in the world.
Software that works how you work.
Modular, flexible and scalable.
Darwin has been designed from the ground up to help organisations deliver globally with no compromise at the local level. Choose from a range of complementary modules to build the perfect solution for you, your business and your people.
Darwin comprises three centres, each targeted at a specific audience in your organisation: employees, administrators, and decision makers.
Reward centre

Reward centre is where your employees access, enrol in, and manage their benefits. Its intuitive interface keeps engagement and satisfaction high.

Control centre

Control centre uses automation to free administrators from transactional tasks, improving efficiency and enabling them to deliver strategic value.

Analytics centre

Analytics centre gives decision makers usable, data-driven insight that enables them to harness the power of benefits to meet their people and organisational goals.
Darwin employee benefits software features
8 of the world's 10 biggest technology companies use Darwin to engage their people. Our consumer-grade interface makes it easy for employees to use and value their benefits, helping you attract and retain the people that power your business.
Darwin's consumer-grade experience makes enrolling in benefits a breeze.
Consumer-grade user experience
8 of the world's 10 biggest technology companies choose Darwin to deliver benefits to their people. Intuitive mobile benefit enrolment is modelled on the apps and websites your employees use outside of work. This drives engagement, boosts satisfaction and increases benefits take-up.
Reinforcing your employer brand
From the moment they sign in, your employees feel completely at home. Darwin's look, feel and content can be customised to reflect and reinforce your employer brand, tone of voice and culture at every step. The result is a fully engaging experience that your people will love.
Automation and flexibility
A great-looking interface is important, but it's what sits underneath that makes the difference. Darwin's flexibility and high levels of automation give each employee a slick, easy-to-follow enrolment experience.
Working wherever you work
It's essential that your software works everywhere your employees do. Darwin meets local needs and gives your people a consistently great enrolment experience wherever they are. It's used in more countries and translated into more languages than any other software in the market.
Power to the people
Darwin empowers your employees to take control of their benefits. Intuitive processes, extensive self-service, and information woven throughout empowers your people to make the right choices for them and their loved ones.
Research shows employee engagement increases profitability and reduces turnover. But are you getting the most engagement from the money you spend on benefits?
Reimagine total reward
It's time to take your total reward statement and turn it into a tool for hyper-engagement. Darwin combines real-time reward data with engaging text, video and images, personalised and targeted to each employee.
Making the invisible, visible
Traditional compensation and benefits are just part of the story. To supercharge retention, you need to demonstrate what makes working for you special. With Darwin, you can showcase the parts of your offering that may not have a direct financial value, but are extremely valuable to your employees.
Values-driven benefits
Companies need low-cost but high-impact values-driven benefits to meet increasing demand from employees for purpose and meaning in their working lives. Darwin enables you to call these benefits out and use them as a differentiator.
Show the full picture
Darwin enables you to show data from virtually any external source. If you have the data, it can be displayed: from reward and recognition to modelling employees' carbon footprints. The only limit is your creativity – and we can help with that too.
Putting you in control
Total reward statements are traditionally produced for annual enrolment and aren't touched for the rest of the year. Darwin is different. Data updates in real-time with tools to keep site content fresh throughout the year, driving year-round engagement.
Reimbursement benefits that are always personalised, always relevant, and always inclusive.
The workplace has never been more diverse, and with good reason: inclusive workplaces drive growth and innovation. However, this means your reward offering has to cater for a broader set of needs, interests and preferences than ever before.
The end of one-size-fits-all
Darwin's award-winning reimbursement accounts put the choice in your employees' hands. The result is a benefit offering that is always relevant and personalised to every employee.
Quick, easy and convenient
Simply assign a sum of money for each employee to spend wherever, whenever, and on whatever benefits they want. They can complete the entire process - from scanning and uploading receipts, to managing claims - from their desktop, laptop or smartphone. The approved claim is then reimbursed in their next pay packet.
Benefits with purpose
Your benefit offering does not exist in a vacuum. Darwin enables you to create reimbursement pots that align with your business culture and values, reinforcing what it means to work for you and encouraging your people to live your values through their benefits.
The end of benefit passivity
For many companies, benefits are only something employees think about when they need them. Darwin's reimbursement accounts make people active participants in their reward package, requiring them to sign in and make claims, driving higher levels of engagement.
Harness your benefits data to make better decisions faster. Studies show data analytics is increasingly an organisational priority, but low data literacy in HR teams is a blocker. Darwin embeds expertise in your team without needing to hire analysts, enabling you to make data-driven decisions.
Stay ahead of the game
One of the most common problems for benefits teams when they start out analysing data is that they don't know what they don't know. By making insight accessible and easy to consume, Darwin uncovers unknown problems and alerts you to unseen opportunities.
Win the war for talent
Talent attraction and retention are key metrics for many reward and benefit professionals. By giving you the clearest possible picture of your people, Darwin helps you understand what specific demographics value, enabling you to take corrective action and help win the war for talent.
Genuine global insight
By enabling you to monitor benefit schemes at global and local country levels, Darwin Analytics Centre helps you identify initiatives that are doing well and pinpoint problem areas, making it easy to share best practice across countries and regions and maximise performance.
Make a strategic contribution
Darwin's Analytics Centre gives CHROs the data they need to support strategic decisions, enabling them to feed into the overall business strategy rather than just people initiatives, cementing HR's seat at the table and proving the value of what you do.
Get the edge on the competition
By giving previously unavailable insight into what other organisations are doing with their benefits, Darwin gives you greater market awareness based on more data on multinationals than any other platform in the marketplace, enabling you to stay ahead of the game.
Darwin seamlessly integrates with all your HR, payroll and third-party systems. HR applications often don't talk to each other, leading to dysfunctional processes, wasted time, and incorrect or lost data. Darwin swiftly and automatically transfers data between systems minimising the resources needed.
Deep connectivity
Darwin integrates with all your HR, payroll and third-party provider systems, delivering up-to-the-minute data with no opportunity for human error. This ensures your people's selections are captured immediately and they are covered from day one.
Data versatility
Darwin can import data from virtually any external source. If you have the data, it can be displayed on Darwin: from reward and recognition to modelling employees' carbon footprints. The only limit is your creativity – and we can help with that too.
State-of-the-art technology
Darwin uses SFTP, API and SSO to ensure the best possible connectivity with all the systems you use, and the most seamless experience for your employees.
Privacy and data security are key issues facing firms today. The average cost of a breach is $3.9 million, and each misuse of personal data damages trust. Security-conscious organisations trust Darwin - confident that sensitive employee data is safe.
Hosting
Darwin is hosted by our enterprise data hosting partner NaviSite, whose data centres are ISO 27001:2015 accredited and SOC 1 and SOC 2 compliant. We have invested in a private cloud solution to provide greater capacity and security for our clients. This means that every piece of infrastructure that Darwin lives on is dedicated for our use only, allowing us to manage our resources better as we are the only ones using it.

One of the reasons we have partnered with NaviSite is that they operate Tier 3 data centres. These on average have an availability of 99.98%, ensuring minimal downtime for our clients and allowing us to meet our Recovery Time and Point objectives. We also have many Tier 4 controls in place for even greater security, such as back-up power stations and additional power generators.
Services security design
We have a rigorous security infrastructure, led and enforced by our dedicated Information Security team. Our Information Security Management System (ISMS) is aligned to our ISO 27001:2013 accreditation. Our business undergoes twice-yearly vulnerability and penetration testing (inclusive of the Darwin platform) and any findings are remediated in accordance with our remediation processes and policies, which form a part of our ISMS.
State of the art technologies
Darwin is protected by state of the art technologies, such as enterprise level WAF, IPS, IDS and anti-virus monitoring, both at NaviSite's data centres and within Darwin's own internal architecture. NaviSite also has highly sophisticated physical security arrangements, including security guards, dedicated CCTV and fingerprint and iris scanners. We perform internal audits annually, and are audited yearly by our external certification body.
Information security policy
Our Information Security Policy is owned by the Head of Information Security and reviewed by our Chief Executive Officer. The policies are reviewed and published as part of our internal audit requirements at least annually and are available for reference and use at all times.
GDPR
We are fully compliant with the European Union's General Data Protection Regulation. Darwin includes several features that ensure compliance, including fully auditable capture of employee consent, data minimisation, and clear instructions how employees can exercise their new rights under GDPR. Darwin collects, processes and stores PII for our clients and their employees. The security of this data is imperative to our function as this needs to be protected to provide assurance to our clients, and also prove to regulators and auditors we have ample controls in place.
If you want to outsource administration and helpdesk, our Managed Services have you covered.
Choose what's right for you
You have full flexibility to choose the right administrative model for your business needs. Whether insourced, co-sourced, or fully outsourced, Darwin's automation gives you as little or as much control over your monthly processes as you want.
Adding value
Because Darwin takes away the manual work that is done by other vendors' managed services, our administrators add strategic value through continuous process improvement and standardisation, and vendor management.
Employee helpdesk
Our helpdesk team can reduce your administration effort as well as raise employee engagement on Darwin. Your employees will benefit from the full support of our helpdesk team, as their primary point of contact. The helpdesk team will also collaborate with you and your third-party providers.
Helpdesk service includes:

User administration enablement
Employee assistance with benefit selection via phone and email
Direct follow-up with providers on your behalf
Darwin supports both global and local employee populations, to ensure your employees have a great experience, no matter your headcount or footprint.
Global platform with user-lead design; locally tailored, delivered and serviced
Unlimited flexibility through configuration
Open architecture for deep local integration
Automation, self-service, consumer-grade experience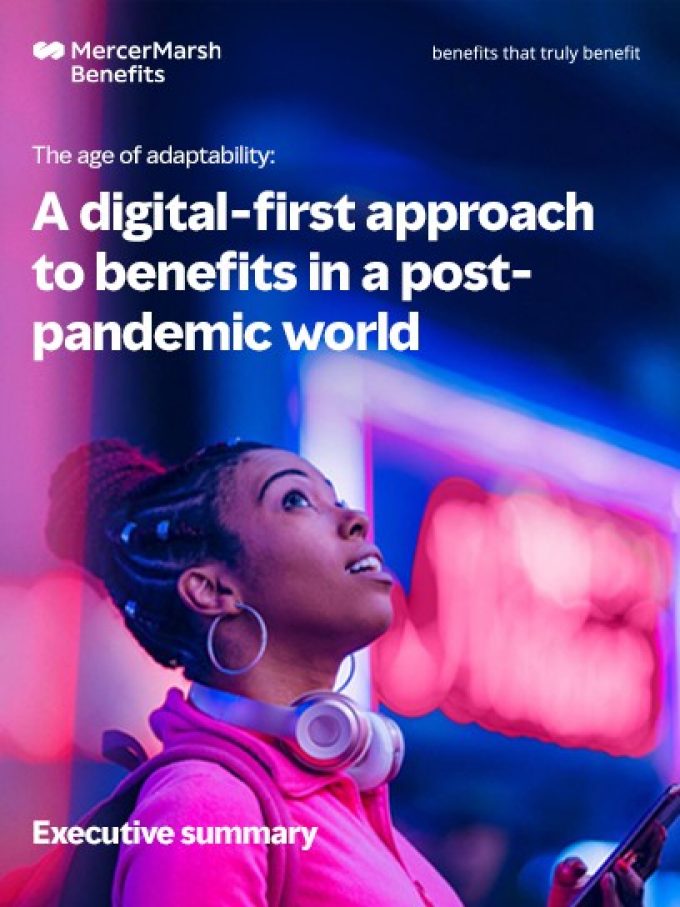 Benefit programmes and the digital strategies to deliver them were stress-tested to the extreme during the pandemic. The need to keep employees connected, engaged and supported meant more investment and with that, more scrutiny. So what does this mean for HR teams in a post-pandemic world? Find out in our latest report.

---