HR Transformation
HR Diagnostic Services
HR plays a critical role in ensuring that the organization gets the return on its most valuable investment — its people. But how can you make sure that your HR team is prepared to meet changing business demands and deliver what is needed to get the job done?
Mercer's HR Service Delivery Diagnostic helps to:
Evaluate the time and cost efficiency of specific HR activities and processes.
Diagnose the effectiveness and value of HR processes to internal customers.
Assess your HR technologies and explore better automation.
Identify high-priority opportunities for improvement.
Identify cost feasibility and impact of HR delivery changes — outsourcing/co-sourcing, consolidation, changing the role of your HR experts and generalist to be more strategic and/or moving to a shared services environment.
Right size your HR team if to large or too small based on best practices and benchmarking data.
Build a quantified business case for change by demonstrating the dollar impact and cost/benefit of change efforts.
Here is a sample project plan. We work with you to make sure we are focused on your unique goals for the project and tailor our approach as needed.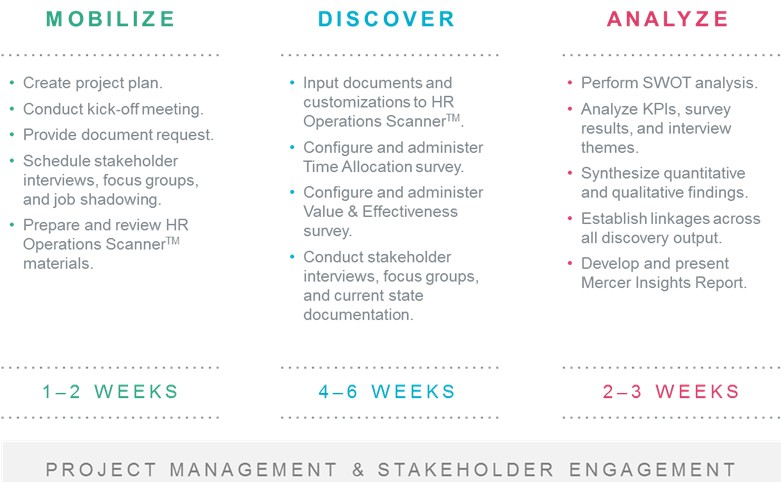 What is Mercer Operations Scanner™?
Mercer Operations ScannerTM is a measurement and diagnostic tool that captures critical, quantifiable insights about how HR functions day to day. By administering a self-assessment survey to key staff — both inside and outside HR — you'll learn:
How HR allocates its time.
What value your employees and managers place on the services provided by your HR function.
HR's effectiveness in delivering key services to the business.
How the current structure impacts the way HR delivers services.


What is Mercer's HR Scale Tool?
Mercer's proprietary HR function sizing tool can help you determine the appropriate number of FTEs for each part of the HR function. Based on benchmarks, this easy to use, hands-on tool allows Mercer to set factors to load benchmarks to propose staffing levels for individual functions within HR.
For more information on using HR Scale Tool, download the brochure.
Speak with a Mercer consultant
We're eager to speak with you. Please provide your details below.