Thriving Workforce
Big Aspirations, Small Results: Why People Analytics Projects Often Disappoint
Too often, organizations plan big moves in people analytics only to lose steam when they experience disappointing results. A new Mercer solution brings out the true potential of people analytics.
With all the talk in the HR industry about people analytics and strategic workforce planning, it may seem as though most companies already have strong capabilities in place and are reaping the rewards. In fact, if you've tried analytics without much success—or have been too scared to dip your toe in the analytics pool at all—you're not alone. A recent Mercer/HCI global study revealed a surprising gap between the intentions of organizations in relation to people analytics and the reality.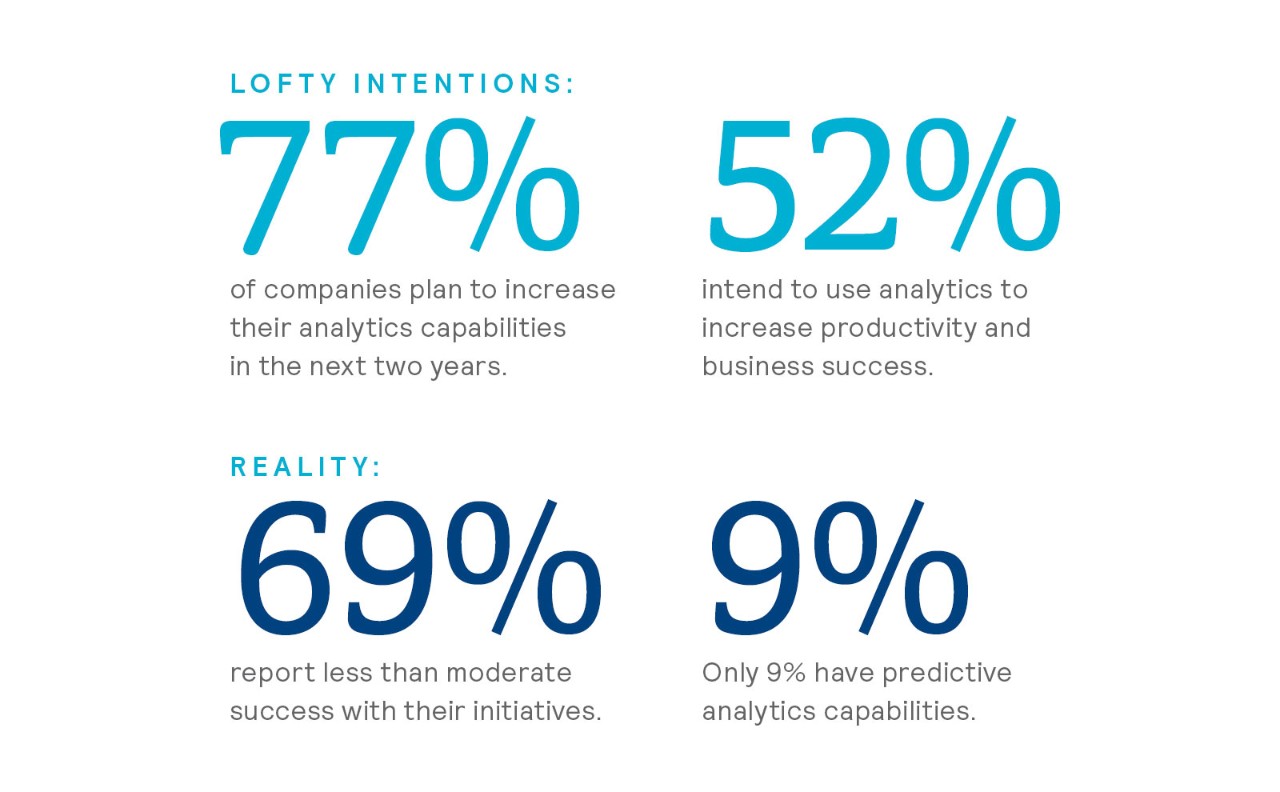 So what's holding organizations back from realizing the true potential of analytics?
Information Overload
Workforce planning and analytics tools are powerful—if used correctly. Both expertise and technology are necessary if the investment is to pay off. That's where companies falter: 52% cite lack of analytic expertise as the biggest roadblock to success, while 54% name issues with data and technology.
A strong technology platform is necessary to source and combine data, discover relationships between data points, and present results using compelling and intuitive visualizations accessible in multiple channels. But to draw meaningful conclusions from the platform, companies need expertise in the form of staff who have data science knowledge and who understand the business.
The good news is that organizations are beginning to recognize the importance of such expertise. 47% of respondents indicated that investing in developing analytics skillsets is a top priority.


Experts Wanted
In walks another problem: lack of talent. Data scientists are in demand across almost all industries and business segments, making it hard to source these workers – even at attractive salaries. An emerging trend is for companies to "rent" data scientists for targeted assignments rather than taking on the full burden of an FTE. This can be a good strategy not only in the early days of building an analytics function, but also in later phases as a way to access leading thinking and supplement internal resources.
Too Many Numbers
The study also uncovered another factor holding companies back from developing true people analytics and planning capabilities. An overwhelming 83% of organizations stated they rely on count-based reports. These are reports with point-in-time metrics such as headcount, attrition, and time to hire. While these reports may start to get at the "what" of workforce issues, they don't get at the "why" and, more importantly, the "what to do about it." In contrast to count-based reports, analytics are multi-faceted, integrate data from multiple sources, and provide deeper insights that can be used to tell a story. Career level turnover projections that are based on historic rates and have user-configurable assumptions are an example of an interactive analytic.
Instead of just numbers, they help companies identify issues within the employee pool and take action to address them.
Get Help From Us
Implementing a technology platform, applying analytics expertise, and advancing beyond legacy reporting methods are foundational steps in the journey toward elevating HR's strategic acumen. And it doesn't have to be a difficult or disappointing endeavor; Mercer has been helping clients achieve success with workforce analytics for decades. We bridge the expertise and technology gaps that can stand in the way. Mercer will work with you to find the right solution through our Internal Labor Market Consulting Services and with Mercer | Vemo, an offering that combines Mercer's intellectual capital and experience in workforce strategy and analytics with Vemo's workforce analytics and planning technology.
The result? Client companies can quickly ramp up their workforce analytics and planning initiatives at a lower cost, with a faster ROI, and with deeper expertise. More importantly, the combination of advisory services and technology ensure that data informs both HR and overall corporate strategy.
What are your workforce analytics and planning initiatives? Reach out to us today!
Speak with a Mercer Consultant