Equity Markets Rebounded While Growth Softened and Central Banks Eased

03 October 2019
Equity markets rebounded in September, closing out a mixed and volatile third quarter. Year-to-date returns remained strong, but one year returns are lackluster. In September, investors looked past global trade friction, softer global manufacturing activities and macro uncertainties.
Central banks continued to ease policy in response to the global slump in manufacturing activity. The PBoC cut its reserve requirement, while the ECB cut its overnight rate deeper into negative territory and restarted QE. A number of emerging markets, including Mexico, Brazil and Russia also eased. The Fed cut rates at its September meeting by 25bps, although three dissents showed a divided committee. Meanwhile, a liquidity squeeze in the overnight lending markets caused a spike in repo rates and prompted the Fed to step in to add liquidity.
Geopolitical and policy risks remained heightened. There were mixed signals on the US-China trade negotiations. Nancy Pelosi, the Speaker of the US House of Representatives launched an impeachment inquiry on President Trump. In UK, the Supreme Court ruled that the suspension of  Parliament was illegal, which put PM Boris Johnson under pressure. A drone attack on Saudi Arabia's oil refineries, ongoing anti-government protests in Hong Kong and an upcoming election in Canada added to market uncertainties. However, gold, oil and US Treasuries traded lower. 
Mercer's Monthly Market Monitor provides an overview of global financial markets.
In this issue we cover:
Soft Economic Growth – More Stimulus – Liquidity Squeeze
Lack of Direction – Value Stocks Outperformed
Bond Yields Rose Even as Central Banks Cut Rates
Greenback Hit a 2-year High – Weaker Oil and Gold Prices
Market Update
Equity, Interest Rate and Currency Volatility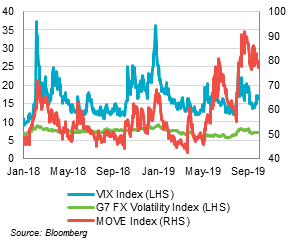 Download Research Report
If you do not have your pop-up blocker enabled, you will be prompted by your browser to download the article or to view it in a new window.