Risk on Over Better Economic Data and Apparent Progress on Trade Talks

04 November 2019
Equity markets moved firmly higher in October with major US indexes reaching fresh highs. Markets were encouraged by progress on US-China trade negotiations and economic readings, which suggest that global growth may have stabilized. Emerging markets, specifically Russia and Brazil, led the rally, while Canadian stocks and the energy sector delivered negative returns.
Central banks continued to ease, which further supported investor sentiment. Consistent with expectations, the Fed cut rates for the third time in 2019 despite relatively solid economic growth, while the Bank of Australia lowered its policy rate to a new record low. A number of emerging markets, including India, Brazil and Russia also eased. 
Investors looked past ongoing heightened geopolitical and policy risks. Uncertainties around Brexit persist despite the negotiation of the withdrawal agreement and the European Union's decision to grant the UK a three-month Brexit extension. In Canada, the liberal party retained power in a narrow election but lost the majority. It will need to seek a coalition with the left of center Bloc Quebecois or the NDP. Surging unrest in Chile, tension in the middle east over US troop withdrawals, and ongoing anti-government protests in Hong Kong added to market uncertainties. Gold, oil and US Treasuries traded moderately higher. 
Mercer's Monthly Market Monitor provides an overview of global financial markets.
In this issue we cover:
Stimulus Stabilizes Growth While Late-cycle Risks Remain
Fresh Highs – Growth Stocks Outperformed Value
Interest Rates: Lower for Longer
Weaker Greenback – REITs Perform Strongly
Market Update

Equity, Interest Rate and Currency Volatility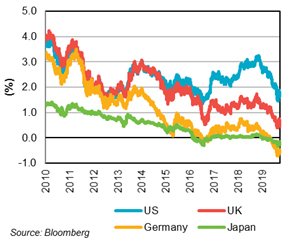 Download Research Report
If you do not have your pop-up blocker enabled, you will be prompted by your browser to download the article or to view it in a new window.