The People Development Paradox at Growing Startups


07 February 2018
Half of all emerging tech companies do not have a formal talent strategy. [1]
Which is not very surprising. Within our entrepreneurial community, there thrives a notion that scrappy teams do not need formal structures and that HR is "too corporate."
Many founders and executives prefer people decisions to naturally evolve over time with company growth. This means that precedence for far-reaching talent programs and policies is often driven by the advent of new pain points such as:
Recruiting needs no longer met by the founder's LinkedIn Pro account
Confusion about internal hierarchy and job levels
Unprofessional behaviors that finally cross the line
While there may be real benefits to letting talent processes emerge organically, how sustainable are those programs if there is no clear, long-term vision and strategy for roles and people?
Talent challenges are exacerbated in high-growth environments.
It is like a switch suddenly flips. Small, scrappy startups that thought there would be more time to work out the kinks in their talent programs and policies are suddenly facing a completely different growth trajectory. In this industry, doubling headcount in the span of months to meet business demands is not out of the question. In such cases, there is not much runway to transform existing talent processes. Most of the time, old, informal talent programs that don't make the cut are done away with entirely and investment in scalable people operations finally begins.
Will the same thing happen to your employees?
Employees need to keep up, or they get left behind.
In high-growth businesses, job responsibilities routinely outpace and outgrow employee skillsets.
Many startups are blindsided by this reality. Lack of talent strategy tends to be most sorely felt when founders and executives suddenly realize that the people who got them to where they are might not be equipped to take their businesses forward.
The effects of even anticipated staff change can be devastating for startups that cling to high-trust, closely bonded team cultures. Startups tend to be comprised of people who have taken on significant career risk, worked long hours, and developed deep personal commitment to help the business achieve success. These are the same employees that might need to be hired over – or worse, replaced entirely – if not enough time and effort has been invested in thoughtful preparation for business and people growth.
High-growth startups face a unique people development paradox.
Classic HR frameworks can be very helpful for identifying potential talent challenges and pitfalls, i.e., gaps in people development strategy.
My go-to model involves just three categories for talent growth:
Build: develop existing talent within a business to take on new roles
Buy: recruit talent from the external labor market
Borrow: find temporary resources (e.g., consultants, contractors)
The vast majority of startups intuitively take a Buy-who-I-need and Borrow-who-I-can't-afford approach, and for good reason.
When you have a lean team and big goals, every member needs to be self-sufficient and delivering immediate value. Part of what makes the team dynamic at startups so engaging is an understanding that every single team member plays a critical, unique role essential to success.
However, it is this value for self-sufficient, hit-the-ground-running employees that lures so many startups into a paradoxical trap: minimization of the perceived need for employee training and development results in a disconnect between employee and business growth.
Change the discussion on startup talent strategy and people development.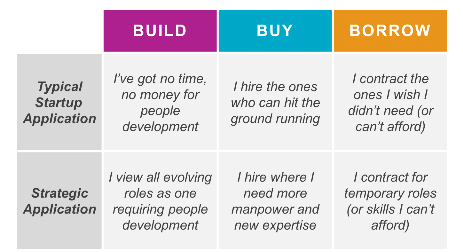 Employers can and should do a much better job of preparing employees for that necessary growth.
Talent frameworks are foundational to developing a more holistic talent strategy approach. Through applying a Build, Buy, and Borrow model, it becomes clear that there might be some gaps in the typical startup approach to planning for talent sourcing and flow.
For startups, investing in a Build talent strategy (investing in internal talent pipelines) is an effective way to maintain and up-skill as much of the existing employee base as possible. That investment involves two steps:
Defining the future state of careers and job responsibilities for employees
Creating and communicating development plans to support employee growth into those careers
It is a tall order. Startups are tasked with defining employee careers in a rapidly changing business (in a rapidly changing, disruptive industry). It is almost certain that the balance between role evolution and employee development will be largely imperfect. You probably spend more time thinking about employees who outpace jobs!
What matters is facilitating transparent and intentional employee partnerships for career trajectory and business success.
Prepare your employees for the business growth they are working to achieve.
Develop a talent strategy – start by mapping out what jobs or roles will be needed after your startup has hit the next major milestone. Follow up with employees by working together to identify if there are any skill gaps to reach that future-state job and come up with a plan to bridge those gaps in partnership.
I urge startup founders, executives, and budding people operations teams alike to value and invest in talent strategy and people development from the get-go – well before it comes time for rapid growth and expansion. Exercise people-centric values and develop good habits that will stick through the business transformation to come.
[1] 2017 Mercer Emerging Technology Companies Total Rewards Survey
Speak with a Mercer Consultant
We're eager to speak with you. Please provide your details below.