Employees in India and Colombia benefit from the greatest number of public holidays in the world whilst Mexicans have access to the least, according to data from Mercer's Worldwide Benefit and Employment Guidelines. The report is used by HR directors of multinational companies to help define the employee benefit policies in the countries in which they operate. It provides an overview of mandatory and private benefit practices, statutory regulations and employment conditions across 64 major economies. The data also shows that UK employees receive the second lowest public holiday allowance and are entitled to only eight days each year.
Ellyn Karetnick, Leader of Mercer's Global Mobility Practice in the UK, said: "Awareness of public and company holiday practices is important for those dealing with the overseas movement of employees. Moving staff abroad is essential in helping businesses develop local markets. If benefits – like holiday time – that an employee held in their home country are not comparable in the new location, then it may deter the employee from taking the posting. The business will suffer.
"Public holiday numbers are fluid so the data does change year-on-year; countries often hold quadrennial or one-off holidays for specific cultural or religious events and some leave the final decisions to local governments. This data highlights the complexities involved – in just this small area of benefits – for those managing a globally mobile workforce. In order for HR leadership to govern policy and make the most efficient decisions on behalf of the company and its expatriates, accurate and timely assessment of practices is vital."
Europe, Middle East and Africa (EMEA)
Finland has the most generous provision of public holidays (15) in Europe, followed by Spain (14) whereas Hungary, UK and the Netherlands, have the fewest (8).
Austria has 12 days public holidays while Sweden, Italy, France and Denmark all provide employees with 11 public holidays. Belgium, Luxembourg, Norway and Portugal all have ten. Germany typically celebrates nine public holidays but this varies between states (Bundeslӓnder) so some employees can receive up to 13. Interestingly, Norway and Sweden do not count Christmas Eve and New Year's Eve as public holidays although these are treated as such by employers.
In Central and Eastern Europe (CEE), the Turkish Government mandates the greatest number of public holidays (14.5) followed by Russia (14) and Slovakia (13). The Czech Republic and Lithuania both have 12 public holidays followed by Croatia (11), Poland and Ukraine (10) and Serbia and Romania (9).
"A smaller statutory holiday allowance provided to nationals is often offset by a more substantial provision of public holidays and vice versa, for example the Philippines has a statutory minimum holiday entitlement of five days but has 14 days of public holiday," said Ms Karetnick. "Countries want to attract investment by showing they have a productive and available workforce. Portugal, for example, has taken the drastic measure of suspending four of the country's 14 public holidays in a bid to increase productivity and send a message to possible investors."
Within the Middle East and Africa (MEA), United Arab Emirates is the least generous country with nine public holidays. Conversely, Morocco has a much higher allowance with 14 public holidays.
The Americas
In North America, Canada provides the greatest number of public holidays (11), although this varies by province. The United States Government provides 10 federal public holidays however private employers are not obligated to allow their employees to take these days off.
Latin America is home to the highest and lowest public holiday provision of any of the countries surveyed. Colombia has the most generous number of public holidays (18) whilst Mexico has the lowest (7). Argentina and Chile have 15 public holidays with Brazil offering 12.
Asia Pacific
Employees in India have (along with Colombia) the highest public holiday provision worldwide (18). Australia and New Zealand both dictate fewer public holidays than the region's average with nine and 11 respectively. Thailand and South Korea offer 16 public holidays followed by Japan (15), Indonesia, Malaysia and Philippines (all 14). Pakistan (13) is followed by Hong Kong and Taiwan (12 each). Vietnam (10) has the lowest number of public holidays in the region below China and Singapore with 11 each.
Notes for Editors
Data was compiled during the first half of 2013 and collected by local Mercer consultants. Public holiday figures exclude Saturdays and Sundays unless stated. It is important to note that public holiday practices may be interpreted differently based on local practice.
For the rankings please contact the press office - mercer.pressoffice@mercer.com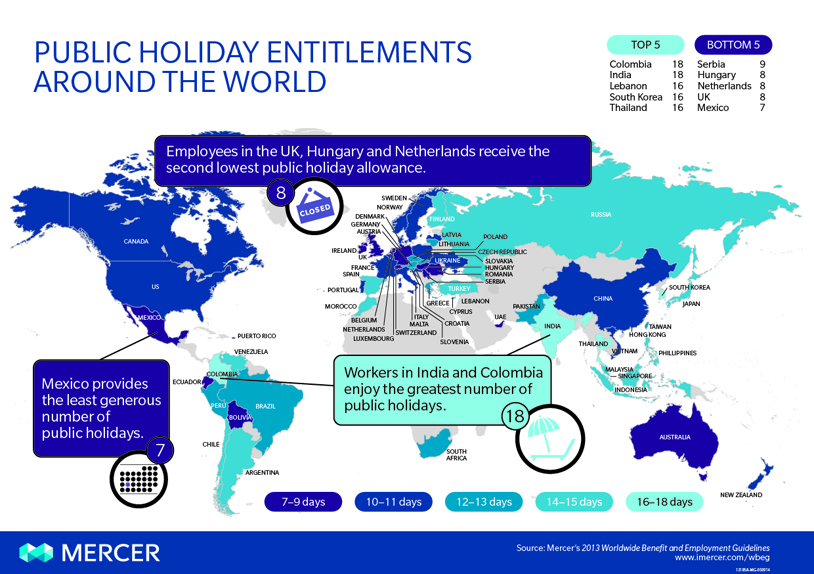 About Mercer
Mercer is a global leader in talent, health, retirement, and investments. Mercer helps clients around the world advance the health, wealth, and performance of their most vital asset – their people. Mercer's more than 20,000 employees are based in 42 countries and the firm operates in more than 130 countries. Mercer is a wholly owned subsidiary of Marsh & McLennan Companies (NYSE: MMC), a global team of professional services companies offering clients advice and solutions in the areas of risk, strategy, and human capital. With over 55,000 employees worldwide and annual revenue exceeding $12 billion, Marsh & McLennan Companies is also the parent company of Marsh, a global leader in insurance broking and risk management; Guy Carpenter, a global leader in providing risk and reinsurance intermediary services; and Oliver Wyman, a global leader in management consulting. For more information, visit www.mercer.com. Follow Mercer on Twitter @MercerInsights.