Mercer, a global consulting leader in advancing health, wealth and career, and a wholly owned subsidiary of Marsh & McLennan Companies (NYSE: MMC), revealed today that 43% of M&A transactions worldwide experienced such serious culture issues that deals were delayed, terminated or purchase prices were negatively impacted. In addition, 67% experienced delayed synergy realization due to culture issues (See figure 1). These alarming insights come from Mercer's M&A Readiness Research™ series 3.0 report, "Mitigating Culture Risk to Drive Deal Value". The research features survey and interview responses from more than 1,400 M&A professionals based in 54 countries, who collectively have worked on more than 4,000 deals in the past 36 months on both the buy and sell sides.
"If the global deal making community intends to drive economic value for shareholders in M&A transactions, our research is crystal clear; culture matters," said Jeff Cox, Mercer's Global M&A Transaction Services Leader. "When looking to transform the workforce for the future of a newly formed organization, simply ignoring culture is not an option."
Additional findings from Mercer's "Mitigating Culture Risk to Drive Deal Value" report include:
61% of respondents selected "How leaders behave, not just what they say" as the number one driver of organizational culture.

"Governance and decision-making process" (53%) and "Communication style and transparency" (46%) also ranked highly.

Deal makers also said that 30% of deals fail to ever achieve financial targets, due to such culturally-related issues as productivity loss, flight of key talent, and customer disruption.
The report also extensively examines some of the varying attitudes and opinions of respondents based on role, industry, demographic and geography. For example, Human Resources professionals rate "collaboration" (69%) and "empowerment" (64%) as the most important components of culture, whiles executives rate "governance/decision-making process" (60%) as the most important.
While alerting the global deal community to the culture risks endemic to M&A transactions, the report also offers definitive action steps as to how to best mitigate culture risk, including a three step plan (see Figure 2):
1 – Clearly articulate deal objectives and risks
2 – Insist on confirmatory cultural diligence
3 – Prioritize culture, especially post-signing through first 100 days
"Deal makers can mitigate M&A risk and drive deal value by putting culture at the center of business transformation," said Mr. Cox. "Culture is a firm's operating environment. It defines an organization, allows effective change of business strategy, and can provide a platform to attract and engage the right talent."
To learn more, please visit www.mercer.com/culture. At this site, members of the media can also register for an on the record webcast scheduled for Wednesday, September 26 (various options based on time zone). At this time an executive summary will also be available on the site. The full report will be available in mid-October, 2018. The summary, webcast and full report are all complementary.
About Mercer
Mercer delivers advice and technology-driven solutions that help organizations meet the health, wealth and career needs of a changing workforce. Mercer's more than 23,000 employees are based in 44 countries and the firm operates in over 130 countries. Mercer is a wholly owned subsidiary of Marsh & McLennan Companies (NYSE: MMC), the leading global professional services firm in the areas of risk, strategy and people. With nearly 65,000 colleagues and annual revenue over $14 billion, through its market-leading companies including Marsh, Guy Carpenter and Oliver Wyman, Marsh & McLennan helps clients navigate an increasingly dynamic and complex environment. For more information, visit www.mercer.com. Follow Mercer on Twitter @Mercer.
Figure 1: Culture is a significant disruptor of global M&A transactions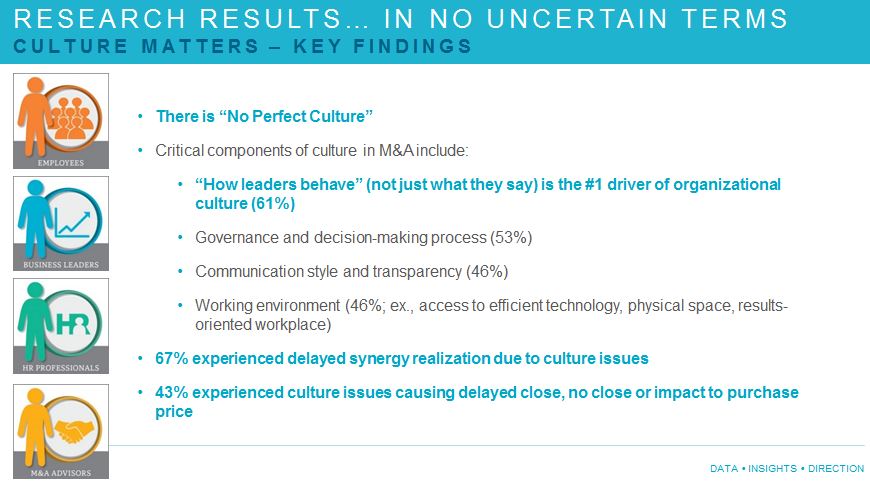 Source: Mercer, "Mitigating Culture Risk to Drive Deal Value"
Figure 2: There is a clear path to mitigating culture risk in M&A

Source: Mercer, "Mitigating Culture Risk to Drive Deal Value"