Worksite clinics are offered at 29% of organizations with 5,000+ employees, up from 24% in 2013
Cost of clinic counts towards ACA's excise tax, but some clinic sponsors say the savings outweigh the cost
When employers are asked how they plan to control health benefit cost over the long term, they talk about improving employee health. This focus on employee health is one factor fueling growth in worksite clinics. Last year, Mercer's National Survey of Employer-Sponsored Health Plans found that 29% of employers with 5,000 or more employees provided an onsite or near-site clinic offering primary care services, up from 24% in the prior year (Fig. 1). Mercer followed up with these employers in a new, targeted survey on worksite clinics. Of the 134 respondents, 72% of those whose clinics provide general medical services said that managing employee health risk and chronic conditions is an important objective for the clinic (Fig. 2).
For more than two-thirds of survey respondents (68%), improving access to care was also an important objective. As the Affordable Care Act (ACA) expands health coverage to more Americans, primary care shortages in some parts of the US could be exacerbated. Establishing a new clinic, or expanding an existing occupational health clinic to provide general medical services is one way employers can ensure that their employees – and in some cases employees' dependents – will have access to quality care.
While the ACA may have spurred employer interest in worksite clinics, an IRS notice released this February has clouded the picture by suggesting that the cost of care received through the clinic must be counted in the ACA's excise tax calculation.
"Employers are definitely concerned that the operational costs of a worksite clinic could help push them over the threshold for the excise tax, although most remain convinced that the clinic will deliver positive net value," says David Keyt, Principal, National Onsite Clinic Center of Excellence Leader. "We're eager to see further regulations clarifying specifically how clinic costs will be treated."
While 15% of respondents believe their general medical clinic will hurt them in terms of the excise tax calculation, nearly as many (11%) believe it will help – presumably by helping to hold down the cost of the company's health plan – and 28% believe it won't have an impact either way. However, 46% of respondents say they don't know how the clinic will affect the calculation. Typically, the cost of the clinic accounts for 10% or less of their total health care spend, and for about half of the respondents, it accounts for 5% or less.
Measuring clinic success
The great majority of respondents – 85% -- say that their organization generally perceives the clinic as a success. Specifically, 63% say it has successfully reduced lost work days, and 58% say it has been successful in helping members control chronic conditions (Fig. 3).
Measuring return on investment (ROI) remains a challenge for employers, and only 41% of respondents were able to provide ROI data. An ROI of 1.00 to 1.99 was most common (23% of respondents reported ROI in this range), and 13% percent reported an ROI of 2.00 or higher. Only 5% have an ROI of less than 1.00.
The best measure of employee satisfaction may be utilization. Respondents report that 45% of employees, on average, used the clinic in 2014. Nearly half of respondents (48%) with a general medical clinic don't require any copayment for clinic services, and 25% require a lower copayment than the employee would pay for comparable services under the company health plan. The majority of respondents with hourly employees (61%) do not require them to clock out of work for visits to the clinic.
"For many employers, employee satisfaction is a more important measure of success than ROI," said Mr. Keyt. "If employees are using the clinic, it means they haven't been taking time off work to visit a doctor, and that they're getting the medical care they need to stay healthy and productive."
Providing a broad range of services
In clinics that provide general medical services, immunizations and screenings are the most common services offered (Figure 4). Urgent care is provided in 73% of clinics, preventive care exams in 71%, and chronic disease management in 63%. Pharmacy services are offered at 38% of clinics, and just over a fourth (26%) provide mental health or employee assistance program (EAP) counseling in their clinics. Worksite clinics are a convenient way for employees to undergo biometric screenings (offered at 77% of clinics), participate in face-to-face chronic condition coaching (60%) and take part in lifestyle management programs such as smoking cessation (59%) or weight management (56%).
The patient-centered "medical home" is a delivery model through which patients – often those who are high-risk or chronically ill – can have their care coordinated by a primary care physician, nurse practitioner, or physician assistant. Using the worksite clinic as a medical home allows employers to offer a greater level of care to the higher-risk, medically challenging employees and dependents who typically account for the largest portion of health care spending. Three years ago, 13% of survey respondents with general medical clinics used their clinic as a medical home. That's doubled, to 26% of the respondents to this year's survey, with another 11% considering it. And about half the respondents (49%) say that members are allowed to select the clinic as their primary care provider.
Bill Ermatinger, Corporate Vice President and Chief Human Resources Officer at Huntington Ingalls Industries, the nation's largest military shipbuilder and a Mercer client, is a major proponent of the comprehensive worksite health center his company just launched in Gautier, Mississippi. "Our vision behind the wide range of wellness services -- from onsite doctors to a pharmacy, lab and physical therapy facilities -- continues our complete dedication to workforce support and development," said Mr. Ermatinger. "We rely upon our highly trained workers and want to provide them and their families with the best and most convenient health care available, focusing especially on prevention. Since opening the health center on July 1, we have seen a steady increase in patients, and have doubled our patient visits in just over four weeks. More importantly, almost 25 percent of the appointments have been wellness education appointments with our resident nurse educator and dietician. Next, we plan to open a comparable health center for our corporate and shipyard employees at Newport News Shipbuilding located in Newport News, Virginia, in January 2016."
About the survey
Earlier this year, all survey participants from Mercer's National Survey of Employer-Sponsored Health Plans 2014 that had reported offering a worksite clinics were invited to answer detailed follow-up questions about their clinic operations; 134 employers responded. The full report will be available later this month at www.mercer.com.
About Mercer's Onsite Clinic Center of Excellence (COE)
In recognition of the need for leadership and innovation in this growing area, Mercer has established a national center of excellence (COE) composed of thought leaders, innovators, and subject-matter experts with extensive experience in all phases of an onsite clinic's lifecycle. The Onsite Clinic Consulting COE is part of Mercer's Total Health Management (THM) team, which is composed of diverse practitioners and thought-leaders in the areas of medical, absence and disability, consumerism, behavioral health, and behavioral science. The THM team develops strategies and designs programs that support employee health as an asset for a productive work environment.
About Mercer
Mercer is a global consulting leader in talent, health, retirement and investments. Mercer helps clients around the world advance the health, wealth and performance of their most vital asset – their people. Mercer's more than 20,000 employees are based in 43 countries and the firm operates in over 140 countries. Mercer is a wholly owned subsidiary of Marsh & McLennan Companies (NYSE: MMC), a global professional services firm offering clients advice and solutions in the areas of risk, strategy and human capital. With 57,000 employees worldwide and annual revenue exceeding $13 billion, Marsh & McLennan Companies is also the parent company of Marsh, a global leader in insurance broking and risk management; Guy Carpenter, a leader in providing risk and reinsurance intermediary services; and Oliver Wyman, a leader in management consulting. For more information, visit www.mercer.com. Follow Mercer on Twitter @Mercer.
Figure 1: Offer work-site clinic that provides general medical services
(Based on employers with 5,000+ employees)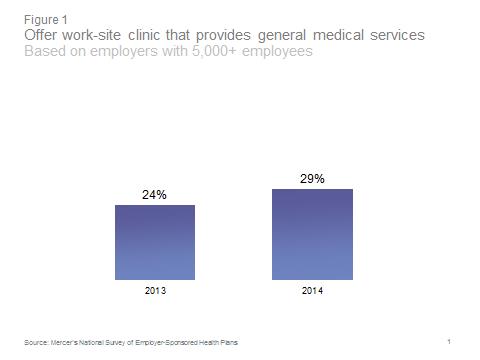 Source: Mercer's National Survey of Employer-Sponsored Health Plans, 2014
Figure 2: Important objectives in establishing a worksite clinic
(Percentage of respondents with a general medical clinic rating the objective "Important" or "Very important")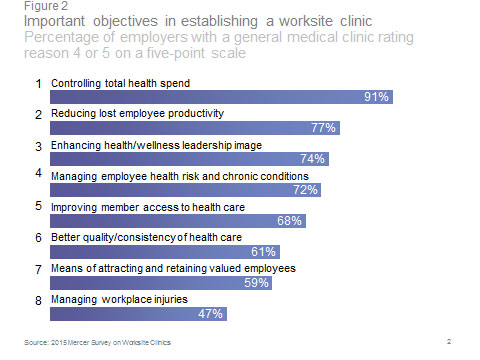 Source: 2015 Mercer Survey on Worksite Clinics
Figure 3: Measures of clinic success
(Percentage of respondents rating the clinic "Successful" or "Very successful" for each measure)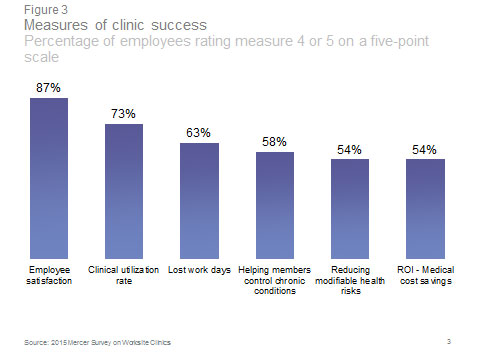 Source: 2015 Mercer Survey on Worksite Clinics
Figure 4: Medical services offered
(Based on respondents that have a general medical clinic)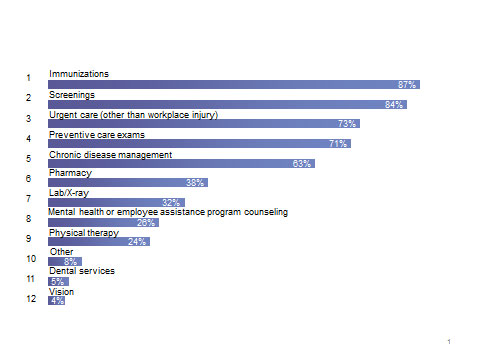 Source: 2015 Mercer Survey on Worksite Clinics
###