Employee benefits plan strategy and design
A considered approach to employee benefits design will help to manage costs, reduce risk and boost employee well-being. To ensure your benefits programme is fit for purpose, our benefit design services deliver innovative approaches.
Is the employee benefits plan you have in place fit for purpose? Do you need to harmonise your plans following an acquisition? Does your employee benefits plan help you to attract and retain talent by meeting the diverse needs of your workforce? Is it maximising ROI by proactively addressing risks to keep people healthy? Is it driving productivity and engagement?
Employee benefits plans have evolved so much over the past few years. From the introduction of benefits that support new ways of work, to better ways to mitigate the rising cost of health plans, disability schemes and life insurance to the increased need for digital tools to create a consumer experience that makes employees want to interact with their benefits.
Our employee benefits plan services can help you design a robust suite of benefits to meet the needs of the new world of work:
1

Analysis

2

Design and delivery

3

Cost management
Competitor benchmarking, market trend reporting, claims analysis, employee listening, stakeholder engagement and coverage gap analysis so you can take stock of what your design needs to focus on.
Health profiling, vendor evaluation and selection, insurer negotiations, and engagement features.
Financial modelling, cost containment strategies and health risk management.
Employee benefits plan cost containment
Employee benefit plans are the second biggest people cost after salaries. Even so, less than half of organisations have an effective cost containment strategy in place, according to our latest people risk report.
Employee benefit design services that include cost containment strategies support organisations to keep spend down. They also support employees by ensuring budget is focused on issues that will most improve employee well-being.
Our approach starts with designing for value, by focusing on areas that employees most need support with. Then we help you manage health risks, to mitigate rising health plan costs and advance a healthy workforce. This is followed by driving efficiencies through smart financing and placement.
Three elements of a truly effective health and benefits cost containment strategy:
Through coverage provisions, network configuration and engagement.
Through a data-driven approach that promotes a healthy workforce.
Through smart financing and placement.
Employee benefit plans to boost employee well-being
Instead of being a checklist of individual initiatives, employee benefits design must support workforce engagement and a culture of health.
To achieve this, we tackle the four pillars of employee well-being: physical, emotional, social and financial health.
These four pillars are inextricably linked.  A benefits programme that focuses on one element in isolation is unlikely to succeed, because it's only treating a symptom, rather than the total cause of the problem.
Our employee benefits plan service also considers the barriers helping and hindering employee well-being at your organisation. In particular, the role of leaders for creating a culture of well-being to prevent burnout and high staff turnover further down the line.
A competitive well-being strategy takes all four pillars into consideration and leads to better health and business outcomes, including productivity, engagement, retention and trust.
Employee benefits plan service features
Stay competitive

Stay on top of market trends with benchmarking tools to ensure your employee benefits plan remains competitive.

Support the business

Find out how well benefits are currently supporting the business and analyse risk to develop an effective benefits programme.

Identify gaps

Coverage gap analysis helps you see which individuals are being overlooked so you can fix it to support a diverse workforce.

Engage employees

Utilise technological advancements to design a consumer experience that will motivate employees to engage.

Boost well-being

As well as supporting employees when they get sick, help them to stay healthy with holistic interventions.

Contain costs

Build cost containment into your employee benefits strategy to design for value, manage risks and drive efficiencies.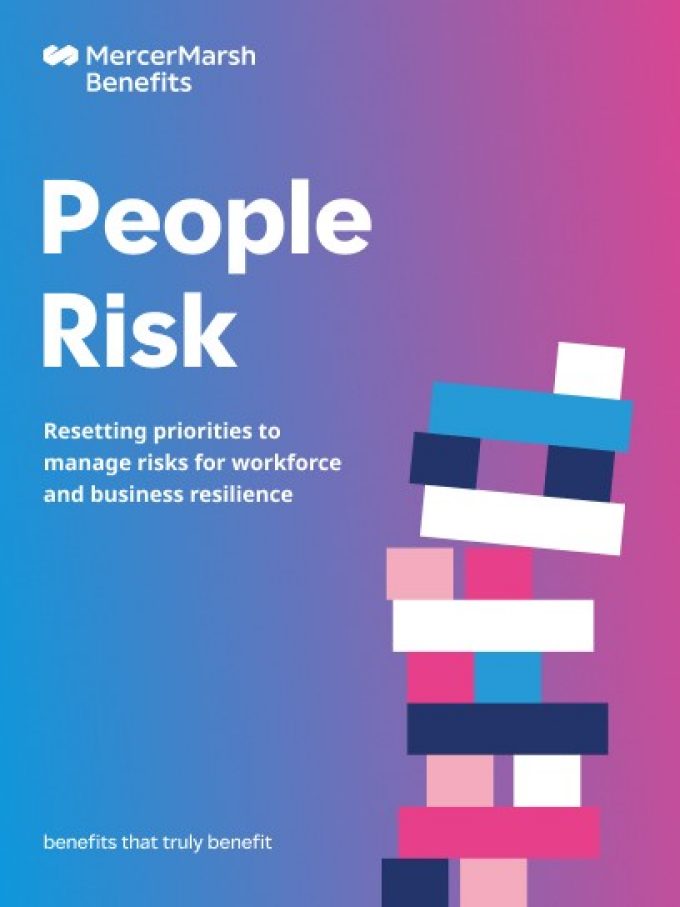 Discover the key people risks facing businesses and how HR and risk can work together to mitigate risks linked to health and safety, ESG and the future of work.